01 March 2019
|
: credit: © Alisdair Cusick
LRM's panel of experts reveal the best secondhand deals for you
Top Ten used Land Rovers Images
So you want to buy a Land Rover? We've got good news and bad news.
First the bad news: There has never been a more difficult time to decide which Land Rover to buy. Brexit, a weak pound and uncertainty over the future of diesel engines have all left would-be buyers bewildered and undecided.
But don't despair. The good news is that there has never been a better choice of brilliant secondhand Land Rovers. And the even better news is that we have assembled the finest team of experts in the industry to guide you through the minefield and help you make an informed choice.
So, without further ado, let's look at our panel's top ten . . .
Freelander 2
Ed Evans gives it the thumbs-up: "Freelander 2 is a good value, reliable motor, and a great off-roader."
With Defenders and Series models fetching silly money, Freelander 2 was considered best value for under ten grand by many of our panel, including Phil Bashall, who says: "I've just bought an early model with the Volvo 3.2 engine and it's a cracking little car that goes like stink. I'd never thought of buying one before, but I'm glad I did.
"Freelander 2s are very reliable and never go wrong apart from the rear diff. Very underrated. You can buy a really good one for under £10,000 and you'd struggle to find a decent Defender for that money."
Paul Myers agrees: "Freelander 2 is very good value, reliable, practical and hard-wearing."
Dave Barker adds: "Freelander 1 became very popular secondhand as prices dropped and that's when enthusiasts discovered how good they were. The Freelander 2 is still holding its price, but is an even better car than Freelander 1."
Series II / IIA / III
The last decade has seen an upheaval in Series Land Rover prices, with Series I values going through the roof, and now the prices of Series II, IIA and III models are heading in the same direction.
Gary Pusey says: "Early Land Rovers, whether Series vehicles, Defenders, Discoverys or Range Rovers, will only continue to go up
in value if they are in good condition with excellent history. They're not making them any more, and good ones are more and more difficult to find. We might not like what's happening to prices, but it is a reality we just have to live with."
Phil Bashall reckons the Series I bubble has probably burst. "Everyone who wanted one has now got one," he explains. But he predicts good times for later models. "A good Series II will cost the best part of £9000. Five years ago, people would have thought that was bonkers, but Series II and III are about to have their day."
Defender
Gary Pusey: "The original Defender will continue to be a very desirable vehicle to own, and I don't see values crashing any time soon."
The Tdi-engined Defenders (1990 to '98) remain as popular as ever, but Richard Hall warns that prices are likely to get higher: "2019 is the year when all remaining Defender 200Tdis become eligible for export to the United States – and demand across the pond shows no sign of easing."
Values of Td5-powered Defenders have soared in recent years, but Trevor Cuthbert remains a committed fan of this iconic model, saying: "I welcome the new Defender and wish it absolutely every success, but diehard fans of the original Defender will still hold on to theirs. I could see me owning a new Defender (in a few years when depreciation puts it within reach), but sell my Td5 90? No chance – I will own both.
"I don't think prices will rise as fast as we've seen in recent years – there is a limit to what potential owners will pay – but I do think that the market for Defender will continue to be strong, as there are fewer being offered for sale."
Editor Patrick Cruywagen agrees: "Despite the silly asking prices for newer and rare Defenders one can still bag a bargain Td5 or Tdi for under £10k. Just don't buy a lemon, otherwise you will have to spend the same amount of money trying to get it fit for purpose."
Ninety / One Ten
Steve Miller says: "The original naturally-aspirated 12J diesel engines are very slow for modern traffic," explains Steve. "There is a steady supply of ex-Discovery 200Tdi and 300Tdi engines available for sensible prices, which makes this a straightforward conversion that is well worth doing."
The first coil-sprung utility models, built from 1983 to 1990, mark the transition between the Series models and Defenders and prices have remained sensible, although many believe they are about to increase – including Dave Barker, who says: "Demand for early Ninety and One Ten models is set to grow, as they are now the vehicle the classic Land Rover enthusiast is looking for - especially early factory V8 Ninety Station Wagons."
Other fans of these models include LRM's Steve Miller and Dave Phillips, who both own and drive 1984 Ninetys – and both have opted to fit later 300Tdi engines.
Range Rover Sport 1
Technical editor, Ed Evans, is a Range Rover Sport owner and remains a great fan of Land Rover's first performance-orientated model. "Range Rover Sport 1 is the classic in waiting," he says.
The first-generation Sport was built upon the same underpinnings as the Discovery 3, which adds to its attraction, says Dave Barker: "The early Range Rover Sport is a much-underrated Land Rover and it offers good value on the secondhand market. After all, it's basically just a Discovery 3, but it does have a bit of a chav image problem. On the plus side, they can be found at reasonable prices and most have never been off-roaded."
"Everyone seems to want a Range Rover or a derivative," agrees Simon Buck, "but don't buy an aging Sport (or D3, D4 or modern Range Rover) unless you have it properly checked out, it has good history and it's been well cared for – otherwise you'll need very deep pockets!"
That's a sentiment echoed by Gary Pusey: "Like many Land Rover fans, I value simplicity and fixability. That makes any of the more recent models that are loaded with electrickery a source of concern, and potentially a lot of expensive bills. Buying wisely, with full service history and evidence of caring previous owners is vital."
Discovery 1
The original Disco is the car credited with saving Land Rover back in the 1990s – and now enthusiasts are saving those early Discoverys. Gary Pusey is particularly keen, saying: "My top choice as an investment would be a really sound Discovery 1. This year is the 30th anniversary of the launch, and good ones are becoming more and more difficult to find."
Andrew Harrison-Smith agrees: "If you want a nice vehicle for less than £10,000, I would recommend a clean, rust-free, 200/300Tdi Discovery."
But if you want one, snap it up quick. Alisdair Cusick warns: "There are fewer and fewer good surviving examples, but there are plenty of people with fond memories of them, and they are child's play to work on at home – all perfect factors to fuel demand into the future, suggesting prices will rise. I'd say the earlier car the better, but also any late specials, like the 50th Anniversary models."
Discovery 2
Trevor Cuthbert has built up a thriving business replacing rusty Land Rover chassis with rustproof galvanised frames and reckons they are the ones to look for if you are shopping for a D2.
Content continues after advertisements
Despite its reputation for chassis rot, the Discovery 2 is becoming increasingly popular – and likely to remain so in 2019, according to Richard Hall: "Discovery 2 seems to be the enthusiast's choice at the moment: cheap, available in large numbers, comfortable and well-kitted, massively competent off-road. DIY mechanics have got to grips with the Td5 engine's foibles and learned to love it."
Alisdair Cusick agrees: "The best, facelift Discovery 2s will see strong demand with enthusiasts for everyday cars."
Discovery 3 / 4
Dave Barker: "D3 and early D4 are considered by many to be the best Land Rovers ever made. Luxury transport on road, a brilliant tow car and a superb off-road vehicle."
Discovery 3 was the choice of many of our panel for the enthusiasts' car of the year, but they all warn that servicing and repairs can be expensive, as Trevor Cuthbert explains: "Disco 3s are now very affordable, but the cost of ownership is a major consideration, with repair bills at times eye-watering.
"However, a lot of car can be had for your money if you budget for the running costs."
Russell Dykes agrees: "Discovery 3 and 4s are very good value for money and there are businesses now specialising with add-ons to turn them into excellent off-roaders.
"There are also strong rumours that Dunlop are working on a spring replacement for the air suspension which will take away one of the concerns of many would-be owners."
So does Paul Myers: "Disco 3 is of increasing interest for off-roaders as their values continue to drop."
Steve Miller: "Discovery 3s offer some of the best-value 4x4 motoring money can buy - there are plenty to choose from and £10,000 would buy the very best in the market. You could even find a slightly scruffy D4 for that money."
Range Rover Evoque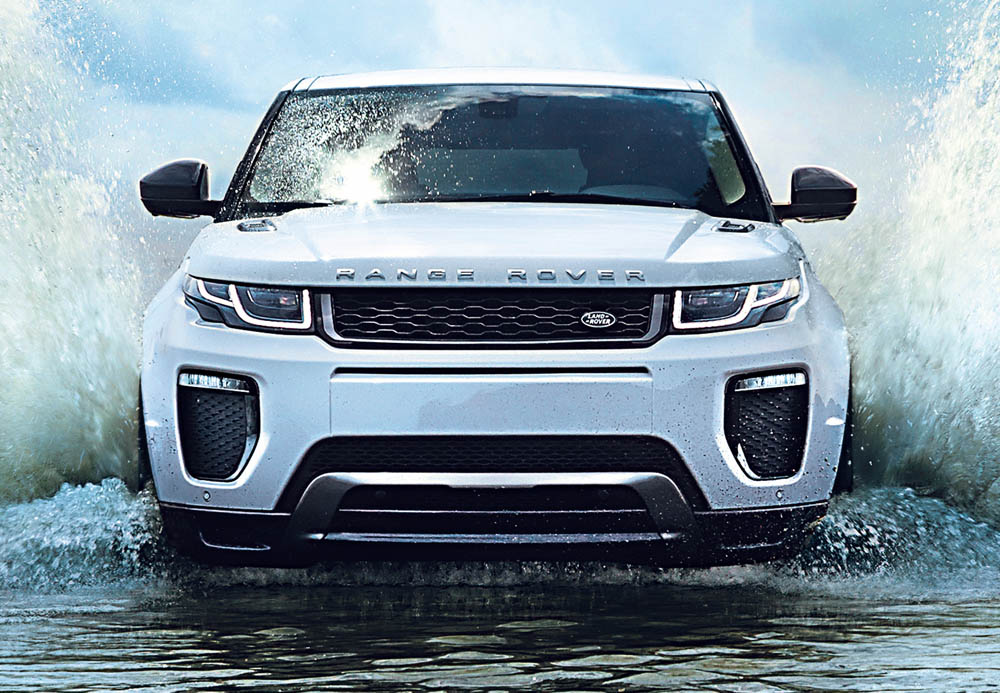 There's no such thing as a bad Land Rover, only a misunderstood one
Our panel highlighted other great buys, including Freelander 1, various military models and even the much-maligned Range Rover P38. But the biggest surprise was the Range Rover Evoque, which got a definite thumbs-up.
As editor Patrick Cruywagen explains: "With the new Evoque recently launched, don't be surprised if you see a beefed-up older Evoque on a greenlaning trip now that prices are falling.
"Land Rover have built millions of cars since 1948, and they were built to last. Evoque is the biggest-selling model ever, so the secondhand market will be flooded with them in 2019. Enthusiasts can own one as long as they are willing to wait until the price is right."
Alisdair Cusick agrees: "In 2019, Evoques will start to appear as second family cars, possibly in preference to aged and maintenance-heavy Discovery 3s."
Range Rover
Later four-door models are more reasonably priced
Alisdair Cusick is a dedicated fan of the original Range Rover, so it's no surprise that he recommends one as a sound buy for 2019. "Their numbers are reducing every year, so now's the time," he says.
With prices for early three-doors reaching dizzy heights, Alisdair recommends shopping for the later four-door models, which are more reasonably priced. "I'd say grab a V8 soft-dash, but also a ABS-equipped Efi model, or LSE," he adds.
Ed Evans agrees: "Range Rover Classic is another hot option - before prices (including used parts) get even sillier."
But Ed also believes later Range Rovers are worth considering, particularly the third-generation L322 models, which are now seeing values plummet. "The L322 is the most beautifully-sculptured vehicle on the planet – it's already a classic in my book."
Russell Dykes reckons the L322 is a brilliant off-road performer, adding: "It would be nice to see more of them used as off-roaders, but they need a company to start making some bits and bobs for them as there isn't a lot of choice when it comes to aftermarket add-ons."
The future
Simon Buck:"I think the diehards are going to be disappointed, but I'm sure the new Defender will be a very capable vehicle, and demand will be high. But I don't think it will affect the Defender market, because it ain't a Defender as we know it!"
The elephant in the room, of course, is the new Defender. When it makes an appearance late this year it is sure to have an impact on the secondhand Land Rover market, but our panel was reluctant to make too many predictions. After all, at the time of writing, nobody knows much about the vehicle that will replace the much-loved original Defender, which went out of production in 2016.
"I don't think it will have much effect on enthusiasts as it is going to be targeted at a whole new customer base," says Russell Dykes. "Most of those complaining about it were never in the market to buy a new Defender anyway. And because you can keep rebuilding your existing Defender I think it will be a long time before the new one affects the market – if at all."
Phil Bashall is doubtful. "I've no idea what to expect from the new Defender," he says. "I don't think it will be a working vehicle any more - that's not the manufacturers fault, it's the legislation.
"But the Defender bubble definitely has not burst, because there's nothing else like it out there. Guys who do jobs like landscaping are tearing their hair out. In the last two years they haven't been able to buy Defenders so they've bought Ford Explorers and Toyotas instead - and now they're starting to break. You can't abuse a Japanese 4x4 like you can a Defender.
"I think there will be an increasing market for old Defenders revived – rebuilt on galvanised chassis with new bulkheads to give them a new lease of life."
The message is that new Defender is likely to be nothing like the old one, so the original will live on with enthusiasts for many years to come.
"It's difficult to say what effect the new Defender will have," says Paul Myers. "The spy shots suggest it will be just another motorway-bashing cruiser. Engine options will be key, but I fear (and have heard it whispered) that it will be £70,000."
Gary Pusey adds: "I suspect the New Defender will be consistent with the rest of JLR's product range. JLR makes premium vehicles and I think the new Defender will be exactly that. I don't think it will be a cheap, entry-level Land Rover, but I'm sure it will be accomplished and capable. I'm looking forward to seeing it without its stick-on camo."
Editor Patrick Cruywagen says: "People in the market for a £30,000-plus Defender are probably waiting to see what the new one looks like. As the spy shots do look a little like a D3 or D4 don't be surprised if the owners of these models purchase a new Defender instead of an all-new Discovery! As it will look so different to the older Defender I doubt that it will have an impact on that market."
Ed Evans: "New Defender will be so unlike the original one that it's unlikely to be identified as such, and so will further enhance the values of genuine Defenders. I doubt Land Rover can build and successfully market a replacement Defender, but I believe the company is capable of building a replacement icon, with a different name and it becoming another cult machine."
And why not? As Gary Pusey says: "I have been very impressed with the new Mercedes G-Wagen, which takes most of the original vehicle's DNA and repackages it into the modern, safety-compliant and comfortable vehicle. I'm also really
looking forward to seeing the new 'Projekt Grenadier' vehicle being developed by INEOS boss and long-term Land Rover fan Jim Ratcliffe.
That's a mouth-watering prospect for the future. In the meantime, 2019 looks like being a great year to buy a Land Rover, as Alisdair Cusick explains: "Thanks to the uncertainty caused by Brexit, the investors who fuelled the rapid rises in car values are now nervously holding on to their money. The market will return to enthusiasts as the investors step away. Quality cars will always hold value and attract buyers."
There's never been a better time to buy a Land Rover, that's for sure.
Did you know that you can now get access to the entire archive of Land Rover magazine content with our brand new digital archive? You can enjoy all the issues since the launch of the magazine – use the search bar below to find features, reviews and other great content: