11 December 2019
|
: credit: © Patrick Cruywagen
If you're a Land Rover fan and you find yourself in Malaysia, then head for the Cameron Highlands. It's where Land Rovers go to die
High in the Camerons Images
On August 31, 1957, the country of Malaysia was formally granted its independence. Prior to this it was of course the British who ruled this Asian gem. While the British might have left, a love for all things Land Rover remained behind. So after independence the government departments such as the military, police and forestry were encouraged to procure Land Rovers as their workhorses. A situation that continued up until 2007. I only know this is because as we follow the Last Overland expedition into Malaysia's Cameron Highlands I am in local lad Vigneswaran Kartyhigesu's Defender 110. Like everyone else I just call him Vicky. He is one of the founding members of a group called the Rovernuts which we featured in last month's LRM and no one knows more about the Asian Land Rover scene than Vicky. I feel privileged to be riding shotgun with him.

For those who don't know, the 10,000-mile Last Overland Expedition from Singapore to London is a recreation in reverse of the First Overland expedition which happened way back in 1955. This story though is about the Land Rovers of Malaysia's Cameron Highlands. Vicky tells me more about their history: "After using the Land Rovers for several years the government would then auction them off and a large percentage of those were sold to the farmers here in the Cameron Highlands." These farmers would then literally drive them into the ground. As we make our way up and down the many highland hills, abandoned Land Rover spotting becomes our new favourite game. They are literally everywhere. I am later told that because they were mainly used for agricultural and workhorse purposes they could pay a massively reduced rate of road tax. To that end a Cameron Highlands Land Rover is best recognised by the bold black CH letters painted onto the doors. Very hard to miss and if spotted outside of the highlands then a higher rate of tax would have to be paid.
The famous Oxford visits the famous SVK Trading

Obviously there is a thriving Land Rover community here and our convoy grows 50-fold as we are joined by the Cameron Highlands Land Rover Owners who kindly give me one of their club T-shirts. We spend a night at Father's Guesthouse in Tanah Rata. The owner Gerard Richard is one of the biggest Land Rover fans in the world. He has an impressive collection including a replica Camel Trophy 110 and in the morning he takes me to see some of his older vehicles which include several Series Land Rovers. The most impressive of these is a Shoreland which was used as a riot control vehicle after independence. Gerard explains: "There are currently four of these in the Cameron Highlands and loads more in Kuala Lumpur. You will see them at police stations or at the army barracks. Some were sold off at an auction and I purchased two." I have to ask Gerard if most of the Land Rovers we have seen have standard Land Rover engines. "You must be joking. Malaysians love engine conversions and due to our geographical location you see a lot of Toyota, Nissan and Daihatsu engines in the Land Rovers here. Though some purists would never stick a Japanese engine into their Td5, 300Tdi or Puma Defender."

According to locals there used to be about 7000 Land Rovers in the Cameron Highlands. Today they say there are maybe less than half that number. What has happened to the other four thousand? Well, we are about to find out as we leave the Highlands and head for the town of Ipoh. It's a few hours away as we are on the scenic highlands route. Eventually we are off the slow, hilly roads and hit the highway. I ask Vicky about the history of Ipoh. "This place used to be famous for tin mining but that sector collapsed. Many people lost their jobs as a result. Today we call it the grease monkey city of Malaysia as it's full of breakers yards. Most of the mine workers moved in to mechanical jobs."

Our first and only stop in Ipoh is at SVK Trading where we are met by the reserved owner Karthik Subramanian. It's a Land Rover breakers yard like no other I have ever seen on the planet. Karthik and his team have laid on a serious lunch spread for our big group. We sit on the red plastic chairs in the main warehouse while enjoying tasty traditional Malaysian food. We are not alone and the place is full of secondhand Land Rover bits. Vicky tries to educate me a little about the history of the place. "I remember coming here several years ago and finding lots of new Series I bits. I called a friend who was restoring a Series I and asked him, 'what do you need?' Today people come from all over Malaysia, Asia and the world to find Land Rover parts. There was a time when Karthik had 400 new Series III engines. All of these were sold to a single buyer in Dubai." Crazy stuff really.
Speak to Karthik Subramamian about a possible tour, visit or browse around his impressive business. See SVK Trading on Facebook or email [email protected]

While walking to the bathroom I pop into Karthik's office, where he has converted a Series III front into a very tidy and shiny office desk for himself. I had seen it before on social media and thought it was a Photoshop hoax, now I have seen it for myself. There are several similar desks scattered around the property. They would really sell well in the UK.
This has to be the coolest desk ever – we want one!

The real fun begins after lunch when we walk down the road to one of the yards. Karthik orders the guard to open the big iron gates. I cannot believe what I am seeing. Hundreds upon hundreds of old Land Rovers. All in very different states of disrepair and rust. I find an 80-inch Series I and a 101 Forward Control. Most of the vehicles are old Defenders. I climb onto the roof of one to try to appreciate the scale of the place. Over to my right is a large pile of bonnets. They must be worth a fortune which probably explains why they are nicking them off Defenders in the UK. Despite the blazing hot sun I take a slow 45-minute stroll around the yard. I try to imagine the life some of these vehicles must have led. Some have parts missing or broken bits, while others are virtually complete except for the engines and mechanical gubbins that have been removed. The scale of the place is almost overwhelming. It's also a great indicator of the history of Land Rovers in the Cameron Highlands. While just like rainforests and wildlife of the world, they too are fast disappearing, though the fine members of the Cameron Highlands Land Rover Owners are keeping it alive by keeping their Land Rovers on the road.
SVK Trading has hundreds of hard to find parts
Content continues after advertisements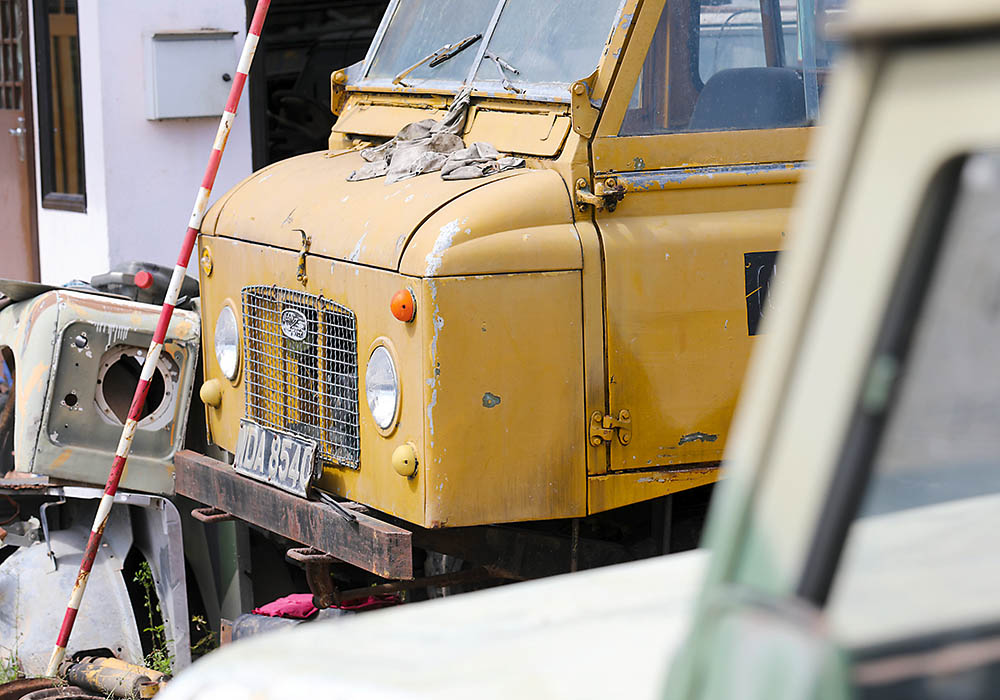 The only Forward Control in the SVK yard

If you're ever in Malaysia and need a Land Rover fix, head for the Cameron Highlands. Stay at Gerard's Guesthouse and go and see Karthik's breakers yard. It will be a Land Rover experience like no other. Also ask Gerard to take you on a guided Land Rover tour of the highlands. Who knows, you might end up going home with a beautiful old Land Rover bearing the faded letters CH.
Note the big black letters CH on the doors
WHERE WE STAYED
Father's Guesthouse (Tanah Rata): Owner and nice guy Gerard Richard has a serious Land Rover collection. If visiting the Cameron Highlands to go Land Rover shopping then he is the man to speak to. Comfortable and conveniently located guesthouse.
Website: fathersguesthouse.net
Telephone: +6016 566 1111
Did you know that you can now get access to the entire archive of Land Rover magazine content with our brand new digital archive? You can enjoy all the issues since the launch of the magazine – use the search bar below to find features, reviews and other great content: