07 October 2021
|
On safari... : credit: © Ian Scoon
When Liz Neilson and Ian Scoon retired in 2014, travelling was a given. With hotels and flights not exactly their idea of fun, a 'Round the World Overland Safari with a Caravan' idea was hatched and a brand-new Discovery 4 purchased to facilitate it. This is their story…
After almost a month of solitude, we left the Central Kalahari Game Reserve (CKGR) with almost no fuel, no water and only tinned food. On reaching the tar road the police waved us down: "Botswana is going into lockdown tomorrow at midnight," they advised. Having picked up a 3G signal, the BBC World Service painted a bleak picture of the pandemic – things had changed dramatically during our period offline.
The only sensible option was to backtrack to the small town of Ghanzi, and refuel both us and the Land Rover. After that options were limited with National Parks and all hotels, lodges and campgrounds already closed. Fortunately we had the caravan. Early the following morning Liz and I started to make some calls. Finally Drotsky's Cabins, somewhere we'd previously visited in 2005 and renowned for their hospitality, could accommodate us. We just had to travel 470 kilometres to get there!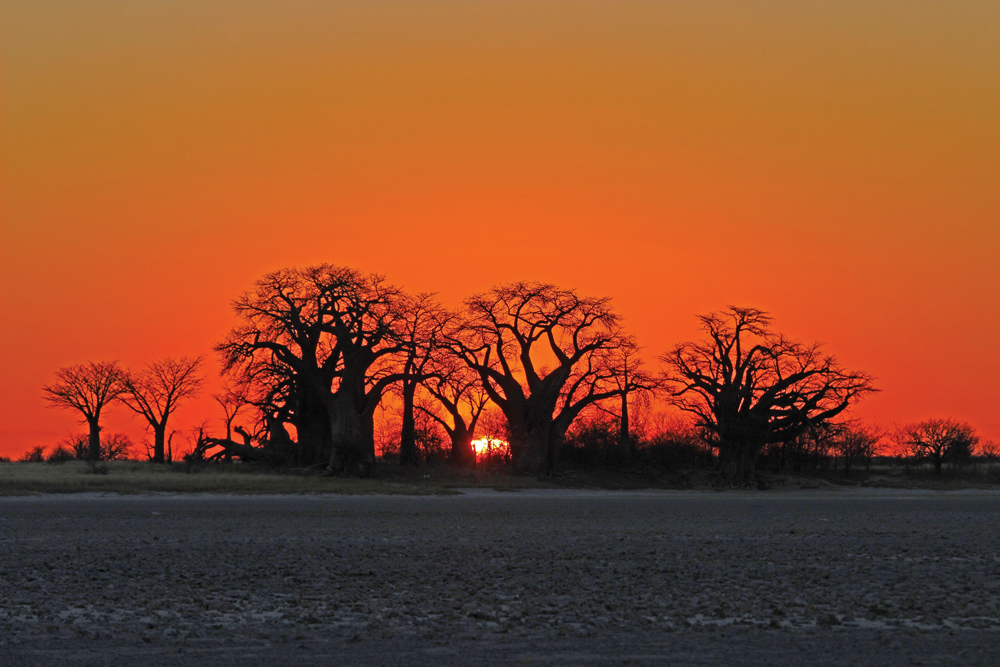 Baobab 'upside-down' trees in Chobe National Park
The road to Sehithwa is excellent although a strong headwind restricted us to 80 kph. At the turn of the infamous A35 however, the potholes begun to appear making our British roads look like am incredible, sinuous ribbon of Tarmac. To add to the challenge, the Botswana Defence Force (BDF) in their Defenders, were moving north on the same route to secure the borders. The word hectic doesn't do things justice as we all cruised at 100 kph, braking hard to 5 kph every time we had to negotiate a seemingly never-ending series of potholes.
Refuelling in Gumare, Ian asked the attendant about the road north. "You've been through the potholes, now you've got pitholes". He wasn't joking. Hit these at speed and you'd rip the suspension off. Breaking Overlanders Rule No. 1, 'don't travel after dark', we finally breathed a sigh of relief to arrive well after dusk, safe and sound, thanks to the comfort and amazing towing capability of the Discovery.
Just to rewind back a bit and give you some context. We had started our trip in Canada in the spring of 2016 – our plan was to drive the Dempster Highway up to the Arctic and then down to the southern tip of Argentina, Tierra del Fuego. We anticipated our plans may be disrupted by hurricanes, mudslides, or even earthquakes, but never did we expect to be locked into a country with all borders closed for 12 months, as a result of a worldwide pandemic.
Entering Botswana at McCarthys Rest in January, 2020, on a 90 day visa, the plan was to head up to East Africa as the rains ended, passing north through Zimbabwe and Zambia, to Tanzania, Rwanda, Uganda and Kenya – a long held dream. The best laid plans of mice and men!
Camping, Botswana style. And all to themselves
Mabuasehube National ParK: The first stop was Mabuasehube National Park in the company of friends driving a Toyota Land Cruiser 79 camper. The road to the park gate includes a 30 km stretch of deep sand, so all tyres aired down, and with sand and low ratio selected for the Discovery, off we went. I wasn't going to get stuck in the company of a Toyota, not even with a 2.2 tonne caravan as an excuse! The sand was seriously deep, so 30 to 40 kph was the optimum speed to prevent the caravan from bouncing around like a rag doll.
Once inside the park, the sand tracks posed no difficulty for towing. The campsites are all single use, often with uninterrupted vistas over the pans so we were treated to great views of springbok and gemsbok herds, and of course, big cat predators including cheetah, lions and leopards.
Khutse National Park: After picking up a substitute carnet and two new roof lights for the caravan in Gaborone, we headed for Khutse National Park at the bottom of the Central Kalahari Game Reserve (CKGR), famous for its large study group of lions.
The tracks within Khutse were fine allowing us reach our selected campgrounds deep in the park. Khutse is always quiet and in the three weeks we were there we only saw rangers and two other tourists – Italy was already in lockdown and foreign tourists were returning home. Clearly Covid-19 was going to be a major factor to consider in our journey north. The caravan is our home however, and so we felt comfortable sitting out lockdown in Botswana.
Lots of pruning required. Fortunately restarting in sand isn't an issue
Central Kalahari Game Reserve: Entering the CKGR at Tsau Gate, always a quiet part of the reserve, Tracks4Africa marks the tracks as overgrown – they weren't wrong, much pruning was required to get the caravan through. After five days we entered Passarge Valley and saw the first sign of civilisation – tracks of a recent vehicle, probably only a day old.
The next day we saw a ranger and couple of tourists and they were the last humanoids we spotted until leaving the park over two weeks later. At 52,800 kilometres squared the CKGR is over twice the size of Wales and in all probability we were the only people in it. Thankfully Liz had set up our Garmin InReach and we had confidence in the Discovery, nevertheless from here on getting stuck or breaking down was not an option. Therefore we decided to base ourselves at Sunday Pan and do day trips with just the Discovery.
Having re-read Cry of the Kalahari by the Owens, a trip to Deception Valley was a must. What a contrast with the 1970s when the Owens were also the only people in the park, totally reliant on their Land Rover and very basic camping gear, and here we were driving around in air conditioned luxury, living in comfort in our caravan.
The return journey to Tsau Gate to reach the tar road was straightforward, all that pruning had paid off, and you know the rest, Botswana had followed the world in locking down.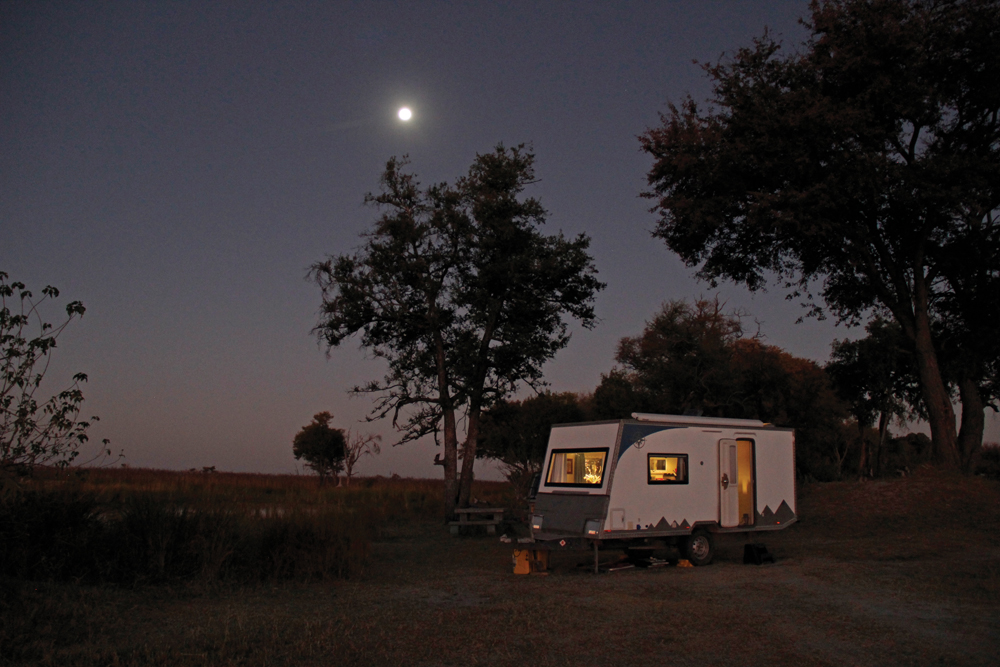 Home at Xakanaxa for a month
Drotsky's Cabins: Lockdown at the beginning of April in Botswana followed a similar pattern to the UK, the difference being President Masisi declared a State of Emergency closing all borders. During the 50 days of Phase 1, we were confined to the extensive grounds of Drotsky's Cabins. Days took on a routine. Early mornings we walked a 4 km circuit around the empty campground on the banks of the Okavango River, taking a flask of coffee, sitting under the shady canopy of a Jackleberry tree. Here, monitor lizards sat on tree branches sunning themselves and diving into the river if we approached too close. Our sundowner was on a pontoon moored in the Okavango River watching crocodiles and listening to the call of fish eagles.
The wearing of masks was compulsory in public areas from the outset and we contributed to a scheme by making them for the locals.
Okavango Delta: aerial view from a small helicopter
Okavango Delta: Phase 2 of the lockdown allowed travel in your home region, Ngamiland for us, so we treated ourselves to a stay at Jumbo Junction Safari Lodge on the other side of the Panhandle.
At the end of May we set off for Maun, first visited in the late 1980s when it was a selection of small buildings and just one garage. It is now a major town and tourist hub with the busiest airport in Africa and a Woolworths (think M&S) – quite a luxury.
After many years of drought this year's rains had restored the Okavango Delta to its usual magnificence. To check it out we booked a helicopter flight and met Laura who the previous year had driven down from Scotland in a Morris Minor. Now that's dedication to overlanding.
On the road again - after weeks of total lockdown. Leaving Moremi North Gate for Mbudi Camp
We left Maun for Mbudi delighted to be back on safari and, after some horrible sections of corrugated dirt road that overheated the caravan shocks, arrived at the campground, alongside the small winding Mbudi River, our home for the next month. During afternoon drives on the nearby Khwai River, we encountered huge herds of elephants for the first time. The only other people around were game drive staff and the BDF, patrolling for poachers.
Much to Liz's and the Ranger's astonishment we managed to tow the caravan deep into Moremi Game Reserve. Again we were the only tourists in the park, driving tracks which hadn't seen any action for months. We navigated solely by maps.me, an incredible app, that proved very accurate. It felt like Africa 50 years ago and we felt very privileged.
Baines' Boabas – an evening constitutional on the pan
Nxai and Makgadikgadi Pans: The Great Salt Pans lie in the northern Kalahari, a harsh environment and myriad of tracks, often consisting of deep sand. The advice is to travel in groups, which obviously we couldn't do but we decided to leave the caravan behind and pack the tent.
First stop was Baines' Baobabs, which was used as navigation waypoint by early explorers – the scene that greeted us has hardly changed since it was painted by Victorian explorer Thomas Baines in 1862. Sunrises and sunsets provide a spectacle of oranges and pinks as a backdrop to these huge trees and, totally alone again, it was hard not to feel something of the insignificance of man and the wonder of nature.
A few days later, caravan in tow this time, we headed into the Makgadikgadi Pans for a straightforward drive down to Tree Island Campground and used this as a base for further exploration. Having recently revisited this area after the November rains, we were delighted to discover the Zebra migration.
Zebra galore in Chobe National Park
Chobe River and Muchenje: Early September we headed up to Kasane, a small frontier town with a real wild west feel. The town borders the Chobe National Park and Forest Reserve and the joke amongst locals was that the animals were missing tourists so much, that lions, wild dogs, and elephants had started coming into town to find out what was going on! Our timing was perfect, herds of 500 plus elephants and buffalo were entering Chobe on a daily basis, the river being the only source of water for miles around, until one day in October, after a heavy shower, almost every animal in the park disappeared overnight.
Once again, we were often the only vehicle in the park with one notable exception, the owner of Chobe Safari Lodge in his electric Defender – the perfect game viewing vehicle.
In October, called the suicide month because of the extreme heat (low 40s) we literally hid in the shade of the huge Jackleberry trees at Muchenje Campground on the Chobe floodplain. After the first rains in November the temperatures dropped and life became more bearable thankfully, and in December we made the 2000 km round trip to the Land Rover dealer in Gaborone, as the Discovery needed a basic service.
Content continues after advertisements
We were now all set for 2021. What would it bring us?
Ian and Liz celebrate a Xmas roast dinner in the Southern African heat
Our Discovery 4
The vehicle had a major service in December 2019 as preparation for the trip to East Africa, the next large dealer being in Nairobi; consequently it was well prepared for a tough year in Botswana. It spent the majority of that time off-road in some of the toughest terrain in the world – sand, mud, corrugations, water and heat.
In the desert parks the radiator, drivetrain and exhaust were checked daily to remove any build-up of grass and seed. In addition, the air cleaner and pollen filter were changed monthly.
Driving into the bush to avoid fallen trees tore the front nearside inner CV gaiter which necessitated a temporary repair with cling film and a cloth cover secured with tie wraps. Suffice to say the Land Rover dealer in Gaborone was most impressed!
We suffered just one puncture since leaving the UK on the way to Jumbo Junction when a piece of lead wood went through the centre of the Duratrac.
A six month oil change was carried out in Maun, but other than that the vehicle is how it left the dealership, pretty remarkable and proof of the car's go anywhere credentials and incredible towing capacity.
Planning your own Botswana safari
Botswana is a great place for your first African overland trip; people are friendly and helpful, the infrastructure is well developed and there is an abundance of wildlife. The tracks require a basic level of off-road experience, except in the rainy season when you can make it as challenging as you wish. Wildlife is everywhere, even on the side of the main roads.
Camping: Botswana has an extensive network of campgrounds (150-300P pppn), see iOverlander. The main private operators ($30-50pppn) in the National Parks are:
• Moremi ([email protected],
[email protected]; [email protected])
• Savuti ([email protected]);
• Chobe ([email protected]);
• Makgadikgadi and Nxai ([email protected], [email protected]);
• Khutse and CKGR ([email protected]).
Cell coverage: It is worth getting a local SIM card, MASCOM has good coverage (3G/4G) in main towns; BTC has better coverage in some remote areas in particular Khwai. WiFi usually available at lodges and campgrounds outside parks.
Distances: On tar roads 500 km per day is realistic. Dirt roads expect to average 60 kph maximum, halve this for difficult conditions.
Emergency: Under normal conditions if you keep to the tourist routes a satellite phone/messenger is not required, however with the low level of tourists at present, especially on little used tracks and in the Central Kalahari Game Reserve (CKGR) it is strongly recommended. We carry a Garmin InReach. Many car rental companies also rent satellite phones.
Exchange rate: At the time we were there it was 14.5 Pula to a pound.
Fuel: Generally readily available, clean, good quality.
Guide book: Tracks 4 Africa – Botswana Self Drive Guide (edition 2) provides useful background information, maps and lodge/camping information.
iOverlander: Useful App providing database of campsites, hotels, restaurants, where to find water, mechanic, propane, and so on.
Lodges: Range from extreme luxury ($1500-5000 per person per night) best booked as a package to the modest ($30-150 pppn) which provide great overnight stops. Most have websites.
Elephant Sands: time for a sundowner
National Parks: Entry for foreign nationals is 120P per person plus 50P for a foreign registered car which can be paid at the entry gate in cash. This rate is per day, so if you camp overnight you pay for two days even if you arrive late and leave early. If you then enter another park the same day you pay again. Campgrounds are unfenced so elephants, lions and hyenas often wander through camp. Only a few of the campgrounds are operated by Department of Wildlife and National Parks (DWNP). The remainder by private operators.
Navigation: Reise Botswana paper map for route planning, Shell Tourist maps of the National Parks for game viewing and, for navigation maps.me in the parks, Google maps on main roads and Wikiloc is useful to record your route for the return journey on unmarked tracks.
Night driving: Just don't. If you get caught out beware of pedestrians and domestic animals. In game areas, wildlife just materialises out of the bush. Local taxi drivers around Kasane drive at between 20-50 kph after dark.
Renting: It is easy to rent a good quality vehicle in Botswana. Fully fitted out 4x4 campers are available in Gaborone, Maun and Kasane. Expect to pay £80 per day for a Hilux £80/day or £120 per day for a Land Cruiser 79.
Reservations: Required at peak holiday time and definitely for the popular sites in parks. Obtaining reservations is not easy and you need to find a good local agent.
Road conditions: All major roads are tar, with the exception being the A35 to Shakawe. Main and minor gravel/dirt roads are often in poor condition, as are park tracks – expect sections of deep sand in the dry season and mud or impassable sections in the wet season.
Shopping: Well stocked supermarkets in Gaborone, Ghanzi, Maun and Kasane, elsewhere you'll only find the basics. Prices slightly higher than in the UK. Water is generally potable however filtered water sellers are available in the main towns.
Speed limits: 60 kph in towns, 80 kph passing through villages and intersections, 80 or 120 kph outside urban areas. Speed limits are often not clearly marked and there are frequent police speed traps, especially in long 60 kph zones. Beware of animals emerging from long grass. Outside urban areas, we recommend 80 kph.
Controling foot and mouth disease: You cannot take meat from Maun to Nxai Pan and Makgadikgadi. You can take meat from Maun to Moremi, Savuti and Chobe, but not in the opposite direction.
Visa: 90 day non-extendable permit issued at point of entry, no fee.
When to visit: Wet season is from December to March, when routes may become difficult/impassable and wildlife tends to migrate into the forests and is more difficult to see. Mid-December to mid-January is peak southern Africa holiday time. Game viewing improves as the dry season progresses and the wildlife emerges from the forests to drink at waterfronts. October is extremely hot. Peak season is European summer holidays.
Find more travel and overland adventures here.
Budget Digital Subscription
Get access to over 7 years of Land Rover Monthly – that's almost 100 issues plus the latest digital issue. The issues are fully searchable so you can easily find what you are looking for and what's more it's less than 10p a day to subscribe. Click here and start enjoying all the benefits now