01 April 2019
|
: credit: © Mark Radcliffe, Nikki Finch and Nekkies Smit
Did you hear the joke about the Boer and the Brit who drove their 110 Defenders from the Southern tip of Africa to a UK Land Rover Show? Well it's no laughing matter – that's exactly what Mark Ratcliffe, partner Nikki Finch and Nekkies Smit did! Our Editor caught up with them after their epic 22,500 km drive…
How did you prepare a Defender for a 10,000 mile trip?
Mark: I made two major changes after chatting to guys who were putting 30,000-plus miles per year onto their 2.2 Defenders. They all agreed that since 2014 Land Rover diffs had gotten soft, so I wanted to strengthen them. I could have put old ones on but I instead opted for Ashcroft ATBs. This gave me better traction control and eliminated the need for a winch. Ironically just before we left Nekkies did fit a winch to his truck but we never once got it out.
The second change was to get rid of the standard Land Rover intercooler hoses as per the advice of some experts. So I went for high-quality silicones. A decision I today regret. [Ed: more about that later]
Nekkies: I bought this Defender 110 specifically for the expedition and probably could have driven it all the way to London without doing anything to it! It was that good but I told my guys in the workshop [Nekkies owns two independent Land Rover garages] to give it a once over. Wheel Bearings were checked, repacked and greased, brakes checked and bushes replaced. All the oils were also changed, the oil cooler was replaced, as that is a common fault on the Td5s, and finally I was then good to go.
Most southern tip of Africa
Wait a minute, chaps, it's not really that simple…
Mark: You're right! The big addition for us was to add a 85-litre water tank with a marine water filter system that gets rid of bacteria, cysts and everything else. It's a high-end filter designed to purify really bad water. We felt that during a three-month trip our choice for water might be limited. I did think about an external tank but was advised that drinking water should be stored inside. It did take up lots of space. In the future I might look at another option such as an external double-skinned stainless steel one.
Nekkies: I made a few minor changes to the electrics to suit my needs. I added some more lighting because Africa can be a pretty dark place. Not too many street lights about and so you need extra lighting. I also added an awning with sides so that if we had bad weather we could hide under the gazebo. We then installed fuel and water tanks so that I could carry 180 litres of fuel and about 160 litres of water. I did not feel the need to add lockers as the traction control was more than sufficient for our needs.
Rush hour with a difference
Why Cape Town to London?
Mark: It has been on my overland bucket list since I was 18 and it's one of those trips we always thought of doing but because of the nature of Africa we were not that keen on doing it solo. I wanted to do it with another vehicle just for a little confidence and back up. Pub talk is great but then finding someone to commit to it was another story altogether. Luckily the opportunity arose to do it in reverse (Cape Town to London and not backwards) with Nekkies.
Nekkies: A good friend of mine who has done it several times passed away last year. Plus 2018 was the 70th birthday of Land Rover and any old excuse will do to go to the Kelmarsh Land Rover Show. So all the stars lined up nicely for the trip and it was now or never really. People think there is never enough time and money to do these things so you have to commit and just go for it.
Looking for the perfect view of Kilimanjaro
Why a Td5 Nekkies?
Nekkies: While some think the Tdi is the perfect vehicle for these kind of trips I did some research and lots of people thought that the Tdis don't have enough power for the mountains plus they tend to overheat. Also I knew the car was going to be very heavy. It weighed 3.2 tonnes before we loaded any personal kit, that is a Tdi towing another Tdi. It just won't work. There are a lot of Td5 Defenders in Africa and they know how to work on them and sort out any problems. Plus spares were never going to be a problem.
Looking for hippos in the Serengeti...
...and finding them!
What is the toughest part of such a trip? Getting visas?
Mark: The visas are easy and just require internet research. To get our full set took us two weeks. As Brits we needed visas for every country except South Africa and Namibia. Even the Sudanese visa was easy despite the fact that they were changing the rules as we were applying for them.
It is easy to over-plan for a trip like this but then you might be a little disappointed with how things turn once in Africa as things won't always work out as planned. Natural instinct is to plan in immense details but the continent does not allow for that as weather changes and Land Rovers break down. In Africa you need to be able to go with the flow. Mindset and attitude will help you get across Africa. As long as you don't go into Somalia or Southern Sudan you will be fine. Everywhere in the world has a little bit of risk, even London.
Nekkies finds the best seat in the house
Looking back what would you do differently?
Mark: I would add four weeks onto the trip. We left Cape Agulhas, the most southern point in Africa, on May 14, and arrived in Alexandria, Egypt on July 10. From there we shipped the Defenders to Italy. Crossing the African continent in less than two months is not enough. You need more time to take it all in, get off the beaten track and get away from the tourists.
Nekkies: Accept things as they happen. We did not allow ourselves enough time. You don't need six months but you can comfortably do it in three or four and see all the great sights. Don't take too much food as there are shops and markets everywhere with everything that you need.
Then make sure that you have an easy set-up so that if you have had a long day you are ready for bed in five minutes. That way you can spend more time on the important things like the BBQ or brandy and coke. Don't take too many gadgets, fancy crap and things that can break. Keep it simple and basic.
The migration went that way
Same Health and Safety laws as the UK?
Taking time out on the island of Zanzibar
Your biggest regret?
Mark: The biggest regret is that we only spent eight days in Northern Sudan. You read that it is a hell hole and the plan was to just drive through it as fast as possible. That could not be further from the truth. The people and scenery were just brilliant. We felt so safe and welcome there.
My viscous fan failed and I lost the bleed valve so we stopped in Khartoum, the capital of Sudan, for a few nights while sorting it out. What a wonderful Land Rover community. Loads of Series IIIs but no Td5s or newer stuff. I will go back there.
Least favourite place?
Content continues after advertisements
Mark: Tanzania, without a doubt. You pay Western prices for Third World services. The police were awful, the traffic worse. It was really hard work. We were warned about the police and bribes. Luckily we were only stopped five times and had to pay one £20 bribe. That was it.
You never feel like you are alone in Africa and you can't really wild camp and have to stay in official sites. Ethiopia was pretty intense. Everyone there expected something from us. Not so once in Sudan, people gave us gifts and told us to tell our friends about the place. Just a whole different vibe and feel to the rest of Africa. Incredible people who just could not do enough for us. When they saw the Land Rovers they would say "strong car".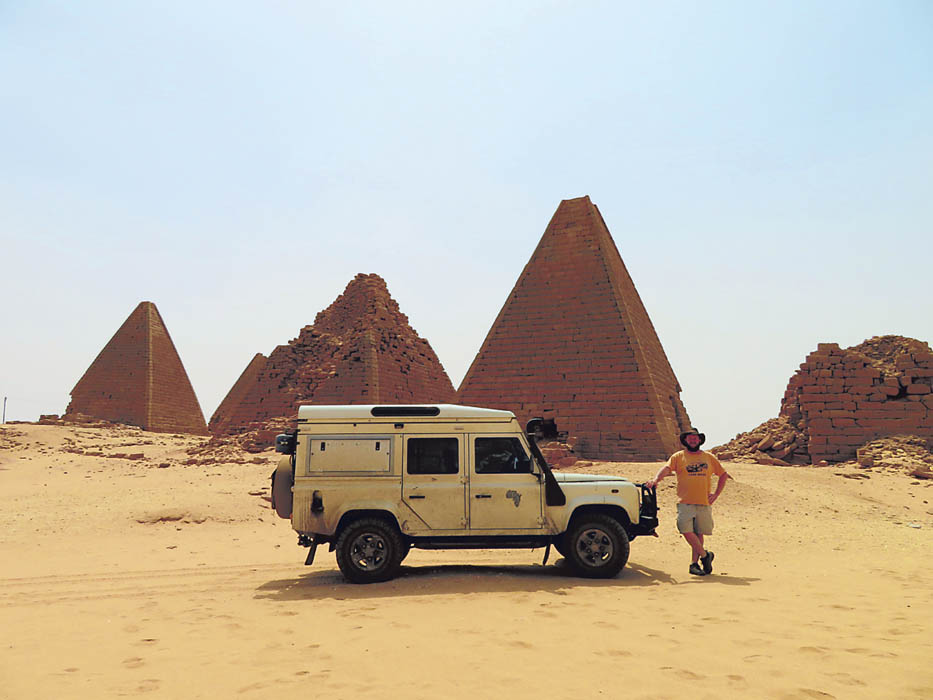 Nekkies posingin front of the pyramids of Sudan
How about you Nekkies? What were your highlights and lowlights?
Nekkies: We had high expectations of Tanzania and it was expensive but I am glad to say that I have done it once. I have seen the wildebeest migration, driven in the Ngorongoro Crater and been in the Serengeti. What a privilege. The lower the expectations the more you will get out of a trip. So it was a little disappointing.
I always thought that the Sudan was a sh*t hole but that could not be further from the truth. The people might be poor but they are nothing short of incredible. They treated us like royalty and could not have been kinder. The world can learn from them.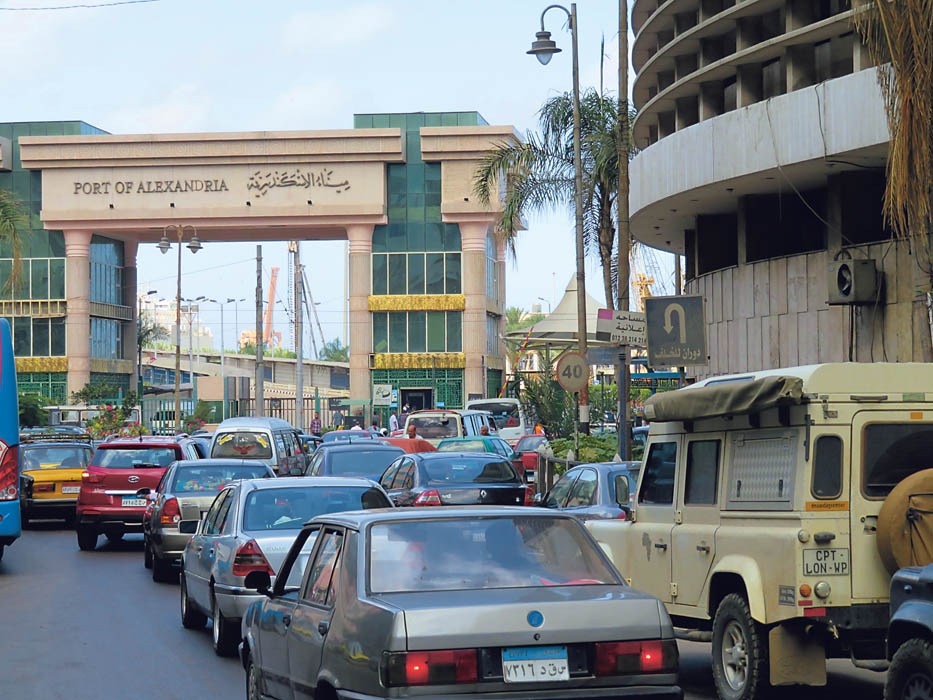 Getting ready to ship from Africa to Europe
Any issues with security and safety?
Mark: Nothing at all except when we shipped the cars from Alexandria to Naples using RoRo. Handlers drove our cars on and off the ships and obviously they ransacked the things and go through everything while it is on the ship. Plus they damaged the wing on Nekkies' Defender. Not great but nothing you can do about it. Not once on the trip did we feel unsafe even during our few days in Cape Town.
When you cross county lines in Africa there are roadblocks manned by civilians who want to check things like road tax and insurance papers. You just have to smile and show them what they want to see. So the only thing I would say is brace yourself for hundreds of non-hostile roadblocks. They are more of a hindrance than a security threat.
Egyptian officials were happy to pose for a pic
Any technical issues with the vehicles?
Mark: The road from northern Namibia's Caprivi Strip towards Zambia is notoriously bad and they say it takes the best part of the day to do 180 km. We did it in three hours but somewhere along the way something put a tiny split into one of the silicon hoses and it got progressively worse.
What I did take with me was a reset tool so we could set the engine management light while driving. I used the online community for help and a few people recommended a garage in Mbeya, Tanzania, that could help us. They straight away knew that the hose needed replacing and had one in stock for $160. I could not believe that they had the correct hose that goes from the intercooler to the turbo for a 2015 2.2 Euro 5 engine! An hour later and we were on our way.
That was not the end of your woes though?
Mark: It all went well well until we reached the source of the Blue Nile and the other thing that failed was the viscous fan, which had done about 40,000 miles prior to this trip. I never ever thought it would go though Nekkies did later tell me that this sort of failure is common.
Incredible that we could do a south to north on the African continent, cross from the Atlantic to the Indian Ocean, source of the white Nile, but then when we got to the source of the blue Nile it was just plumes and plumes of white smoke. It was as if the cylinder head had just failed.
It turned out that the EGR cooler had split, this is common with BMWs and VWs. This cooler has the coolant running through a series of small pipes with the exhaust gas running in the voids between them and what had happened is that ours had split, thereby putting water into the exhaust. So we could run almost dry with water and the temp of the car would not increase. We would do 10 miles in the morning, then top up. Then do 50 miles before topping up and then do 250 miles without having to stop. This put a lot of water through the system and we hobbled to Alexandria.
So after the car stood still during the shipping from Africa to Italy, the turbo seized upon the restart. That is why we could not drive back from Naples to the UK. The turbo is a variable vaned turbo and the actuator and billets had seized. So they had to be replaced and the Defender did the European leg on the back of a recovery truck.
Was Mark's car over engineered for Africa?
Nekkies: Personally I think that it was tuned too much if one considers the quality of available fuel in Africa. I told him that when we were in Namibia crossing the Caprivi. It was round then when one of his aftermarket hoses failed. Tuning your engine can put strain on the mechanics and tolerances of your car. To cross Africa you want something with enough power and good fuel consumption. Tuned Land Rovers will use more fuel than ones that have not been tuned.
Did you have any fuel concerns?
Nekkies: My Td5 did not have any problems with the fuel and they can comfortably run on 500 ppm [parts per million] fuel. The cleanest fuel we currently have in South Africa is only 50 ppm while some garages have 10 ppm. As soon as you go north of South Africa you brace yourself for dirty diesel. That was why I took a Td5 Defender. It was without a doubt the best option for me.
Did the Td5 also have mechanical issues?
Nekkies: I know my vehicle well and can hear or feel when something is not right. We serviced the vehicles in Tanzania, that was after 8000 km. I replaced the rear brake pads which I carried with me. You don't need to check your Defender every day. Do all your prep work and checking when at home and then it will be up for the job. You don't want to be repairing your vehicle as you go along as that can become rather expensive.
There was a headlight relay that needed replacing. I upgraded the headlights but not the relays which failed on me. No issue with oil or water loss. I just had to top up with fuel. So it was a good trip for the Td5.
Wild camping in the Sudan
Advice for anyone contemplating something similar?
Mark: Stop thinking about it and just go and do it. Don't wait to do it. You won't be alone as loads of others are doing it. We went in 2018 and there were no issues. The Home Office issued warnings about the Sudan and Zimbabwe when we did it. Africa will always have issues so bite the bullet and go. If you don't have three months fly in as there are tons of people who will rent you a Land Rover. Fly over to Tanzania and rent a 300Tdi Defender.
Don't try and do too much mileage each day. It's not Britain and you need to be honest with how many miles are possible in a day. Rain, road conditions, traffic and general African mayhem will slow you down. For example when driving from Livingstone towards Lusaka we ended up doing a few hours in the dark after miscalculating things. It was a little stressful as the potholes can swallow a Defender.
Nekkies: Leave your satnav at home as the software is outdated. Get the latest paper maps. Not even Tracks4Africa was reliable in some parts. We were limited for time so did not head off the main tracks. Freelanders will be able to easily cope with the route we did.
Celebrating with friends at the Kelmarsh Land Rover Show
What's next?
Nekkies: Completing Europe while my truck is still in the UK. Then I will ship it to South America followed by Australia and then New Zealand, where that Td5 will retire.
Mark: We will return to Africa for sure. We only scratched the surface in Namibia and did not go through Botswana. Plus we would like to spend more time in the Sudan and some parts of Ethiopia.
Did you know that you can now get access to the entire archive of Land Rover magazine content with our brand new digital archive? You can enjoy all the issues since the launch of the magazine – use the search bar below to find features, reviews and other great content: