01 February 2018
|
Cold workshops could be a thing of the past : credit: © Gary Stretton
Warm the coldest of garages and workshops quickly and safely. Gary Stretton takes his gloves off
The best way to get warm is to not get cold in the first place; that's what we tell our kids, so it's only proper we heed the same advice. The prospect of working on a vehicle with cold hands and feet can be demoralising for many, especially long-term projects, and put a dampener on motivation. One affordable solution is an electric space heater. Unlike old bar heaters that only offered detectable heat if you were millimetres from them, these modern heaters feature high output elements and fans to circulate warm air to every corner of your garage or small workshop.
As a bonus, the four tested here also feature cold, fan-only settings, so they can cool you in hot weather, too. They're not powerful enough to use as an extractor, however.
As with any tool creating kilowatts of heat, a full assessment of potential fire risks when used in confined spaces or close to combustible materials is essential.
As a guide, a heater should not be obstructed by anything within two metres, so before buying, ensure it's suitable for the use you wish to put it to.
These fans didn't pick up any noticeable dust on test, but in a dusty environment they will recirculate airborne dust.
All these heaters have short power cables, so if your garage's electrical wall sockets are waist-high, positioning the unit safely on the ground might be made difficult. If an extension lead is required, ensure it is power-rated to run the heater at maximum output. Finally, always fully unwind a reeled cable to prevent overheating.
What to look for
Thermostatic settings and thermal cut-out protection: Allows control of the maximum desired temperature for your working environment, saving electricity and maintaining the ambient temperature. Cut-out protection is essential for ensuring the heater doesn't overheat with prolonged use or if accidentally obstructed. Some will switch themselves back on once they have cooled sufficiently.
Bump stops: A small but significant detail. Heater casings and frames get hot with prolonged use which might allow the main body to slip from its set angle. If this happens, the stops prevent the heater pointing directly up or down at a surface it might ignite or become overheated by.
Running costs: A typical energy tariff for domestic electricity is in the region of 17 pence per kiloWatt hour. Your provider or latest bill will provide this information. A heater producing 3 kW per hour for eight hours would cost £1.36 to run for that length of time. It's not worth eight hours of being cold to save £1.36.
How we tested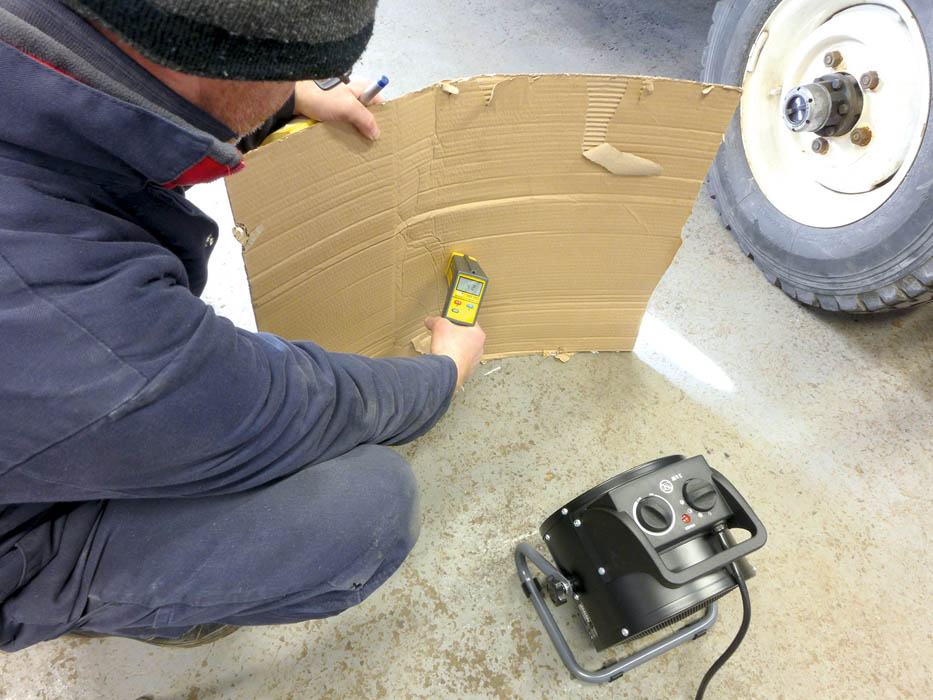 Each heater was positioned at the same point on the floor. The floor was marked at 12 inch intervals up to 12 feet. This should provide enough distance to replicate use in most home garages and small workshops. Each unit was then switched on and left to reach maximum operating output in accordance with instructions. Using a piece of cardboard as a heat absorbing barrier, and an infra-red temperature gun, readings were taken after 15 seconds of continuous exposure. This was done at each 12 inch interval to loosely monitor the effectiveness of the fanned heat output. On the day of the test the outside temperature was 8 C, and the ambient workshop temperature was 14 C.
Distance TEMPERATURE (°C)
(inches) Silverline Draper Sealey Clarke
12 33 36 42 37
24 26 28 28 28
36 20 26 22 24
48 20 24 20 22
60 20 22 19 22
72 19 21 18 20
84 19 20 17 19
96 18 19 17 18
108 17 18 17 17
120 17 17 17 17
132 16 17 16 17
144 16 17 16 17
TEST RESULTS
Sturdy design with rubber feet, carry handle and 3 kW
CLARKE DEVIL 7003 HEATER
Price: £72
Clarke's 3 kW heater is sturdy and quiet to use, moving plenty of warm air in the process. The twin control dials are easy to use even if wearing gloves. Twin bump stops prevent unwanted slipping of the unit's angle and the front grille is removable for cleaning purposes
if necessary.
Key features:
• Thermal cut-out overheat protection
• 0-40 C temperature range
• Dimensions: 302 x 334 x 390 mm
• Air volume output: 400 m3/h
• Fan only consumption: not known
• Half power: 1500 W
• Full power: 3000 W
• Heat insulating carry handle
• Rubber feet
• Cable and fitted plug
• Weight: 5.6 kg
• Spares available
Search for: Item 010415450; machinemart.co.uk
Sealey heater is the most compact on test
SEALEY 3kW PTC HEATER
Price: £69
Sealey's compact heater uses PTC (Positive Temperature Coefficient) technology to create instant dry heat without condensation or moisture, which we can confirm. The powerful motor is quiet and unobtrusive in use. Setting the heater at an angle is via adjustable knobs with a bump stop for safety. Both control dials, for operation and thermostat, are easy to use.
Key features:
• Compact design
• Instant dry heat from PTC ceramic elements
• Thermostatic control
• Air volume output 60 m3/h
• Fan only consumption not known
• Half power: 1500 W
• Full power: 3000 W
• Dimensions: 265 x 209 x 293 mm
• Rubber feet
• Plug not fitted (16 A required)
• Weight: 2.9 kg
• Spares available
Content continues after advertisements
Search for: Item PEH3001; sealey.co.uk
A stable unit but lack of rubber feet increases possibility of vibration
SILVERLINE 2kW WORKSHOP HEATER
Price: £40
Silverline's 2kW heater offers plenty of output without a noticeable drop in temperature compared to others on test. The control panel's twin dials feature simple turn settings for operation and thermostat control. Adjusting the unit angle is via large knobs on both sides and moving it even when hot is aided by a cushioned handle.
Key features:
• Soft grip handle
• Thermostat control
• IPX4 water splash protection
• Air volume output: 250 m3/h
• Fan only consumption not known
• Half power: 1000 W
• Full power: 2000 W
• Max temp: 45 degrees C
• Dimensions: 280 x 260 x 340 mm
• Max 15 hours running time
• Fitted plug and 1.8 m cable
• Weight: 4.1 kg
Search for: Item: 300316; silverlinetools.com
The heater is sturdy and sits on rubber feet
DRAPER 2.8kW ELECTRIC HEATER
Draper's 2.8 kW heater takes up to three minutes to reach full output and deliver its heat quietly without vibration or movement of the main casing. The thermostat control is easy to master and both control dials are large enough to be operated when wearing gloves.
In use, the unit could be switched off and moved without any concern of being too hot to handle after prolonged use.
Key features:
• Soft grip handle
• 2800 W output IP44 waterproof class
• 12 A current rating
• Thermal cut-out prevents overheating
• Thermostat control
• Fan only 30 W
• Half power 1400 W
• Full power 2800 W
• Rubber feet
• Dimensions: 315 x 330 x 400 mm
• Fitted plug
• Spare parts available
Search for: Item: 07571; drapertools.com
VERDICT
The temperature readings for each heater suggest a striking similarity in their heat generating capabilities, which surprised me. What the figures don't show is how much air they heated either side of the infra-red temperature gun. This air volume output would of course affect how quickly your garage or workshop warms up and how easily the temperature can be maintained. No volume figure was given with Draper's heater so I've had to rely on my own judgement based on how it compared to its rivals.
Silverline's 2 kW heater wasn't embarrassed at all in this company and proved itself capable of cost-effective warmth. It doesn't mention thermal overload protection to our knowledge so we have to assume it doesn't feature.
Draper's unit delivers smooth, quiet heat with 2.8 kW on tap and did so with good build quality and all the safety features you'd expect.
Sealey's PTC heater is the odd-man out with PTC technology but from the instant it's switched on it delivers noticeably dry heat in a quiet, focused manner. The compact design will help position it down the side of a car in a garage or on a bench perhaps. Although it quotes 60 m3/h output, the heat generated either side of our temperature gun suggests it will be very suitable for a home garage with a low ceiling. The only drawback is that it doesn't come with a fitted plug. In spite of this, for the quality of the heat and its design, it wins our Value For Money Award.
Two control dial for both operation and thermostat
So the honours go to Clarke's 3 kW Devil. As an all-round package with high output, well specified safety features and simple user controls it's hard to beat for the money.
Did you know that you can now get access to the entire archive of Land Rover magazine content with our brand new digital archive? You can enjoy all the issues since the launch of the magazine – use the search bar below to find features, reviews and other great content: