01 June 2018
|
: credit: © Alison Cole
With summer here, we give eight very different Landy transportable BBQs a good old grilling. In fact one of them was actually a Land Rover...
If you had to pick one smell that best signifies summer and then bottle it, what would it be? Some would probably go for suntan lotion. Others might opt for their favourite flowers. Forgive me, but there can be only one here and that is the smoky smell of the BBQ provided courtesy of sizzling Best of British pork sausages, New Zealand lamb chops, spicy chicken wings or a rack of marinated pork ribs. Nothing else quite says summer like it. The problem with the British summer is that it is just like a Japanese pick-up and nearly always fails to deliver. Which is why you need to make sure that you pick the best portable BBQ for your summer Land Rover adventures. At least then you will eat well. What would a summer Land Rover show be without the smell of BBQs?
We have picked eight very different BBQs for our real-world test, which consisted of throwing some meaty bits and bobs onto the grill of each one. We tried to pick eight that cater for all budgets and our cheapest option is the Sainsbury's disposable BBQ which costs only £2.50, while our most expensive BBQ on test is the beautifully-crafted Landycue that costs £150. Read on to find out which one best satisfies your grilling and Land Rover needs.
Weber Go-Anywhere (gas)
Price: £119.99, hayesgardenworld.co.uk
Size: 36.9x53x31 cm Grill: 41x26 cm
I've been using this little beauty for a couple of years now and often it's the first thing I pack for a greenlaning trip. There is a simple reason for this. It uses gas, so you are literally cooking on it as soon as you have attached a gas canister and pushed the red ignition button. No waiting 20 or 30 minutes for the charcoal to be ready. When getting it ready for use there is a clever clip that keeps the steel legs locked and in place, so it stands firm. And the tough porcelain-enamelled steel cooking grate, porcelain-enamelled base and lid are quick and easy to clean once cool. When you're done, the same legs pivot around and secure the lid so you can carry it all using the plastic handle on top. This is a top-quality portable BBQ which is reflected in its price and extensive warranty. An easy and trouble-free way to BBQ when on the move.
Ease of Assembly 7/10
Portability 8/10
Durablity 9/10
Looks 9/10
Effectiveness 9/10
TOTAL 42/50
Weber Go-Anywhere (charcoal)
Price: £79.99, johnlewis.com
Size: 36.9x53x31 cm Grill: 42x26 cm
Exactly the same specifications and look as the Go-Anywhere Gas except it does not have the gas fittings, of course. Other additions include air vents on the sides and lid which means you can regulate the airflow. It also has a different grill and a secondary lower grill, so only the ash comes to rest on the base and not the large pieces of charcoal. I find the charcoal Go-Anywhere slightly harder to clean than the Gas Go-Anywhere one, but there is something primal about not relying on gas to cook your food. Weber make quality and long-lasting BBQs and we must have used this portable option about 20 times and it still looks like new. A great compact and extremely durable portable BBQ option. Most importantly it is easy to achieve great cooking results provided you use good charcoal. We used the long-burning Weber briquettes for our test.
Ease of Assembly 7/10
Portability 8/10
Durablity 9/10
Looks 9/10
Effectiveness 10/10
TOTAL 43/50
Campfire Tripod Deluxe
Price: £49.99, millets.co.uk
Size: Stands 1.5 m tall Grill: 50 cm (diameter)
It took me about ten minutes to put this together before using it for the first time. The grill is a good size and you can fit a fair bit of food on it, unlike some of the other BBQs we reviewed. It's the only BBQ that we reviewed where you can adjust the height of the grill, which is very useful. The only thing that I did not like about it is that if the grill is not full then it does tend to float about a bit when you are turning the meat. This could probably be rectified with some homemade weights. Once finished cooking you can easily use the base for a fire pit. The three long poles have three sections each that easily come apart though the base is a little on the big side to pack away as you don't want to take the short legs off each time just to store it. It does not come with a bag so I just use an old hessian sack for storage as you don't want it to dirty anything. I have also used my three-legged Dutch cooking pot on just the base and it works a treat.
Ease of Assembly 6/10
Portability 6/10
Durablity 7/10
Looks 8/10
Effectiveness 8/10
TOTAL 35/50
Lassen Grill Trivet
Price: £28, cotswoldoutdoor.com
Size: 43.5x32x16.5 cm Grill: 43.5x32 cm
If you are travelling through an area with an abundance of coal and wood where you may BBQ on the ground, then this has to be your BBQ or cooking option. It's light, made from stainless steel and the legs fold away easily so you can slide it into its storage bag. It won't take up much space in your Land Rover at all. You can put your cooking pot or kettle on it, or else BBQ your meat or veggies on it. What more do you want? A simple yet highly-effective way to BBQ or cook. As with most of Robens products that I have tested it is made to last.
Ease of Assembly 10/10
Portability 9/10
Durablity 7/10
Looks 7/10
Effectiveness 8/10
TOTAL 41/50
Content continues after advertisements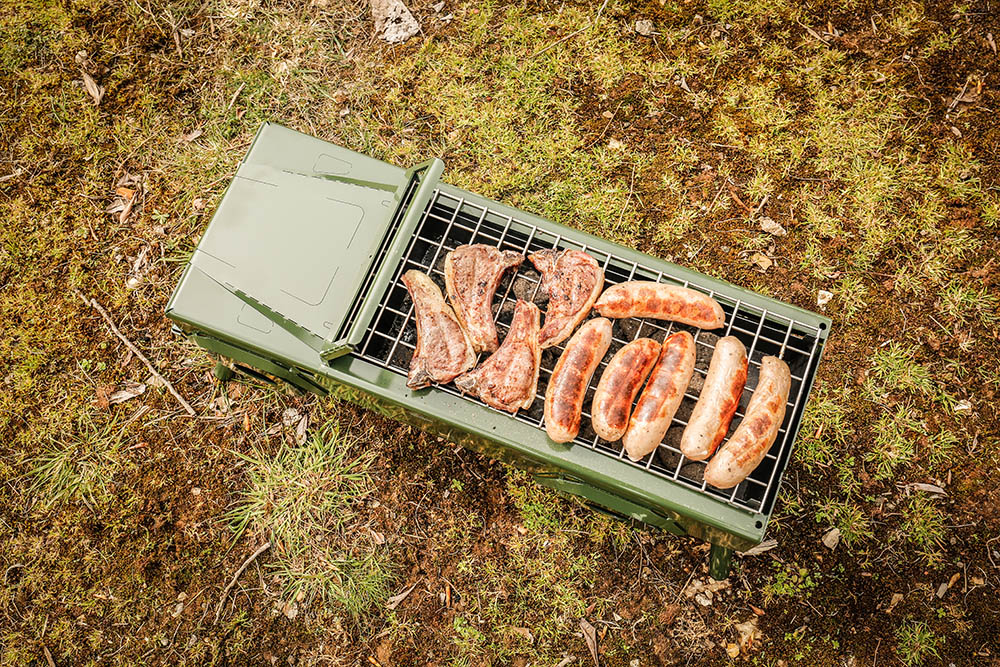 Landycue
Price: £149.99, chickenshedcreations.co.uk
Size: 60x25x27.5 cm Grill: 43x18cm
Definitely the best-looking BBQ in our line-up, and that's not just because it looks a little like my Defender 110! The Landycue is the BBQ for the true Land Rover fan. Ours had been finished with green heat-proof paint, but it's also available in a bare-metal finish if you prefer. All you need to do when setting it up is insert the legs and then you are good to go, though it can also be used without the legs. The quickly detachable roof will probably be useful to keep in place if having a BBQ in the rain. I like the fact that once you are finished cooking you can remove the coal tray and correctly dispose of the coals. Though the Landycue might look big in the pictures note that it only scored 5 on our sausage count. So the grill is not the biggest but it more than makes up for it in looks. We will definitely be using the Landycue at the various Land Rover shows this year! Just need to make a wooden case for it first.
Ease of Assembly 9/10
Portability 9/10
Durablity 9/10
Looks 10/10
Effectiveness 8/10
TOTAL 44/50
Briefcase BBQ
Price: £15, halfords.com
Size: 24x19x9 cm Grill: 20x14 cm
Found this online and for the price I thought it looked like a bargain. The briefcase BBQ is no bigger than my lunch box and while some online reviewers claim that they were able to fit five burgers on the grill, I only managed one toastie and two big pieces of chicken. In fact, it comfortably fits onto the roof of my radio control Defender, or onto the wing of a Defender – and thanks to its sturdy steel stand it won't do any damage. Despite it's flimsy look and small size it does punch above its weight and does what it says on the tin. If you don't have any packing space and only need to cook for one then you could do worse. Useful if there are non-meaty types in the group and you don't want to cook the veggie burgers on the same grill as the beef ones. I was going to chuck it away after the test but have cleaned it and packed it away in the shed. It will definitely be making another appearance or two this summer.
Ease of Assembly 8/10
Portability 9/10
Durablity 5/10
Looks 6/10
Effectiveness 0/10
TOTAL 28/50
Single Disposable BBQ
Price: £2.50, sainsburys.co.uk
Size: 28x22x7cm Grill: 27x21 cm
If I was on Death Row and they told me that they were going to cook my final meal (Karoo Lamb Chop and Boerewors) on a Sainsbury's Single Disposable BBQ then I would rather go for the vegetarian option. This excuse for a BBQ is a cop-out for those who don't like to take the time and effort to do things properly. It's like driving a cardboard Land Rover, it ain't the real deal. Still thousands will buy it this summer and not wait the 20 or so minutes for the charcoal to turn an ash colour before throwing on their sausages and burgers. They will then complain about burnt sausages or the fact that they taste like lighter fluid. If you are desperate and happen to purchase one of these please don't place it directly on the campsite grass as it will leave a horrible brown burn mark. I don't know what else to say about this BBQ except that it is cheap and not really worth the effort.
Ease of Assembly 7/10
Portability 8/10
Durablity 2/10
Looks 5/10
Effectiveness 0/10
TOTAL 22/50
Bushpig BBQ
Price: £121.30, bush-pig.co.uk
Size: 50x26x12 cm Grill: 50x25 cm
This is more than just a BBQ; once you master all of its various uses you will be able to cook a chicken curry in a pot, roast a leg of lamb, bake a loaf of bread and do the normal BBQ grilling on the coals. Then once done with the cooking it doubles up as a fire pit without dropping any coals or ash on the ground. The body and lid is made from mild steel that has been enamel-coated while all the accessories (including the legs) have been made from stainless steel. When on test we used it to cook a pot of curry and bake some fresh bread. Once finished we got rid of the coals and just used a baby wipe to clean it. It looked like new after that so your Land Rover won't smell like BBQ if you store it inside. The whole Bushpig BBQ fits nicely into a heavy-duty bag. I even parked my Defender on it without doing any damage to the BBQ. A useful trick if you want to inspect something underneath your Landy! This versatile BBQ is without doubt the winner in our Overlander's category. Many optional extras available such as a hanging system for pot, side shelves and bread oven.
Ease of Assembly 10/10
Portability 9/10
Durablity 10/10
Looks 9/10
Effectiveness 10/10
TOTAL 48/50
Did you know that you can now get access to the entire archive of Land Rover magazine content with our brand new digital archive? You can enjoy all the issues since the launch of the magazine – use the search bar below to find features, reviews and other great content: