01 August 2018
|
: credit: © Gary Stretton
Gary Stretton advises how to get up close and dirty without risking your eyesight or facial damage
Tempting as it is to just get stuck in with maintaining, repairing or restoring your Land Rover, personal safety should always be a priority. Getting blinded through negligence is not a macho badge of honour. Full face protection is essential when sparks, debris and dust are directed or deflected at your eyes, nose and mouth. If you've ever succumbed to dirt or grinding debris in your eyes while lying on your back under a vehicle, you'll know what I'm talking about.
Face visors offer much peace of mind when dealing with grinding sparks and other high-speed debris as the materials used in the screens are tough enough to withstand most impacts. A wire cup brush mounted on an angle grinder and rotating at 15,000 rpm, for example, can fling out loose wires before it makes contact with any surface.
Being comfortable is key to having a visor you'll want to wear, so buy one that offers exactly that. If your excuse to yourself is that a visor gets in the way or is uncomfortable, find a visor that isn't. The visors tested here offer differing levels of protection, suitable for a variety of circumstances. If, like me, you wear spectacles, a visor is ideal for unhindered vision without compromising safety. They also allow the use of face masks if dust is an issue.
Being invariably made of plastic or polycarbonate shells, visors are generally capable of putting up with workshop knocks and scrapes but the screens will succumb in time to all the impacts and abrasions your face was saved from. This is where replacement screens come into play. Their design is largely universal although the quality of plastics and polycarbonates vary, creating the prices differences you'll likely experience. Look for EN-compliant screens as a measure of protection.
Fitting and removing a visor involves tightening and loosening a headband on the best designs, as these can be adjusted to prevent the visor slipping when you change the angle of your head as you work. A single ratchet mechanism at the back of the head works best and can be used when wearing gloves. Changing the angle of a visor to suit your working position is also very useful for deflecting the line of fire debris can adopt, so controls that are easy to use when wearing gloves are definitely a bonus.
If ear protection is also required when wearing a face visor, then choose a design suitable for the ear defenders of your choice. The old headphones style defenders typically fit over the designs tested here but check first.
Finally, once you've bought a visor, store it carefully to prevent abrasive dust from prematurely ruining the clarity of the screen. Always wash a visor screen under running water before you rub or dry it with a soft cloth or tissue.
What to look for
• Forehead comfort: a cushioned strap will absorb sweat and be more comfortable.
• Adjustable headband: a ratchet-type works best when wearing heavy-duty gloves.
• How much protection: do you need full face, forehead and ear protection or just eyes and face?
• Replaceable screens: visor screens take a lot of flak so expect to replace them. This should be a simple procedure.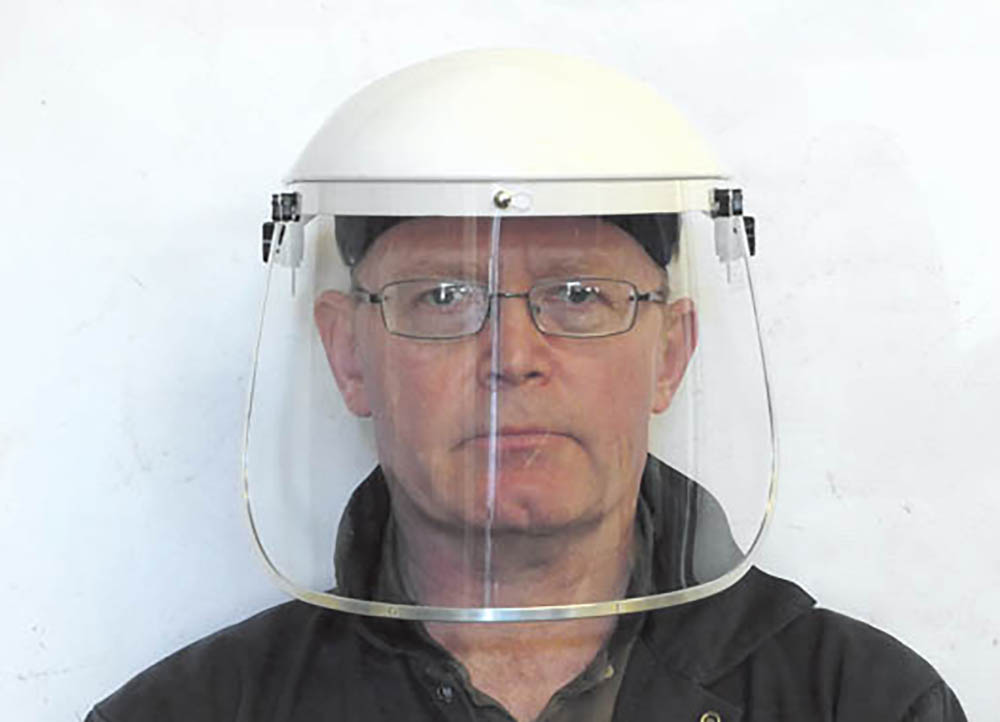 AXMINSTER SAFETY VISOR
Price: £11.95
With its clean looking off-white shell and metal edged screen, Axminster's visor offers more than its price suggests. Fully adjustable for most head sizes, the single ratchet is a cinch and the well-padded headband offers prolonged comfort. The metal screen edge helps to make the visor more compact and protects it from snagging and splitting the screen by accident when working in confined spaces.
Key features
• Full face and forehead protection
• Fully adjustable via single ratchet.
• Padded headband
•Protective metal edge fitted to screen
• Hinged visor height readily adjustable
• Replacement screen typically £5.21
• Conforms to EN166 1B
Search: Item 500080; axminster.co.uk
LASER SAFETY GOGGLES/FACE SHIELD
Price: £23
Laser's striking goggles and face shield combo will certainly get you noticed. In use, it works a treat too, with enough room inside the goggles for most types of spectacles. The narrow design is perfect for confined spaces such as wheel arches and you'll find it very difficult to fog the lens in use (I couldn't). Size adjustment is a simple and comfortable, strap affair.
Key features
• Meets ANSI standards
• Full face protection
• Detachable face shield for user flexibility
• Vented goggle frame eliminates fogging of lens
• Can be worn with spectacles
• Adjustable strap
• Manufactured from polycarbonate
Search: Item 6514; toolconnection.co.uk
DRAPER VISOR/HELMET/DEFENDERS COMBO
Price: £27
Draper's 3-in-1 kit offers excellent levels of protection for most workshop tasks. The helmet harness makes the fit very comfortable and should suit most head sizes. The ear defenders are very effective, while the visor offers plenty of protection and uncluttered vision of the work in hand. The flip-up visor is welcome and likewise the parking position of the ear defenders when not in use. Assembly is required.
Key features
• Fully-adjustable head harness
• High density polyethylene shell
• Clear polycarbonate visor
• Ear defenders SNR Rating 25.9 dB
• Replacement screens typically £6
• Helmet conforms to EN 397 spec
• Ear Defenders conform to PR EN 352-3 spec
• Visor conforms to EN 166-3B/EN 1731 F spec
Search: Item 69933; drapertools.com
Content continues after advertisements
SEALEY DELUXE BROW GUARD AND FACE SHIELD
Price: £19.99
Sealey's somewhat staid-looking visor is nonetheless very comfortable to wear thanks to its double-padded headband. The headband's ratchet adjustment offers a good-size knob for glove wearers and provides excellent support. Setting the angle of the visor is easy too, and allows for quick lifting and lowering.
Key features
• Ratchet adjustable headband
• Front and back vinyl padding
• Replacement screen typically £9
• Conforms to BS EN 166/B39
Search: Item SSP11; sealey.co.uk
SILVERLINE FACE SHIELD/VISOR
Price: £9
Full face protection for less than a tenner! Silverline's visor is easy to use, comfortable to wear and even offers single ratchet adjustment. The padded headband is a welcome touch, as are the large side knobs for tightening the hinged visor at angles.
Key features
• Full face protection
• Padded headband
• Single-point ratchet for size adjustment
• Impact and scratch -resistant screen
• Hinged visor
• Conforms to EN166 spec
Search: Item 140863; silverlinetools.co.uk
VERDICT
Not all visors are the same even if they tend to follow the same principles of design. The typical full-face versions tend to have screens that splay out slightly, which is beneficial for deflecting debris away from the wearer. This has the bonus of offering much if not total ear protection, too. But that's what ear defenders are for, not just noise. If you don't yet own full face, ear and head protection you'll be hard pushed to do better than Draper's excellent 3-in-1 combo. It was a fiddle to assemble, but is comfortable and effective in all three departments. If you need to work in confined spaces, the defenders are best worn to reduce the height and although the headband is comfortable, it's not as easy to tighten or loosen quickly as the ratchet types. The flip-up visor is a neat touch.
Laser's goggles detach if required
Laser's unconventional ice hockey-esque face shield and goggles design certainly surprised me, as a spectacle wearer. It was very comfortable to wear and on test I couldn't make the lens mist up thanks to the well-placed vents. My only reservation was my exposed forehead but other than that, a revelation. The three remaining conventional visors offer similar protection levels which will inspire users to get close to their work if necessary. All three can suffer from misting but they also demist quickly if you learn to exhale downwards through your mouth.
Silverline's visor is worth praising for its comfort and price while including a headband ratchet. Sealey's visor works much better than it looks and is both easy to adjust in use and comfortable to wear.
Axminster's padded headband is comfy for prolonged working
For value and design, Axminster's fresh-looking visor wins the overall award for comfort, ease of use, that screen edge protector and compact design. If forehead protection isn't essential to you, try the Laser goggles and be pleasantly surprised.
Whichever you buy, you'll be saving your eyes and face – which makes all of our contenders great value for money.
Did you know that you can now get access to the entire archive of Land Rover magazine content with our brand new digital archive? You can enjoy all the issues since the launch of the magazine – use the search bar below to find features, reviews and other great content: