01 February 2018
|
: credit: © Alisdair Cusick
How to make your 21-year-old Defender Tdi look brand new again
Edward Watson thought he had it all. Living in the Suffolk countryside, working in London and driving a Range Rover Evoque. "I used to love driving the Evoque down to London and back. It really came into its own whenever I encountered potholes or water. It was much better than the Audis or BMWs that I'd owned before it."
In July 2017 Edward's life changed for the better when he picked up the latest copy of LRM. On the cover of that issue was a Ninety that had been tastefully restored by John Brooks of cult4x4.com for a client in Germany. That story made Edward realise that there was something missing in his life. He now wanted a Defender.
Edward explains the history of Land Rovers in his family: "I remember how as kids we used to go for rides in Series Land Rovers on my great-uncle's farm in Somerset.
"One of my fondest Land Rover memories involved speeding along the A303 South Petherton bypass in the then brand-new Range Rover. That must have been in the summer of 1970 or 1971."
It's clear that the love of Land Rovers certainly runs in the Watson family...
Edward has owned a Caterham Seven for a decade now and another reason that he wanted a Defender was to tow it. As he only lives a few miles from Cult 4x4, that was his next port of call in his Defender quest. Once there he straight away fell in love with a 1996 110 300Tdi.
The Defender is Edward's daily drive and is also used to tow his Caterham
Edward is quick to admit that he is no Defender expert and so he took it Jonathan Rout from Hillcrest Vehicle Solutions for a second opinion.
Edward describes Jonathan's verdict: "While it may have been over two decades old Jonathan was impressed with what he saw. He said it had a sound chassis, bulkhead and gearbox. He did identify a hole in one of the crossmembers but that was not too serious in the greater scheme of things." And so Edward was now officially a Defender owner.
Edward explains why he decided to go down the Defender route: "While I do prefer the look of a Series Land Rover, a 300Tdi Defender was a more practical proposition. I planned on using it every day and I knew that parts are readily available for these vehicles, though the price of parts has increased significantly since production ended.
The venerable 300Tdi - a reliable choice for everyday use
Last year, Auto Express identified the Top 50 Greatest British-built cars of all time and Edward has now owned three cars on that list: the Defender, a Caterham Seven and a Triumph Herald convertible. It's a fact he is extremely proud of.
Anyone can own or buy a classic car. Edward wanted more than that. "I decided to try and add 20 or 30 years to its life. I love cars and bought this Defender because I wanted to preserve it for the future."
Why this path? Although he has yet to own one, Edward has a burning passion for Morris Minors. One of the things that has fuelled this passion is a book published in 1982 and written by Charles Ware (of the Morris Minor Centre in Bath) called Durable Car Ownership which basically says that you can buy virtually every component or part for a Morris Minor. That means if you keep it mechanically sound then you should be able to run it for life by just replacing the worn or broken bits along the way.
It's clear that the Morris Minor and Land Rover Defender certainly do have a lot in common. And this motoring outlook certainly played a part in the purchase of the slightly tired but very solid Defender 110.
While Edward planned on doing some of the jobs himself he decided to use Jonathan from Hillcrest Vehicle Solutions and John Brooks from Cult 4x4. Jonathan started by giving the 110 a full service and attending to some of the minor mechanical issues associated with a vehicle of this age. The timing belt and rear half shafts were replaced; so too the clutch master and slave cylinder. It did not take much to sort the mechanics.
While it had a sound chassis there was a hole in one of the crossmembers and the rear floor plus support structure had to be replaced
While replacing a mid-chassis crossmember, Jonathan realised that the rear floor was in a worse condition than first anticipated. It had to be replaced in its entirety along with the supporting structures. Only then did he Waxoyl the chassis. The underside was good to go for a few decades.
Before John had put it up for sale at Cult 4x4 he did do a bit of work to it. A rear safari door replaced the old one, a new shiny black crossmember, new fuel tank, battery and side steps were all fitted as well. They definitely all made a massive difference to its general look.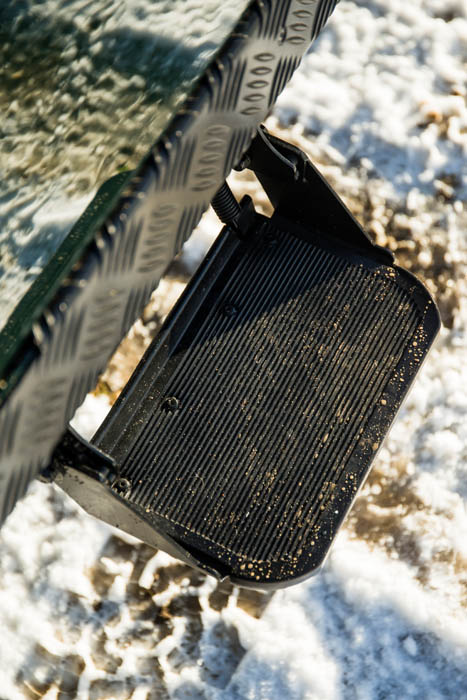 A step up in finish
Edward was far from finished though and so he went back to John. As Edward wanted to tow with it, a tow bar, rear step and the necessary electrics were bolted on.
To make sure his Defender was safe and secure, Edward asked John for a Thatcham Cat 1 alarm system. The droopy headlining was also replaced.
His Dream Defender was starting to take shape but this was just the beginning. Edward wanted his 21-year-old Defender to look brand-spanking-new – with a few modern upgrades, of course.
Content continues after advertisements
Body corrosion was fully sorted before a full respray
Edward asked John to do a costing on four new doors and a full respray. He decided to go for it. John has a spray booth on site but more importantly he has a top notch painter and bodywork fixer by the name of Ricky Pluck of Cult
Classic Restorations.
Ricky is originally from Romford in Essex but has moved to Suffolk for a quieter life.
"While you might think your Land Rover's paint is in good nick, aluminium tends to cause loads of corrosion beyond the paint," says Ricky. "Once you start to peel back the paint you normally find that the damage is worse than what you initially thought. Due to the dents, corrosion and bad repairs on Edward's Defender we decided to sort out the corrosion on the bodywork and then repaint it."
As Edward takes us on some of the country lanes around Cult 4x4 we have a chance to inspect the paint job in the bright, winter sunlight. Ricky has indeed done a top job.
Wolf wheels and all-terrain tyres
Edward carried out some of the work himself. The old Disco wheels went and were replaced with stylish white heavy-duty Wolf wheels, but not before they were blasted and repainted.
He then treated himself to a set of new AT tyres. They look heaps better than the Discovery wheels.
Edward obviously loves his music because the standard Land Rover radio was replaced with a more modern one along with some decent speakers and a subwoofer beneath the new leather Exmoor Trim cubby box.
To ensure that he would not have to replace the rear door again in his lifetime he decided to fit a Mantec Swingaway Spare Wheel Carrier.
You name it, almost every part inside has been replaced
John from Cult 4x4 then set about sorting out the interior. The front windscreen was changed for a heated one. Sound insulation was inserted into the body panels and doors so that Edward could better hear his sound system.
A full set of new carpets and rubber mats replaced the old ones. The front seats were replaced with new half leather (heated) ones from Exmoor Trim. The second row and load area seats were also replaced with new cloth ones, also from Exmoor Trim, but not before the frames were powdercoated.
Original body graphics all in place
A black Moto-Lita steering wheel completed the transformation. The final job left to do was replace the original body graphics and badging.
What began as just a quest to own a 300Tdi Defender developed into a journey to restore and upgrade a vehicle that will last him at least a couple of decades, as long as he services it regularly. Which he will, of course.
So, while the Land Rover world waits for the launch of the new Defender, it's good to know that enthusiasts like Edward are giving old Defenders a new lease of life.
John Brooks of Cult 4x4
"There are still loads of 300Tdi Defenders about. If you are in the market for one then you have to look at the basics such as rust to the bulkhead and chassis. Don't worry about the other bits such as the doors or the interior as they can all be replaced.
"Rather make sure that it is mechanically sound rather than just a sound body. The sign of a good 300Tdi is one puff of black smoke on a start up and then clear thereafter."
Did you know that you can now get access to the entire archive of Land Rover magazine content with our brand new digital archive? You can enjoy all the issues since the launch of the magazine – use the search bar below to find features, reviews and other great content: