04 August 2021
|
A Defender in Disco clothing : credit: © Max Brown
Want a head-turning Discovery 2 that boasts the off-road credentials of a Defender, at a fraction of the price? Here's how to do it…
It sometimes seems like the world's gone crazy. A Defender 90 Td5 that cost a quarter the price of a Range Rover in 2003 will now be worth four times as much as that same Range Rover. Meanwhile, a Td5 Discovery 2 from the same year can be picked up for next to nothing, despite the fact it was far better appointed than a Defender with the same power unit.
Who would ever have expected secondhand Defenders to become fashion icons, snapped up by collectors and fetching silly money, while Discoverys of the same age are languishing in the automotive world's bargain basement? But if this is beginning to sound like a bit of a lament, forget it, because canny enthusiasts are taking advantage of this topsy-turvy situation.
Discovery 2s, you see, are fast becoming the new Defenders for ordinary folk who want a Land Rover that will do just about anything. Instead of paying way over the odds – say, £10,000 – for a tired 90 or 110 Td5 workhorse that has led a hard life down on the farm, you can buy a pampered Disco 2 for a couple of grand and then spend the leftover cash
on upgrading it with some irresistible extras. Just ask Mike Harvey...
Mike's proud of his Discovery 2 creation
Mike, 27, is a typical family man, with a wife and young son. He needs his Land Rover for going to work, trips to the supermarket, taking his lad to nursery and going off-roading or greenlaning at weekends. What isn't typical is his Discovery 2, which is one of the most head-turning examples we've ever seen.
"People stop and stare when I drive by," says Mike, from Camberley, Surrey. And it's easy to see why. It's bristling with extras and can out-Defender your average Defender off-road. It's a darned sight more comfortable, too. But how did it come about? Mike explains...
Now that's what we call wheel articulation
"My dad always loved Land Rovers, but never got round to buying one. He said they were impractical and hard to fix. I decided to prove him wrong and bought my first Land Rover about ten years ago. It was a 300Tdi Discovery 1. I quickly got the bug and started going off-roading with my mates. Soon I made a few mods to make it perform better, off-road. In fact, I went a bit over the top and gave it a four-inch lift. It did the trick as far as off-roading went, because it went really well through mud and water. Trouble was, it was horrible to drive on the road. I also managed to blow two head gaskets when the engine overheated while I was driving on the road and the second time it happened it cracked the head. I'm probably the only person ever to manage to destroy a 300Tdi engine, which are famous for being indestructible. I stuck another engine in, but I sold it soon afterwards because I was commuting into London and it just wasn't practical.
"My next Land Rover was this Discovery 2, which I bought five years ago. I bought it from a friend who really didn't want to sell it, but I hassled him every day for three weeks until eventually he agreed to sell it to me for £3000.
"It was a 2003 Td5 D2 with 94,000 miles on the clock. It was totally standard and original – it hadn't been molested in any way – and it came with the biggest pile of paperwork you can imagine. Reading through all the old MoTs and workshop receipts I discovered that it'd had a new gearbox and chassis in 2009, which was good news.
"At first I kept it pretty standard. I had learned from my experience with my Disco 1 and its four-inch lift and wasn't going to make the same mistake again. I didn't want to do anything too drastic, because I wanted it to be nice to drive on the road as well as capable off-road. I did most of the work on it between 2017 and 2018. The first thing I did was give it a two-inch lift. At around that time I started doing more off-roading and one day I just stood and looked at it and realised its potential. I decided I would enjoy the car while making it able to do everything I wanted."
Mike is a professional mechanic and commercial technician. He explains: "I worked in garages at first, but got bored of working within four walls, so I got a job as a roadside technician and progressed from there. These days I fix ambulances for the London Ambulance Service as a night-time technician, as well as attending broken and crashed commercial vehicles." Working on broken vehicles at the side of the road at night in the middle of winter meant it was no hardship for Mike to work on his Discovery on his driveway.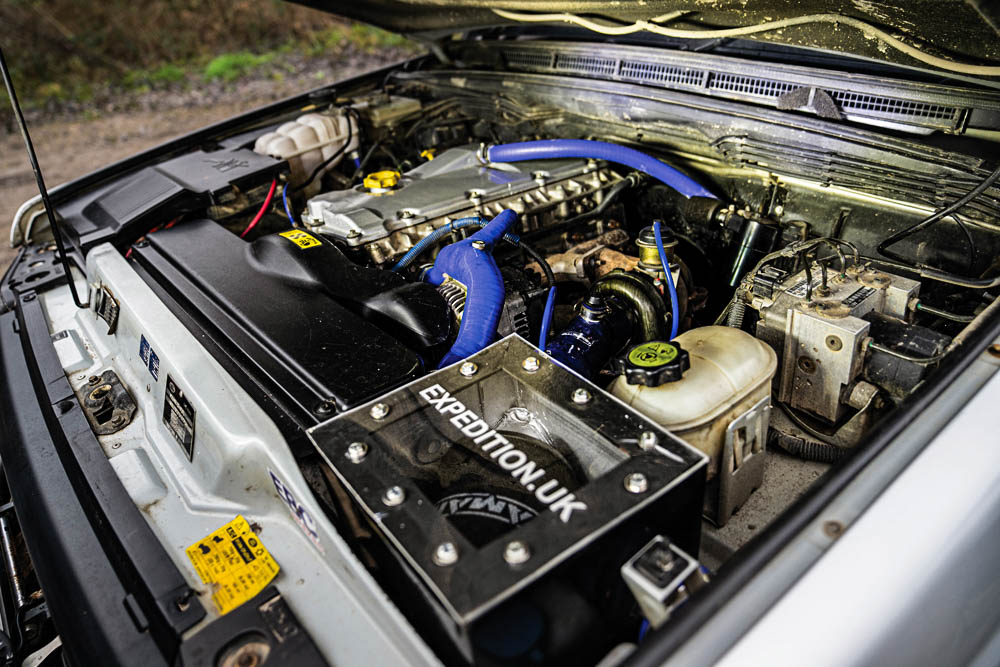 Classic Td5 power under the bonnet
"My best mate Ali Carter helped me a lot on the project. He drives a Defender 90 with a Mercedes 606 six-cylinder diesel, which is pretty powerful but I can tell you it was also a very tight fit in a Defender engine bay! Although Ali was there most of the time, I did the body lift on my own. It was the only time I went to a garage and used a ramp. It was difficult, but it wasn't the hardest part – that was building the air box from scratch, because there was so many measurements to take. We made it ourselves because the snorkel wouldn't line up with any factory ones, due to the internal roll cage getting in the way. We didn't have any choice. But Ali and I thought we could improve on the standard design by fitting a clear lid, which allows me to see if any dirt, leaves or water have got into the box, without having to take it to bits to find out.
"The only other thing that was tricky was cutting out the wheel arches to accommodate the big wheels and tyres, particularly the rear arches, which was very time-consuming because you have the rear doors to worry about."
Suspension and body lifts plus abbreviated rear bumper greatly improve departure angles off-road​​​​​​
The main disadvantage of the Discovery 2 on the off-road course is the long rear overhang, which tends to ground easily when attempting steep hill climb sand descents. Mike solved the problem by fitting big wheels and tyres and replacing the shelf-like rear bumper with a custom version from ROP 4x4 Fabrications (who also supplied the roll cage and rock sliders). Together with the body lift, it raised the back of the vehicle by about eight inches, greatly helping ground clearance and boosting its off-road capabilities.
The resultant vehicle is every bit as capable as a Defender, in Mike's opinion – and he knows what he's talking about. He's a keen member of the Thames Valley 4x4 Group and often spends his weekends as a marshal at their off-road events, helping to extricate stuck 4x4s from the mud. It's something that doesn't happen much with his tricked-up D2, but for the rare occasions it does he's fitted an electric winch to pull himself out of trouble.
Mike's modified Disco is a very capable off-roader
Mike's long list of modifications made to his Disco (see below) looks daunting, but he says it shouldn't be: "One of the things I like most about land Rovers is that you can do what you want with them – and the Discovery 2 is no exception. You don't need to be mechanically minded to create a vehicle like mine. They are easy cars to work on and most of the mods I've made have been simple bolt-on stuff. There are plenty of forums and information on social media to tell you what you can do. It's very easy to get the answers to your problems online, as well as find tutorials and step-by-step videos that make it much less daunting.
"As for planning, there was no real plan, to be honest. It was more a case of taking ideas from other 4x4 builds that I found on social media, especially in Australia and America. I didn't want it to look like any other Discovery 2 in the UK, which all seem to have similar modifications and end up looking the same. I'm confident mine looks like no others."
Mike admits that he learned as he went along. Fitting the bigger wheels and tyres meant it was down on power, so he improved the performance with an engine remap, intercooler and VMT turbo. "You can really feel the extra power when you're on the motorway, whereas before it felt like it was missing something," he says.
Content continues after advertisements
Of all the vehicles ever built by Land Rover, the Discovery family has always been regarded as the most versatile – and Mike's is no different. Besides being his everyday vehicle and weekend off-roader, he decided to kit it out for touring and travelling, building the shelving and storage units in the back himself, while leaving enough space for the wheelchair of three-year-old Jenson, who is disabled.
"Jenson loves going greenlaning and laughs all the way. My wife Rosemary likes day trips and loves the view from the high-up seating position, but she isn't so keen on weekends spent winching your way out of mud puddles. That sort of stuff is mainly me and the boys.
Versatile D2 soon converts into a camping rig
"My first trip out in it was a greenlaning and camping weekend on Salisbury Plain. I took out the back seats and replaced them with a memory foam mattress to sleep on, but I plan to fit a rooftop tent this year. I want to do Scotland's North Coast 500, hopefully with my other half and my son. I've also got a trip planned for Wales, but of course everything depends on the pandemic situation.
"I'd like to do something more exciting in the future. A trip to the Alps is high on my bucket list, but maybe Africa one day – who knows. It's so difficult to plan anything right now."
Besides the roof tent, Mike also plans to replace the current awning with a bigger one, with sides. He'll also be replacing the tubular bumper with an ARB-style bullbar type which he feels will better suit the Disco's aesthetics.
As for the D2's infamous Achille's Heel, its tendency to suffer severe corrosion in the rear chassis, Mike says the answer is to power-wash it thoroughly after every off-road or greenlane trip. He has also treated it to four coats of Buzzweld chassis paint.
You don't get a comfy interior like this in a Defender
Mike's D2 has now covered 124,000 miles, but he's no plans to sell it. "Remember my mate who sold it to me for £3000 after I nagged him every day for three weeks to let me buy if from him? Well, he's doing the same to me now! He loves what I've done to it and wants to buy it back. I've had lots of offers from people who have seen it and want it, but I've turned them down. It's a real head-turner, all right.
"There are a lot more people doing the same thing now. You can pick up a Discovery 2 for a fraction of the price of a Defender, which are so overpriced. Another great advantage of owning a Discovery 2 is that I don't have to worry about parking it up and it getting stolen. Defenders seem to be top of the list for car thieves these days and I wouldn't want that.
"If you want to go off-roading, the Disco can be modified to make it every bit as capable as a Defender – and it's twice as comfortable, too!"
Mike's mods
Engine bay: Td5 Inside remap, VNT turbo from CR Turbos (supplied by Td5 Inside), aluminium three-row radiator, Alisport intercooler, Alisport intake pipe (blue), Pioneer4x4 boost hoses (blue), Pioneer4x4 coolant hoses (blue), homemade custom air box with ram air filter, homemade 3-inch snorkel, Total Td5 skimmed and de-webbed manifold, Total Td5 extended Wurth exhaust stud kit, Gwyn Lewis Twin alternator kit, 300Tdi high-output alternator, Extreme-spec clutch with LUK dual-mass flywheel, 2.5-inch straight-through exhaust system to stainless back box with 3 inch tip, Synchro Gearboxes Td5 slick shift.
Wheels and axles: Terrafirma TF106 alloy wheels, 315/75/16 BF Goodrich KM3 tyres, Defender 1.4 LT230 transfer box (difflock), EBC drilled and grooved brake discs (front and rear), EBC Green Stuff brake pads (front and rear), Pioneer 4x4 extended brake, Monkey diff guards, Terrafirma HD steering bars, Terrafirma twin steering damper, Gwyn Lewis wide angle double cardan propshafts (front and rear).
Suspension upgrades include +3 four-stage adjustable shocks, 3 degree castor-corrected arms and dislocating cones
Suspension: Terrafirma 2-inch HD springs, Terrafirma +3 four-stage adjustable shocks, Adrenaline 3 degree castor-corrected arms (front and rear), Adrenaline dislocating cones, Adrenaline spring clamps, Dirt Monkey shock turrets, Super Pro Polybush kit, Grove auto engineering cranked watts link with Super Pro Polybush.
Chassis: Dirt Monkey under armour, Dirt Monkey fuel tank guard, Dirt Monkey transfer box guard, 2-inch body lift, chassis painted with Buzzweld CIO (black).
Body: Custom external cage made by ROP 4X4 Fabrications, Custom rock sliders (ROP 4x4 Fabrications), Custom rear bumper (ROP 4x4 Fabrications), Flatdog UK extended arches 50 mm, First Four tubular front bumper, Goodwinch TDS Goldfish winch (Bow2 Plus motor), Frozen ropes (11x30 winch rope), Lazer Lamp Triple R 1000 front light bar, 52-inch curved light bar, chequer plate bonnet, Dirt Monkey HD rear tyre carrier, genuine LR rear ladder, G4 Fat Roof bars, Direct 4x4 side awning 2 m x 2.5 m.
Interior: T Max dual battery system, cream interior dyed black, Midland Alan 78 CB radio, Discovery 1 diff lock lever, custom rear storage system and integrated table, Bearmach 52-litre fridge/freezer, Wild 4x4 rear window guards, homemade rear upper storage shelf, 4000 W power inverter, leisure battery, 20-litre water container with tap.
Recovery equipment: Soft shackles x2, Tree strop, bow shackles x4, winch blanket, HD tow strap x2, 24-inch bow saw, axe, shovel, first aid kit, snatch block.
Did you know that you can now get access to the entire archive of Land Rover magazine content with our brand new digital archive? You can enjoy all the issues since the launch of the magazine – use the search bar below to find features, reviews and other great content: