08 January 2021
|
These tough trucks will have most muscle cars scurrying for shelter! : credit: © Alisdair Cusick
We've assembled some of the toughest Land Rovers ever in a show of strength that would have most muscle cars scurrying for shelter before they get sand kicked in their faces
When it comes to muscle, nobody does it better than Land Rover. You only have to look at the motley crew we have assembled here to know that these are the kind of cars to kick sand in the face of ordinary automobiles. Look closely and I swear you can see their biceps flexing.
The Americans reckon they invented muscle cars, but we know better. What good's muscle if you get bogged down in a bit of mud? When the coupes get stuck, the tough keep going. After all, the nation that invented roast beef knows a thing or two about beefcake. Proper muscle cars come from Solihull and when their tuned engines roar they do so with a Brummy accent.
The magnificent eight you see here are about to be unleashed on the challenging terrain of the world-famous Billing Off-Road Course. A Mustang would bolt in terror at the awesome obstacles out there – and you show me the Stingray that could be converted into a four-berth motorhome and still drive through a lake.
But that's enough boasting. Real muscle cars let their actions speak louder than words. So read on and be prepared to be deafened…
DEFENDER OF THE FAITH
Ownwer Ian 'Noddy' Jenkins: "It's a custom extreme off-roader which can also be used on-road"
Muscle: 1990 Defender 90 off-roader
Power: 2.5-litre 200Tdi (125bhp)
If you're looking for off-road muscle with a hint of mud, look no further. Ian Jenkins – better known to his friends as Noddy – is a familiar face on the off-road winch challenge circuit – a gruelling pursuit inspired by the legendary Camel Trophy events of the 1980s and '90s. It's a tough sport in which highly-modified Land Rovers quite literally live up to their go-anywhere reputation by taking on the sort of terrain that would have a mountain goat running scared.
For the few bits that their hard-as-nail trucks can't reach, they resort to winch power. This sort of vehicle isn't for the faint-hearted.
Noddy's bobtailed 90 is the perfect example of off-road muscle, but attaining this sort of perfection didn't come easily. "It's a 1990 H-plate 200Tdi that was previously a pick-up used by Simon Elvins for winch challenge events," he says. "I bought 11 years ago and I've just about finished it…"
Ex-Disco Tdi is better in mud
In that 11 years he has made a lot of changes, including replacing the original Defender-spec 200Tdi engine for a Discovery version, chosen because the Disco's power steering pump is situated higher up the engine and less likely to get immersed in mud. This meant fabricating a custom exhaust system and snorkel, to fit.
There's an AP Racing six-paddle Cerametallic clutch acting on a lightweight alloy flywheel. Air-locking diffs and 4:1 crown wheel and pinions are from ARB, while Ashcroft supplied the drive shafts and CV joints in new cadmium Td5 casings.
Rear diff protected from hard knocks
Heavy-duty 110 brakes are fitted front and rear, with Discovery master cylinder servo. There's also an X-Engineering disc hand brake, which is much less likely to get blocked by mud than the drum original.
The distinctive and purposeful-looking exterior comes thanks to North Off Road wings, cage and tray back. The front Warn 8274-50 winch is fitted with XP motor and synthetic rope box solenoids. At the rear, a Husky winch sits in a welded tray at the back of the chassis.
For maximum power, Noddy has fitted an Ally Sport intercooler, plus Davies Craig 16-inch cooling fan and 200 amp alternator. The battery is an Optima 5.5 Yellow Top, with four master switches.
Series III doors have replaced the original Defender items, because their sliding windows are much less likely to get jammed when the mud flies.
Essential off-road tools include a saw
Many of the modifications were created specially by Noddy, who runs Beast Motorsport in Bristol – a company specialising in building and looking after off-roaders for some pretty
serious competitors.
"This is a custom-built extreme off-roader, which can also be used comfortably on-road, says Noddy. In other words, the ultimate muscle car.
In truth, there isn't room here to list all the mods Ian has made to this truck, but I can't resist the reasoning behind his locking cubby box. "It has to be lockable so that when I roll it over I don't lose all my Mars Bars," he says.
BOWLED OVER
Owner Nigel Allcock: "This is the first wildcat 200 built by Drew Bowler"
Muscle: 1999 Bowler Wildcat off-road racer
Power: BMW 3.0-litre straight-six turbodiesel (230 bhp)
The first Wildcat 200 ever built by the late off-road legend, Drew Bowler, its immaculate yellow-peril paintwork belies the fact that this Land Rover-based racer has been totally written off, twice.
It was originally built for renowned off-roader Paul Reynolds, who competed in three Dakar desert races in it, but on the last one he went airborne over a sand dune only to dive 30 feet, nose-first, into another car. The Wildcat was totally destroyed and, because it was in such a remote location, abandoned in the desert.
Paul was sure that that was the last he'd ever see of it, but it was recovered by locals and eventually found its way back to the UK, where Drew Bowler rebuilt it, with a BMW straight-six engine to replace the 300Tdi original.
Legendary Bowler 200 is pure muscle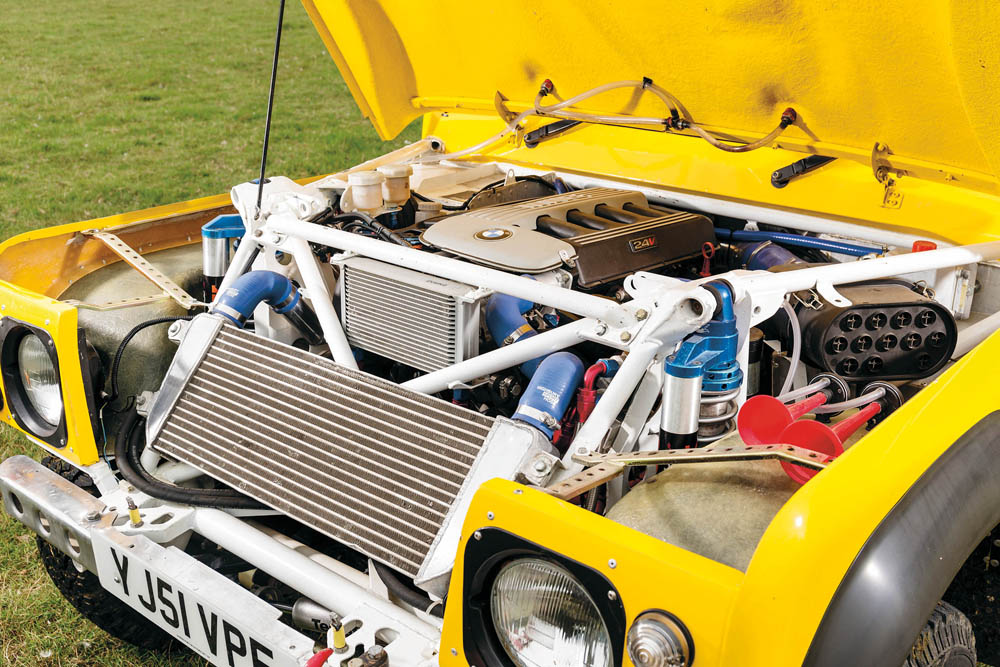 Intercooler where the rad ought to be because . . .
. . . the radiator is situated in the rear
Long range fuel tank included
Current owner Nigel Allcock bought it in 2005, but wrote it off himself soon afterwards while competing in the British Off-Road Championships, in Scotland. "It was the third round and we were leading in our class, but it slid sideways at 60 mph and rolled three times," recalls Nigel. "There wasn't a single fibreglass body panel intact and even its roll cage was bent."
Amazingly, it was still driveable, so Nigel drove it two miles out of the forest and trailered it home to his workshop, where it languished until two years ago, when the 70-year-old, from Sandbach, Cheshire, decided to restore it. What you see here is the finished result.
"With 230 bhp and 400 lb-ft of torque, it pulls like a train," says Nigel.
HOME ON THE RANGE
Owner Mike Beady: Off-road ability with Range Rover levels of comfort
Muscle: 2000 P38 Range Rover Camper
Power: BMW 3.0-litre straight-six turbodiesel (230 bhp)
Mike Beady and his wife, Milly, love camping and off-roading. For several years, they spent their weekends in a luxury 7.5 ton camper truck, but that wasn't suitable for off-roading. Mike knew he needed Land Rover capability, but he didn't want to sacrifice the level of luxury they had become accustomed to.
The answer was this remarkable P38 Range Rover conversion, which Mike designed himself. Inside, there is a luxury fitted kitchen, with a pop-up sleeping area for two. How so much has crammed into its Tardis-like interior is testament to Mike's skills.
"It was two years in the planning, two years in the building," admits the Crewe-based engineer.
Home from home in the back of a converted P38
Many people steer clear of the second-generation Range Rover, which was the most advanced 4x4 of its day, with complicated electrics to match. But Mike's different. He loves a challenge and even replaced the original 2.5-litre diesel with a BMW twin-cam 3.0-litre straight-six, then created a whole new wiring loom and body control computer to run it all – flawlessly.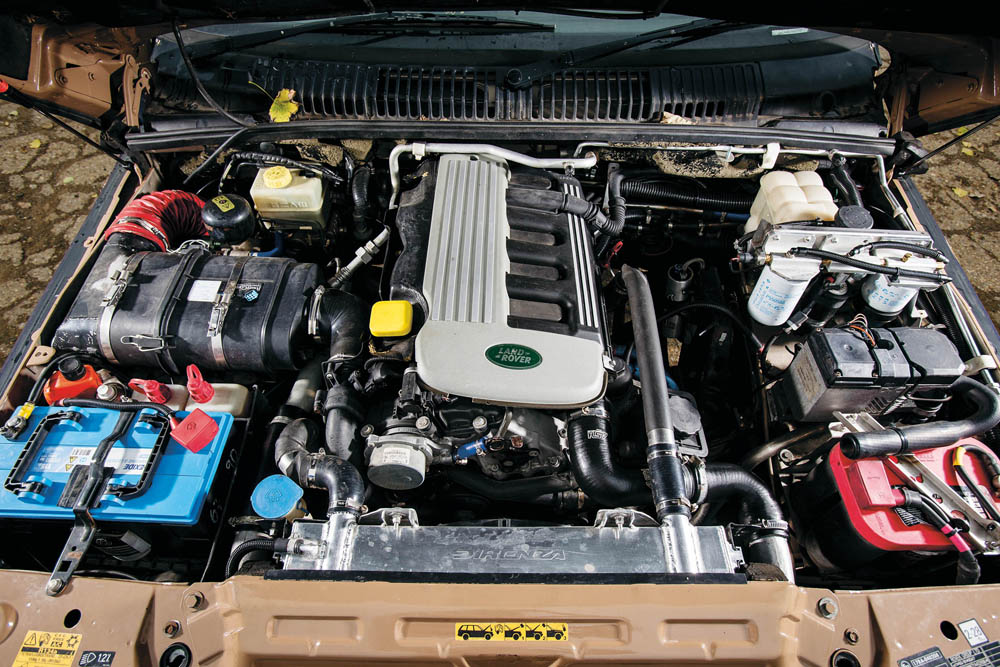 Plenty of power from BMW six-pot
Better still, he kept the weight down to 2.2 tons (the same as the original), by removing all the bodywork behind the front passenger compartment and replacing it with laser-cut composite panels of 1.2 mm aircraft-grade aluminium outer, 2.5 mm foam insulation and formica inner.
Once it was finished, Mike and Milly took it for a four-week tour of Morocco and the Sahara Desert, which it took in its stride.
"It's very capable off-road and its ability isn't at all compromised by the camper conversion," says Mike. "It's got off-road ability with Range Rover levels of comfort. As far as I know it is the only P38 camper – and more people should do it."
SPORTING LIFE
Owner Kenny Chard: "I've always been a fan of the G4 challenge and this is my tribute to it"
Content continues after advertisements
Muscle: Range Rover Sport
Power: 3.6-litre TDV8 (268bhp)
Kenny Chard, from Sheffield, is a big fan of the G4 Challenge, the Land Rover-driven global outdoor and off-roading challenge that ran from 2003 until it was cancelled the eve of the planned 2009 event, after being overtaken by another global event – recession.
Land Rover's new owners, Tata Motors, pulled the plug on the hugely-expensive G4, saying it would rather divert that money into new model launches. But to diehard enthusiasts like Kenny, the G4 Challenge will never die – and he has gone to extraordinary lengths to make his 2010 Range Rover Sport look as close to a G4 as possible.
Never a dull moment with this light show
Not many Range Rover Sport owners carry a shovel
He bought his top-spec Autobiography model two years ago. A year ago, he started putting on the G4-style kit, including roof rack and rails, snorkel, deck boards, recovery boards, shovels, winch guard and enough Hella lights to illuminate Blackpool. And just to reinforce the message, there are genuine G4 plaques, front and rear.
Everything you need for an adventure
Inside, there's an ARB fridge/freezer, dining set, T-Max air compressor and two ARB Speedy Tyre kits - as well as a G4 tent, of course. Under the bonnet is a 70 amp gel battery.
The vehicle itself has done just 90,000 miles. The TDV8 engine is officially rated at 268 bhp, but it has been tweaked, performance-wise, so is likely to have a few more horses than that.
"I've always been a fan of the G4 Challenge and this is my tribute to it," says Kenny. "Whether I'm off-roading or going for a weekend camping, I'm inspired by that great event."
BIG FOOT
Owner Fred Bolton: "It's a brilliant off-roaderand I'd never part with it"
Muscle: 1949 Series I V8 special
Power: 4.0-litre V8
Forty years ago, Fred Bolton was browsing Exchange & Mart, looking for a personalised number plate, when he found FJB 56. "It was my initials and close enough to my year of birth – I was born in 1957," says Fred, who decided to pay the £250 asking price and drove from his home near Bedford to collect it from Elstree film studios, in Hertfordshire.
When he got there, he found out the cherished plate belonged to a 1949 80in Series I, which belonged to the studios and had appeared in several films and TV series, including Return of the Saint and The Persuaders. Fred, a lifelong Land Rover fan, asked if the Landy was for sale too – and to cut a long story short he picked up both car and plate for £600.
Lusty Rover V8 provides the power
Long-travel springs for maximum articulation
Luxury it ain't, but Fred prefers it this way
It was bog-standard at the time, but in the four decades that have elapsed since, Fred has modified his Series I to enhance its performance for off-roading and greenlaning. These mods include replacing its original 1.6 engine with a 4.0-litre Rover V8 for power, and fitting massive 44-inch wheels, sourced from America, for traction and ground clearance.
Fred, an independent Land Rovermechanic, has done all the work himself – including cutting the middle out of a Range Rover chassis to reduce its wheelbase to 80 inches and supply coil-sprung suspension. All drivetrain components have been beefed up to deal with the power from that V8.
"It's a brilliant off-roader and I'd never part with it, even though I've been offered £15k for the number plate alone," he says.
WEEKEND WARRIOR
Owner Fred Kidd (left): "If you want off-road muscle without spending a fortune, this is it"
Muscle: 1994 Discovery 1 off-roader
Power: 2.5-litre 300Tdi (125bhp)
If you want to go off-roading without spending a fortune, this is the sort of vehicle you need. It's a 1994 Discovery 1 300Tdi that has been thoughtfully modified by Andrew Wise from Twinwood 4x4.
"Its owner told me he wanted a vehicle for off-road pay and play days, so I gave the suspension a slight lift and added a wading kit and snorkel, to keep water out of the mechanicals," said Andrew. "Then I fitted underbody protection, including steering and tank guards."
Heavy-duty steel rear bumper. 300Tdi Disco 1 is ideal for off-road muscle on a budget
Long-travel suspension makes sure the all-terrain tyres stay in contact with the surface, even over very uneven ground. Inside, the carpets were stripped out to make it possible to hose out the interior after particularly wet and muddy off-road sessions.
"I'm an off-roader myself, and I've done a similar job on my own Discovery 2 for pay and play off-road sites," says Andrew. "The 300Tdi engine is ideal, because it is nice and simple – a slow plodder that just keeps going through everything you're likely to encounter."
FREE TO ROAM
Owner Joel Self: "I needed something to get me places off the beaten track"
Muscle: 2007 Freelander 2
Power: 2.2-litre Td4 (147bhp)
Climbing instructor Joel Self went up in the world two years ago when he bought this 2007 Freelander 2. "It was my first Land Rover," says Joel. "I used to drive a Mazda, but I needed something to get me to places off the beaten track. I go climbing all over the British Isles.
"Many people don't think Freelanders are very good off-road, but they are excellent. It gets me everywhere I have to go and has proved very reliable. I've enjoyed 25,000 trouble-free miles in two years."
Joel is also a keen off-roader. The legendary byways of Salisbury Plain are within easy striking distance of his Bristol base and one of his favourite venues for greenlaning. To save damaging his car, he has fitted full underbody protection and rock sliders. Brush cables and light guards are useful when the tracks get overgrown. Oversized Yokohama MT tyres have given the car a slight lift, while a Bearmach 1200 lb winch assists if he does get stuck in a out-of-the-way place.
Joel is a genuine outdoors man and once a year he sets off into the wilderness, living alone in his Freelander for a month. "The rear seats fold flat and I can sleep comfortably in the back," he says.
"I also teach off-road driving, shooting, archery – plus any adventure sports, really. My Freelander does everything I ask of it, but I hope to get the engine remapped soon to give me a bit more power, plus I will fit a snorkel to allow me to go wading."
FAMILY FAVOURITE
Owner Gavin Hardacer: "It's off-road capable, but you can still drive it on the motorway"
Muscle: 2002 Discovery 2
Power: 2.5-litre Td5 (300 bhp)
All the heavy metal on display today looks very tasty – not least the 2002 Discovery 2, driven here by Gavin Hardacer. Yet he bought it for just £75 from its previous owner, who was glad to get rid of it because of 'an engine problem', which the talented mechanic cured by rebuilding the Td5 lump.
The chassis was in better-than-average condition and required just a little welding before Gavin went on to transform his truck into a brilliant off-road and camping combo. It's also a versatile family vehicle, so it's no surprise that he drove down from Whitworth, Lancashire, with his wife Emma and their children Mason, Bridie and Lois.
Home-made anti-roll bars control the ride
Enough lights to melt tar at 100 yds
To improve off-road performance, Gavin has fitted a Discovery 1 transfer box with diff lock. He also gave it a two-inch lift with adjustable shock turrets and fitted heavy-duty bumpers and winch, from Terrafirma. There's also an ARB roof tent, which sleeps three, leaving room in the back for a double bed. A foldaway table is fitted to the rear door and an awning completes the camping rig.
To improve performance, the Td5 engine has been remapped to produce 300 bhp. Gavin made his own anti-roll bar links to stiffen the suspension and improve on-road handling. "It's capable off-road, but you can still drive it on the motorway like a normal car," he says.
For more great Camper conversions, go to: Best Land Rovers for Campers
Did you know that you can now get access to the entire archive of Land Rover magazine content with our brand new digital archive? You can enjoy all the issues since the launch of the magazine – use the search bar below to find features, reviews and other great content: