14 July 2021
|
Ex-Formula 1 star Max Chilton loves his Twisted Defender : credit: © Soapbox London
What happens when a racing driver and Land Rover fanatic get hold of a Defender? They put some American muscle into it, of course. This is the story of Max Chilton's highly customised Corvette-powered 90
Land Rover Defenders (I'm talking the original here) are bought by people from all walks of life. And despite the fact that they are very basic, not particularly comfortable, slow, noisy and costly to run, they are practical with lots of body options to choose from and easy to maintain, but perhaps best of all they go anywhere. And in an age where Land Rovers now all have the same over-arching look, the design language of the Defender (which harps back to the original in 1948) is now retro cool. Whether you are a farmer, labourer, family man (or woman), adventurer or celebrity, the Defender is the only 4x4 to have. It's probably why depreciation is comparatively low and there's such a large, friendly and helpful community.
When he's not racing, Max loves driving his Landy
Defenders attract all sorts – even racing drivers, such as ex-Formula 1 star Max Chilton. Yep, you read that right. And when I spotted an article in GQ magazine about his customised Defender, well I had to find out more. Max loves British cars – so as well as the Defender he's also passionate about the Mini. Yep, I also think that's a bit odd for someone who spends most of his life with the needle above 240 mph as a driver for Carlin in the NTT IndyCar Series (although we soon learn his Defender is anything but slow!).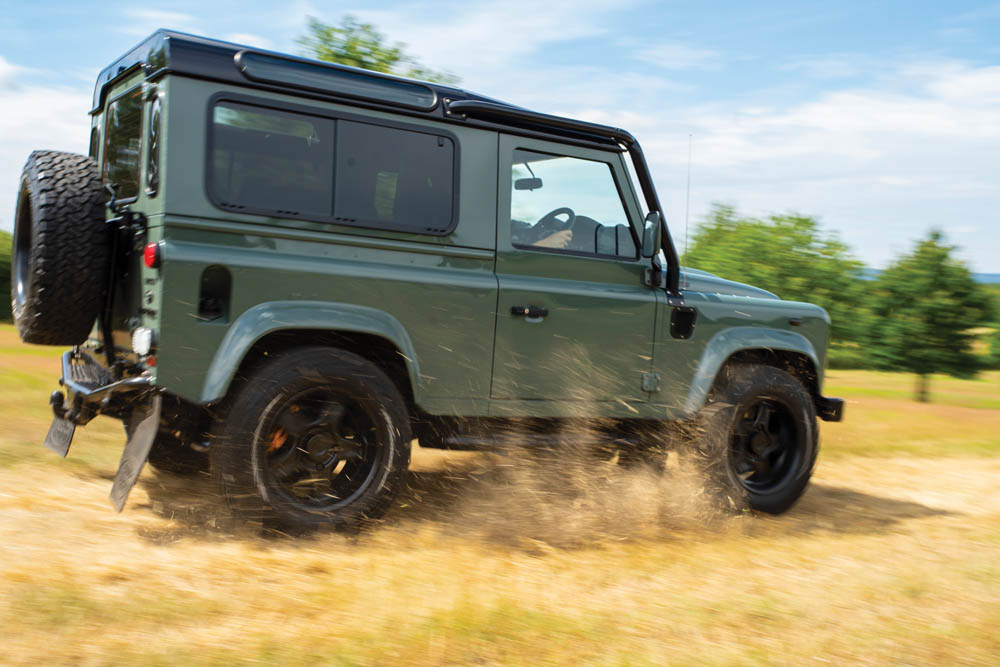 Can't be many Defenders that can sprint to 60 mph in 5.5 seconds!
Back to what he loves most though – the green oval. Max grew up with Land Rovers and he also learnt to drive in them. "We had a house in Cornwall and whenever we got back from the shops, my parents would just nose the car in. I have proper OCD so I'd get in the car, do a three-point turn and reverse it neatly in the drive – I was only about six or seven years old at the time" confesses Max.
"I may not get involved with the mechanics but I know them inside out. I just really enjoy looking at them, driving them, and I love the people and the journeys associated with them. I really like the fact that you can customise them – strip them out, completely change them to your needs – I have never seen the same Defender twice.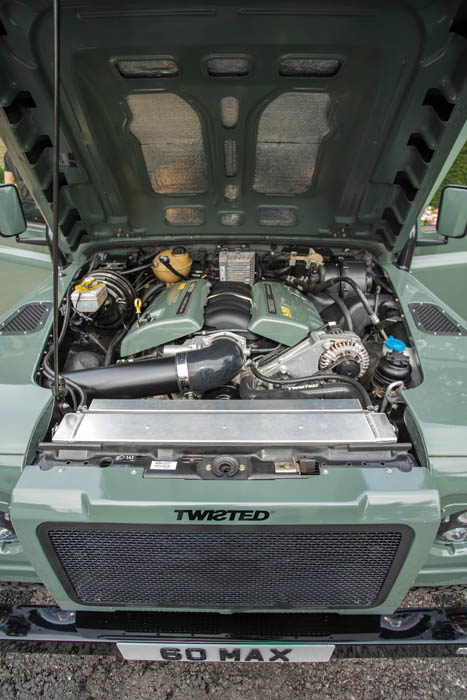 Stonking Corvette LS3 6.2 V8 fits in a treat!
"We now have eight Land Rovers in the family", he adds. "And mine's definitely the most tuned up out of all of them – it's got the LS3 Corvette engine in it – I've probably got the bug worse than anyone else. We've got a very interesting 101 Forward Control family shoot vehicle, which previously served as an ambulance for the British Army. We put a new body on it, fitted gun cabinets and cartridges, replaced the original engine with a Rover V8 and painted it Keswick Green, which is the same colour as my Defender but we went matt so it looks quite military. We've also got a 15-year-old 110 in Cornwall that we have just finished updating and tuning up, a couple of 50th Anniversaries – one soft top and one station wagon, and two Heritages, including my own."
Despite being the last of the line, Max likes the 90 as it still bears resemblance to the original
Talking of which, as soon as Max heard that Land Rover was ending production of the Defender he ordered one in early 2015. "I went for a 90 – I prefer the look of them compared to the 110 – and while it's the newer generation it still has that traditional Defender profile. Aside from the fact I just love Land Rovers, as my daily a 4x4 is just so much more practical for my needs – I do a lot of gardening and DIY in my spare time and the 90 Station Wagon is a great all-rounder.
"My aim was to build the ultimate Defender. I hadn't set out a budget but I did have a top ceiling, and while I'm not far off it and it's a lot of money I'm quite savvy with what I spend and I've had it valued at 40 per cent more than what I've spent. I'd never loose if I sold it – not that I'd ever do that! Whatever you've got to spend my top tip for any project is to start from the bottom up. If you have any rot, sort that out first and treat the chassis, and from there change the wheels, front bumper and lighting to LED for an instantly fresher and different look. I also highly advise a roll cage. They're around £1500, but my friend rolled his and could have been killed without one. They're like a tin roof on the Defender, very thin, so once they roll over they fold in and there's no air bags. I also think it improves the look of them."
Having worked with Twisted owner Charlie Fawcett and his team on the family 101, Max decided to go with the same outfit for his Defender. Knowing what he had in store for the engine he also had a lot of confidence in the tuner's ability and experience in fitting V8 engines and automatic boxes to Defenders. He takes up the story: "The car arrived in September 2015 and within the same week of collecting it I had driven up to Twisted's HQ in Thirsk, Yorkshire, ready for stage one of the project."
LED lights have been fitted all round – a vast improvement
This included mainly aesthetic work – including new carpets and steering wheel, insulation, a gloss front bumper with LED lights, new tyres and alloys, changing all the exterior bolts to stainless steel and abrasion paint to the underside of the chassis. A few years later stage two saw enhancements that made it more usable, with Twisted adding a progressive suspension package (with new bushes), roll cage, full sound system, cruise control and Alcon racing brakes front and rear.
Twisted 8x19 inch alloy wheels
The latest and third stage is the Corvette LS3 swap, which Max was lucky enough to be given because he races for Chevrolet which is part of GM that own Corvette. Unfortunately, they don't cover the cost of putting them in, upgrading all of the electrics, changing the transmission from manual to automatic and making a custom centre console!
Content continues after advertisements
Interior mods include a custom centre console for the Corvette shifter
The high-revving, deep-breathing LS3 6.2-litre V8 crate engine is fitted to the fifth-generation Camaro SS and C6 Corvette, and poised to go down in history as one of Chevrolet's best and most versatile engines. It pushes out 430 hp and 425 lb-ft of torque but is actually quite under- tuned for what it can produce – and to that extent we're almost certain it'll be next on the list for Max. Although getting another 300 odd ponies out of it would, of course, require some serious modifications to the driveline.
For the time being however, Max is happy with the 5.5 second 0-60 mph time – which is some way off what it would have done straight out of the factory! Add ten seconds and then some – it's probably going to meet his need for speed for quite a while! Besides, stage four of the project is yet to be completed which will see a full leather retrim.
Max pretending to tinker... What he lacks in mechanic skills he makes up for in Land Rover know-how
While Max isn't hands-on with the project, he is in constant communication with Charlie about all of the finer details who's also been updating him with regular pictures and videos. "They always say don't let a racing driver touch the nuts and bolts, so I left them to it. Twisted have done so many of these conversions they know how to make it work and be reliable but also look pretty," he concludes.
The relationship with Twisted goes back many years and first blossomed when Max attended Ardingly College in East Sussex, which is close to the showground where the annual South of England is hosted. "Every year we were allowed to leave the school grounds after finishing our studies and walk up to the show. I remember seeing Twisted and obsessing over them and their cars – that was in 2007 during their early days when they'd been established six years. I would then later see them at the Goodwood Festival of Speed and Revival a few times, and I remember thinking 'God, these cars are insane'. In 2015 I became ambassador for Twisted and they sponsored my car, while they slowly did up the Defender. It's been a good relationship and Charlie has become a good friend."
While Max has had his vehicles restored in the past he's never modified anything to this extent, and he has a lot of plans for it when it's finished including greenlaning in Scotland and taking it off-road and to meets closer to home. "It's given me a lot of joy over the years – I love having a project in life and the great thing about a Land Rover is it's never finished. Even when I have the leather work done, which is technically the fourth and last stage of the project there will always be something that needs doing – whether it's tuning the engine or upgrading the audio again. I can see myself driving a different version of this car in 50 years!"
Max filming for his YouTube channel
If you want to know more about the project, Max has decided to capture some behind the scenes footage which you can view on YouTube: https://www.youtube.com/watch?v=cJZ16cV_Bmg&t=224s. There's a lot of LS3 conversion videos from DIYers but this offers a different angle – a perspective from a racing driver, which I'm sure aren't too common in Land Rover circles unless its off-road rallying. Talking of which could that be Max's next project? He did hint at such a thing for the future and if it's anything as special as this we can't wait to see it!
Twisted have lots of experience in fitting these
MAX'S SPEC LIST
ENGINE: Corvette LS3 6.2-litre V8 crate engine conversion, HD diffs and halfshafts, front propshaft and rear propshaft, LS3 V8 exhaust single system.
CHASSIS: Twisted 8x19 inch alloy wheels. Bilstein shocks and steering damper package, Twisted Superpro full polybush kit, Eibach Road Comfort anti-roll bar front and rear. Alcon six-pot calipers with 365 mm discs (front) and four pot calipers with 300 mm discs (rear). Twisted front roll hoop in black with light mounts. Defender TDCi cruise control. Spray protection to chassis.
EXTERIOR: Twisted zinc coated Java metallic LED front bumper, Stage 1 black grille and vent set, 6 mm black powder coated steering guard, gloss black Defender bonnet lettering and oval badge, body coloured door mirrors, privacy glass from B-post back, calipers painted yellow, re-powdercoated spacer on rear wheel carrier, tubular rear step and towing bracket, stainless steel exterior fittings, JW headlights, LED side lights, LED 95 mm stop and tail lights, reverse, fog and indicators.
INTERIOR: Recaro CS seats, fully soundproofed, carpet to front and rear half, left and right wheel arches and rear loadspace, Momo steering wheel and boss, 90 V8 cubby box (non AC), black Nappa leather trimmed console and lid with butterscotch stitching.
ICE: Alpine double din conversion, 8-channel audio component system.
Did you know that you can now get access to the entire archive of Land Rover magazine content with our brand new digital archive? You can enjoy all the issues since the launch of the magazine – use the search bar below to find features, reviews and other great content: