01 June 2018
|
: credit: © Alisdair Cusick
A budget of five grand gives you a big choice of secondhand Land Rovers, says Dave Phillips, who explains what's on offer
What can you buy for £5000? A lot, is the simple answer. But of course nothing in life is completely simple when it comes to buying secondhand cars and Land Rovers are no different. There are some pitfalls to avoid on the way to bagging yourself an absolute bargain, but you're most likely going to be pleasantly surprised to find out just what's available for five grand. Needless to say, LRM is here as always to guide you through, so read on…
£5000 DEFENDER?
Ninety/One Ten
A typical Tdi workhorse will go on for ever. Photos: Alisdair Cusick
Once upon a time there were only two models bearing the green oval: the Land Rover and the Range Rover. That simple state of affairs lasted until late 1989, when the Discovery was launched. To avoid confusion, the Ninety and One Ten models were badged Defender. The coil-sprung One Ten had been launched in 1983, the Ninety a year later. At first there was a choice between naturally-aspirated diesel (slow) or V8 petrol (thirsty). A turbo was bolted onto the diesel from 1986 onwards, supplying a bit more oomph.
These vehicles have stood the test of time and rust isn't a massive issue. Outriggers and rear crossmembers are easily replaced, but corroded bulkheads can prove costlier to repair. These sturdy workhorses are Defenders in all but name and are remarkably good value. Well-sorted examples can be picked up for £5000.
TIP: If you aren't bothered about absolute authenticity, seek out ones that have been retrofitted with ex-Discovery Tdi engines, making them economical (30 mpg) and suitable for today's roads.
Defender Tdi
The Tdi engined Defender dominated the 1990s
The 1990s were the golden era of Defender production, some would argue – and that's the decade when the Tdi engines dominated. Make no mistake about it, the 200Tdi (1990-94) and the slightly more refined 300Tdi (1994-98) transformed the driving experience, with 107 bhp and almost 200 lb-ft of torque.
With £5000 burning a hole in your back pocket you'll still enjoy plenty of choice if you're looking for a decent Tdi Defender. Bodywork is the most important consideration, because tired engines and gearboxes are easily and cheaply replaced with units from scrapped Discovery 1s.
The big issue with all Defenders is their past. Avoid vehicles that have obviously been abused and expect to pay more for a station wagon.
TIP: A test drive will tell you a lot about how well the vehicle has been cared for. If the bushes are worn and the suspension knackered, walk away.
Defender Td5
Td5 Defenders don't come cheap but hold their values
You're not going to buy a top-notch Td5 Defender for £5000, but you may find a few reasonable examples if you search hard enough. It also helps if you're prepared to travel. A Td5 that would cost you in £6500 in the Home Counties might have a price tag of sub-£5k in a more remote corner of the country. Again, hard tops and truck cabs come cheaper than station wagons.
But if you do find a good one, you're in for a treat. The Td5 was the last diesel engine designed and built by Land Rover and it is arguably the best, with 122 bhp and 221 lb-ft. It's also ultra-reliable if properly serviced, so ask to see what paperwork is available. A full service is unlikely on a car built between 1998 and 2007, but every little helps.
The same areas of the body are liable to corrosion, but the good news is that parts (especially aftermarket ones) for all Defenders are cheap and plentiful.
TIP: Just like Tdi models, there is a surplus of serviceable Td5 engines from scrapped rusty Discovery 2s.
How we'd spend five grand...
Trevor Cuthbert, LRM contributor: By coincidence, I've just bought a Td5 Defender for under £5000! Let me explain...
Occasionally I purchase vehicles from a local Land Rover specialist on a trade basis, which means it will not have been cleaned or prepared for sale and comes with no warranty.
On this occasion I had just delivered another Land Rover for a client and happened to be at the garage with an empty trailer. The Td5 90 had just been traded in and I could take it away immediately for £4800 – so I did. It has 150,000 miles on the clock, nine months MoT and drives like a dream. What will I do with it? Probably create that 90 soft top that I have been thinking about...
£5000 DISCOVERY?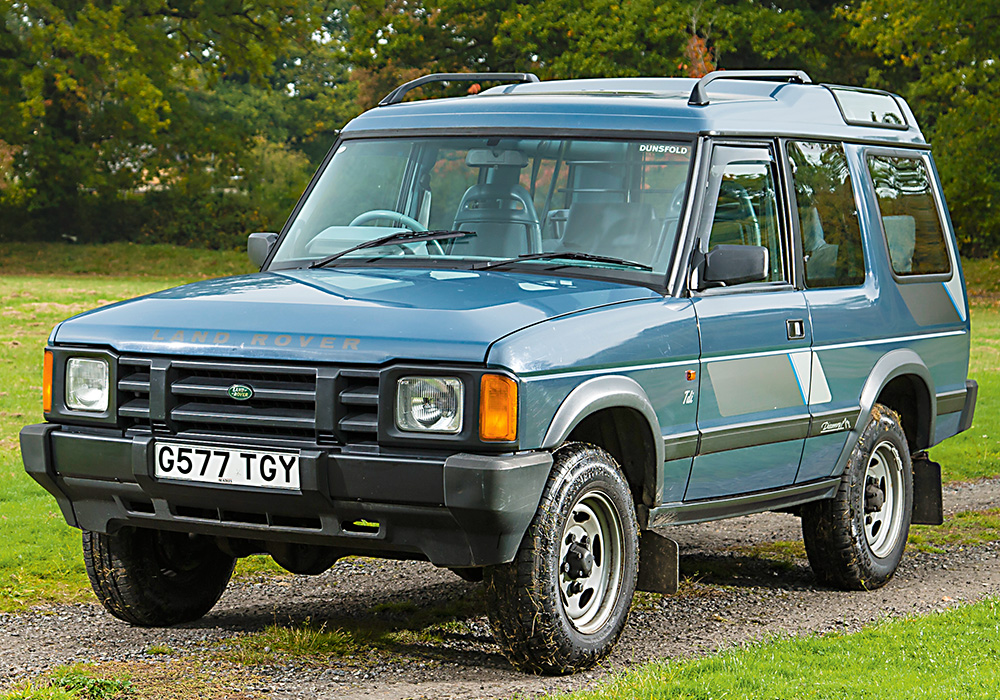 Remedial welding is going to feature heavily
Discovery 1
The prices of Disco 1s have fallen so far that you could probably pick up five typical D1s for £5000. But all five are going to look tired, with severe corrosion problems either now or in the near future. The reality of early Discovery ownership is that remedial welding is going to feature heavily every year at MoT time.
But if you do find a good one – and £5000 should find you the very best – you will enjoy the experience of a car that shook up the motoring world when it was launched nearly 30 years ago.
TIP: Check carefully for rust in all areas, but especially the sills (inner and outer) and boot floor.
Discovery 2
Disco 2 is great value but check that chassis!
It is ironic that Land Rover managed to solve the catastrophic bodywork rust issues of the Discovery 1 when it launched the Disco 2 in 1998, only to unknowingly leave an even more serious chassis corrosion area on the new model. The D2's Achilles Heel is along the top of the chassis, towards the rear, hidden beneath the bodywork – and it is responsible for thousands of otherwise fine D2s being consigned to the scrapheap.
You'll pick up an excellent Disco 2 for £5000, but we recommend a professional inspection, or a close examination of that vital chassis area by somebody who knows what to look for. Alternatively, pick up a rusty bargain for under £1000 and budget for a new galvanised chassis.
TIP: A great vehicle once that chassis is sorted.
Discovery 3
The most versatile vehicle built by Land Rover?
Come on, admit it. You didn't realise you could pick up a Discovery 3 for £5000, did you? But it's true. It seems like only yesterday, but it is 14 years since the D3 was launched and the early models are now within our price range. The third-gen Disco got some bad press early in its career when water got into some vital electrics, but this was soon fixed and everything went swimmingly thereafter.
Make no mistake about it: this is without doubt the most versatile vehicle ever built by Land Rover. It has three rows of forward-facing seats, seating seven adults, which can be folded flat into the floor to create an awesome load space comparable to a Transit van.
And if that wasn't enough, the Discovery 3 boasts astonishing off-road ability and is a peerless tow vehicle.
Unlike its predecessors, this Discovery does not have any rust issues, but what it does have is a powerful V6 diesel engine supplying 190 bhp and 324 lb-ft. Better still, it looks as fresh today as it did when it was unveiled in 2004. Many would argue that it's a lot better looking than the fifth-generation model, launched last year. It is a timeless classic – and it can be yours for £5000.
TIP: Check the paperwork / past history. Like all Land Rovers, the Discovery 3 thrives on meticulous adherence to recommended service intervals.
How we'd spend five grand...
Dave Phillips, LRM contributor: I already have a very early (1984) Ninety with a Tdi conversion, which as near as dammit covers both the Series and Defender driving experiences. I've also got a Discovery 1, but its brave struggle against corrosion isn't going to last for ever, so I'd probably line up a replacement. Five grand would buy me a truly superb Disco 1, or a high-mileage Disco 3. Either way it would be a diesel automatic. Why not a Discovery 2? I have a confession to make: I don't like that big and ugly rear overhang.
Ed Evans, LRM Technical Editor: With £5k to spend I'm looking for an above-average Discovery 2 Td5. But even with low mileage, cosseted maintenance history and one vicar's wife owner, I'd be picky over the chassis and the sump oil. I'd be tapping every inch of the chassis, listening for changes in the sound that denote thinning, because they rust from inside as well as outside. I'd also check the dipstick: super-clean oil, high oil level or the smell of diesel suggests fuel is leaking into the sump via defective injector seals or a head crack – if at all suspect, I'd walk away.
£5000 RANGE ROVER?
Range Rover Classic
After all these years the original Range Rover is a real head-turner
WE all love the Range Rover Classic. It was in production from 1970 to 1996 and there should be a lot around to choose from. That there isn't is because so many have rusted away to oblivion. Body corrosion is a huge issue and good ones are getting pricier because collectors are snapping up decent examples for posterity.
Despite all this, you can pick up a good one for £5000. The Rover V8 petrol engines are a delight to behold, but thirsty. Early Italian-made VM diesel engines had a mixed reception, but the later Tdi engines, as found in Disco and Defender, are bulletproof
TIP: Rust is the Classic's constant enemy.
Range Rover P38
P38 Range Rover has a poor reputation
Probably the most reviled Land Rover ever built, but the second-generation Range Rover doesn't really deserve its bad reputation. Its only crime was being too far ahead of its time. The original Range Rover was a very hard act to follow and the development engineers working on its replacement probably tried too hard, introducing too much unproven new technology – some of which unravelled a few years down the line.
Content continues after advertisements
At the turn of the millennium, this was the most luxurious and expensive Land Rover you could buy. Today, you can pick up the very best for £5000. The good news is that plenty of P38s never had any problems and were totally reliable. If you find one you will be the proud owner of a Range Rover that doesn't rust and still looks the part… although it does help if you understand modern electronics and diagnostic software.
TIP: Buy with caution.
Range Rover L322
Yes, you really can buy a cracking L322 Range Rover for less than £5k
This one is the business. The big, brutal L322 was developed back in the days when BMW owned Land Rover, although by the time it was launched in 2002 new owners Ford were in charge. It looks as swanky as ever and it's certainly one to impress the neighbours.
After all, it looks one heck of a car for five grand, doesn't it? Well yes, it is. You'll be investing £5000 in a car that probably cost £75,000 new, not much more than a decade ago. But there is a reason for this.
The full-fat Range Rover is the sort of car that's bought new by very rich people… the sort of people who don't buy secondhand cars. That means that depreciation is eye-watering. It also means that they soon fall in value enough to be just within the reach of Joe Bloggs, who can afford the asking price but not the replacement parts and maintenance costs.
When stuff goes wrong on the L322 it is expensive to fix. All too often that means they don't get fixed, but they do get bodged. Service intervals are missed. And very soon that prestigious luxury 4x4 is a shabby heap of trouble that the owner can't afford to run any more. And sadly they are all too often the ones you see on eBay for less than £5000. Avoid them.
But don't let that put you off. There are plenty of brilliant, well-maintained L322s out there for £5000. Just be very careful what you buy and who you buy it from and insist on a thorough examination and test drive.
(P.S. This may come as a surprise to you, but the third-generation Range Rover is an outstanding off-road performer that will put a Defender to shame).
TIP: Check every switch, knob and dial, including all the Terrain Response settings. Does the air suspension work? Is the ride what it should be? Don't listen to excuses. If it doesn't work, don't buy it.
£5000 FREELANDER?
Freelander 1
You'll get a lot of Hippo for £5000
With £5000 you'll be able to choose from the very best of the first-generation Freelanders and that means you can take your pick from the facelifted models, launched in 2000, which look much better than Gerry McGovern's original ugly duckling, launched in 1997. They also have the Td4 diesel engine (110 bhp/ 192 lb-ft) which is more powerful and reliable than the original Rover unit (96 bhp / 155 lb-ft). The 1.8-litre petrol option is best avoided and the later V6 petrol is thirsty.
Despite being nicknamed the Hippo, the Freelander 1 has many devoted fans. It's helped, of course, by the fact they are cheap to run and have no serious rust issues.
TIP: Five-door models are more versatile than the three-door.
Freelander 2
Freelander 2 enjoys timeless good looks
If you want a reliable and economical Land Rover that looks as good today as it did when it was launched in 2006, look no further than the underestimated Freelander 2. Have you heard anyone with a bad word to say about them? No, I didn't think you would have. That's because they seldom go wrong, are very frugal and have held their values well.
You can now get a good example of this brilliant little Land Rover for just £5000 because it went out of production in 2015, to make way for the Discovery Sport. Obsolete cars lose their residual values quicker, which is good news for buyers.
All in all, it's more versatile than its predecessor, has a decent towing capacity (2000 kg) and generous space inside, especially with the rear seats folded flat. It's competent off-road and a nifty performer on tarmac, thanks to the 2.2-litre diesel (150 bhp / 295 lb-ft). As an entry-level model to the wonderful world of Land Rovers, this is a hard one to beat.
TIP: Shop around – this was Europe's best-selling 4x4, so there are plenty to choose from.
How we'd spend five grand...
Sam McMurray, LRM Art Editor: Before I started working at LRM, I hadn't even considered owning a Land Rover. But then the inevitable happened: I started to want one for myself. For £5000 the obvious choice for me is the Freelander 2. During the week I use my car to get to work. I'm looking for reliability and fuel efficiency. A Freelander 2 can do that. At weekends I take my mountain bike out to often difficult-to-reach places. Freelander 2 can do that. And I have a family. They require space and comfort. The Freelander 2 has got it all. Time to give our Classifieds ads a closer look…
£5000 SERIES?
Series I
Prices out of our league
Top-notch Series Is aren't in our price bracket. These days, £5000 would be lucky to find you anything better than a field-find requiring total restoration – and all that entails.
TIP: Unless you have the time, skills and money for a resto, don't bother.
Series II / IIIA
Series II prices are rising but still within £5000
Series II prices have been rising in recent years, but not enough to put a halfway-decent example beyond reach of our £5000 budget. Of course, the very best will cost much more, but an honest runner that needs a little TLC can be found for less than £5000.
We'd advise a 2.25-litre petrol model, as the diesel engines are lethargic – unless it has been retro-fitted with a later Tdi engine. If you don't mind losing the originality, the turbo Tdi option makes these lovely classics a more practical proposition on the road.
TIP: If the ride is harsh, consider replacing rusty leaf springs with parabolic alternatives.
Series III
Series IIIs offer great value for money
Twenty years ago you could pick up a reasonable Series III, with a year's MoT, for a few hundred pounds. Since then they've greatly increased in value, but £5000 will still buy you a good one. The lovely 88-inch example featured here belongs to LRM contributor Tim Hammond, who will be telling you the full story in a future issue. Suffice to say that this one has a Tdi engine under the bonnet, drives like a Defender and Tim got plenty of change out of his £5000 to tidy up a few bits.
Series IIIs are affordable everyday runabouts, but as with the Series IIs, avoid the original diesel engines, which are very slow. The extra cost of running the thirstier 2.25 petrol is offset by the fact that most of these vehicles are now tax-exempt.
TIP: Check chassis, outriggers, rear crossmember and all steel bits for rust.
How we'd spend five grand...
Patrick Cruywagen, LRM Editor: I'm always trying to predict the next big thing when it comes to secondhand Land Rovers. I would go for a 1973 Series III. Why that year? I was born in '73 and have always wanted a Land Rover that was made in the year that I was born. My first vehicle was a 1973 Beetle. I think you can get a very good Series III for under £5000. Look at the one pictured here. Tim Hammond only paid £3000 for it. What a bargain – plus it has a Tdi engine!
Gary Pusey, LRM contributor: I'd go for a Series III before prices go even further north. It's unlikely you'll find anything at a dealer for this money so it will have to be a private buy via the classifieds or eBay. Check for chassis rust and body corrosion: footwells, bulkhead and around the windscreen mounts. I'd go for a petrol engine and make all the usual checks. A road test should show it can reach 60 mph quite happily. Trim is fairly easily replaced so should not be a big concern. I'd want a full inspection and current MoT, regardless of the exemption rules. Good history and provenance is key.
Ex-Military Lightweight and Forward Controls
101 Forward Control: Practically impossible to find for this sort of money
All military Land Rovers have shot up in value in recent years, thanks to their popularity with collectors, but you should be able to find a rather shabby SIII Lightweight for £5000. In the world of military Land Rovers, looks aren't everything – after all, none of them looked exactly immaculate when in service.
Forward Controls, including the ex-military 101, are practically impossible to find for this sort of money – likewise the civilian Series IIA and IIB forward control models.
Like all leaf-sprung Land Rovers, these vehicles are basic and simple to maintain and service, but beware of rusty chassis and body panels.
TIP: Some parts are very hard to find.
How we'd spend five grand...
Steve Miller, LRM Advertising Manager: I was going to say how I'd go out and buy a 101 Forward Control. But I typed in my request into eBay and various websites only to be taught a valuable lesson – I should have bought one years ago. The prices have gone through the roof. My second choice would be a nice usable Series III 88-inch with canvas tilt. This is where I believe the smart money should be spent. There's something very special about driving one of these as the sun sets on a summer's evening. Oh, and I've have to have the 2.25 petrol with no modifications to the vehicle whatsoever.
Budget Digital Subscription
Get access to over 7 years of Land Rover Monthly – that's almost 100 issues plus the latest digital issue. The issues are fully searchable so you can easily find what you are looking for and what's more it's less than 10p a day to subscribe. Click here and start enjoying all the benefits now.