01 October 2019
|
Testing the BFGoodrich Mud-terrain KM3 to it's limits : credit: © Alisdair Cusick
So what is the best tyre for your Land Rover? Tyre expert Grant Spolander simplifies the difficult choices
When it comes to off-road tyre comparisons the word 'best' is all too loosely thrown around, like an overloaded Defender on racing slicks. Best could literally mean anything from traction performance, to puncture resistance, or even price for that matter.
Much like the Land Rover you're driving, tyres are a compromise between what you want, what you need, and what you may not know you need in a tyre. Just like a Defender can't be compared to a Freelander, a factory-fitted tyre can't be compared to the Light Truck (LT) alternative.
Although most off-road tyre comparisons aim to compare the traction performance of one product versus another, in truth, with so many terrain variations available, traction is the most inconclusive means of comparing two off-road tyres. Rock alone varies in a near infinite number of ways in terms of shape, size, hardness and texture.
For this reason, tyre manufacturers only ever quote traction performance on asphalt, and even then, the surface of the asphalt needs to conform to strict industry standards.
However, that doesn't mean all tyre comparisons are flawed, sometimes the best way to compare two or more all-terrains is to simply look at their specifications, and more importantly, how those specs relate to your needs. Which is probably the same method you used to buy your Land Rover.
With this in mind, let's look at what features matter most when shopping around for an off-road tyre.
There's a good depth of tread on this rubber
Tread depth
As far as tyre features go, tread depth is seldom ever mentioned as a metric of comparison – even though it offers a fairly conclusive way to determine the life expectancy of the tyre, and therefore, the value.
However, tread depth also hints to how well the tyre will grip off-road (in loose terrain), as well as how effectively it will stop or brake on gravel surfaces. More importantly, it tells us how long the tyre can effectively do these things.
Tread depth can vary anywhere between 9 and 15 mm in the all-terrain market, with most OE (factory-fitted) all-terrains featuring a depth of just 10 mm or less. By comparison, many premium aftermarket tyres feature a tread depth of 12 to 15 mm. If 5 mm of tread life is used on either set of tyres, it goes without saying that the 50 per cent loss is going to significantly affect how well the OE tyre performs off-road in comparison to an aftermarket alternative.
Of course, in most cases, the OE tyre will cost significantly less than the aftermarket option, but any comparison in price should include a comparison in value, and therefore, the depth of tread.
No Traction Control? A decent off-road tyre will get you there
Weight
Much like tread depth, the weight of a tyre also hints towards its value offering, but in many respects, it also tells us how strongly the tyre is constructed, the quality of the steel cords used, as well as the bulk or gauge of rubber. In that regard, the carcass strength of a tyre directly relates to it puncture resistance, as well as its steering response and load capacity.
A tyre's ability to shoulder a heavy load is especially important for those of us who tow a caravan, trailer or boat, but it also applies to heavily modified 4x4s with aftermarket bumpers, auxiliary fuel tanks, water tanks and drawer systems.
The weight difference between various all-terrains can vary by as much as 40 per cent. Typically speaking, most OE tyres are designed to be lightweight for various budget reasons, as well as the vehicle manufacturer's need to keep fuel economy and emission figures as low as possible.
It should also be said that any heavy-duty tyre that's made for supreme puncture resistance and load capacity will also affect your vehicle's ride comfort, fuel consumption, and how much your shock absorbers will have to work. What's more, it also determines how easy it is to balance the tyre.
My recommendation: Use a tyre retailer that specialises in 4x4 vehicles, and if possible, where the business owner happens to be an off-road enthusiast, too.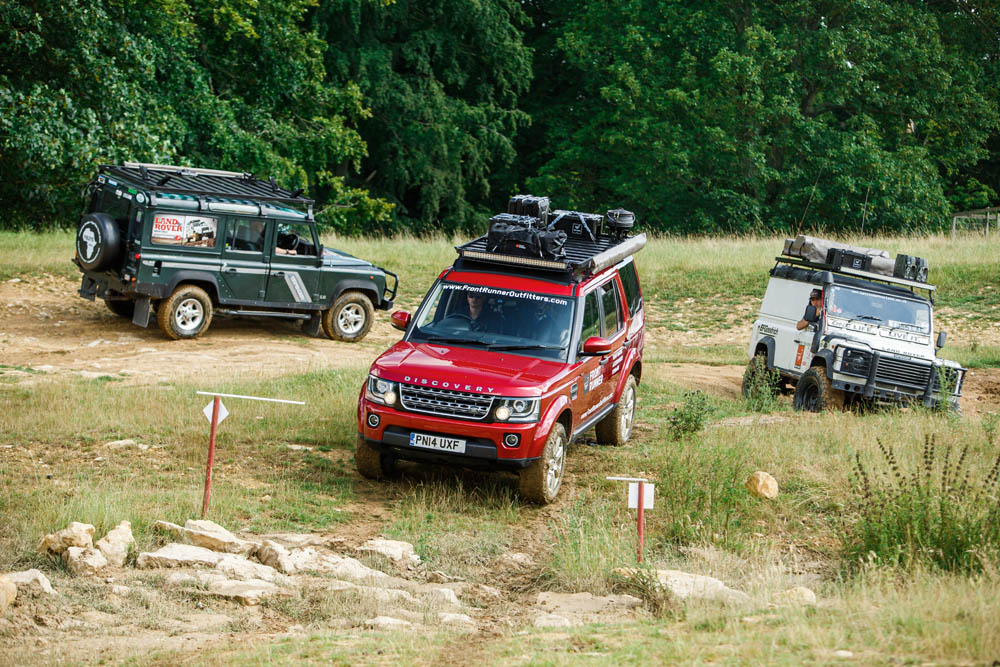 Information on your tyre's sidewall will tell you how much weight it can carry
Load capacity
Contrary to popular belief, the air inside a tyre is what carries the actual load, while the tyre itself is merely the vessel that holds the air. The stronger the vessel, the more air pressure it can handle, and therefore, the more weight it can carry.
You'll find that most of this information is available on your tyre's sidewall, where it will state how much pressure the tyre can handle, and therefore, how much weight it can carry.
Again, most factory-fitted all-terrains will feature a load limit of about 1100 kg. In contrast, some aftermarket LT products will boast a load capacity of 1350 to 1700 kg. However, that's not to say that one is automatically better than the other. If you don't need a LT tyre with a high payload capacity, you're probably going to spend much of your time cursing the tyre's ride comfort.
Likewise, if you do need a LT tyre but currently have an OE fitted, there's a good chance that's why you may be picking up punctures and/or suffering reduced tread life. Simply put, it's not the right tyre for the application you're exposing it to.
The right stuff
We all have different needs, different driving habits, and differing ideas as to what we consider an off-road adventure to be.
As far as Defenders go, the application of the vehicle is quite straightforward, it's a workhorse, the only question that needs answering is: What kind of work does it do, and how heavy-duty do your tyres need to be to match that application?
The Freelander is equally defined in its application, whereas a Discovery is a bit more tricky in the sense that it's a terrific all-rounder that bridges the gap between daily driver and all-out adventure vehicle.
In much the same way, most off-road tyres feature a terrain designation, where many all-terrains sport a 70/30 split (70 per cent on-road use and 30 per cent off-road).
Mud-terrains generally swing those numbers the other way into an 80/20 split. However, some tyre manufacturers have caught on to the fact that an obvious gap exists between those two designations, and in between these figures they've launched an almost hybrid tyre pattern like the Cooper S/T MAXX and Mickey Thompson BAJA ATZ which are closer to a 50/50 split.
But without wanting to get too caught up in terrain ratios, what matters most is: What are you willing to live with? As mentioned before, heavy-duty tyres do come with some drawbacks. Of course, some tyre manufacturers have experimented with materials like Kevlar, which hope to add a layer of puncture resistance, whilst maintaining lightweight flexibility, fuel economy and on-road comfort.
However, although Kevlar effectively achieves what it aims to do, these tyres aren't comparable to a heavy-duty LT alternative in terms of ultimate rupture strength. In other words, Kevlar is a great way of balancing several conflicting features, but it's not a cure for all. Similarly, much like independent air suspension is unquestionably revolutionary, in certain applications it doesn't replace a solid axle for all-out ruggedness. This brings us to our final point…
One of the best ways to shop for a tyre is to find a product that offers the best value
Price... no wait... value!
Coming back to the question of: 'What is the best off-road tyre on the market?'. Perhaps the true answer is: 'The tyre you can afford'.
Naturally, there's far more to picking the right tyre for you than just comparing graphs and specifications. Ultimately, it's a question of budget. However, as mentioned before, cost and affordability are relative to value, so although one tyre may appear to be a sweeter deal than another, the bitter pill of longevity
(or lack thereof) is often the taste that lingers longest.
Although most tyres are covered by a general defect warranty, very few manufacturers provide additional cover in the form of a tyre-protection plan and/or mileage guarantee.
The problem is, if you don't know how long the tyre can effectively last (provided you follow a strict maintenance record), how do you really know how much the tyre is costing you per mile.
With this in mind, I believe one of the best ways to shop for a tyre is to find a product that offers the best value, and with any luck, a mileage guarantee. The more we (as consumers) use value as a buying metric, the more tyre manufacturers will be forced to up their game and to stand behind their product.
So, don't look for the best performing tyre on the market based on thumb sucks and campfire chitchat, and instead, buy the best value tyre on the market, because that's comparable, and that's what lasts.
MT or AT for off-road? Read on to find out...
MT vs AT
An age-old debate that's caused many a sleepless night for 4x4 owners. As mentioned before, most mud-terrains (MTs) are designed for 80 per cent off-road use and 20 per cent on-road. Those figures alone should tell you that MTs are seldom the logical option for most day-to-day Land Rovers. But, let's face it, nothing quite says 'off-road enthusiast' quite like a set of knobbly tyres, and in most instances, that's what drives the MT market. However, the term 'mud-terrain' is a bit misleading in terms of the tyre's application.
In my experience, if you plan on doing a lot of mud driving, sourcing a narrow high-profile tyre is more important than chasing after the most aggressively-designed trend pattern. This is because the ability to tackle mud is largely dependant on whether the tyre floats on the mud's surface, or, cuts through the sludge to find traction on the firmer substructure below. While it's certainly true that a well-designed MT should self-clean and eject mud more effectively than another, the fact is, once the depth of the mud exceeds the height of the tyre, it doesn't matter what your tyres look like, you're not going anywhere.
For me, the true advantage and application of a MT tyre can be found on rock and gravel surfaces. This is because MTs generally possess little (if any) siping, as well as larger tread blocks that are elementally shape. In contrast, AT tyres usually have geometrically-shaped tread blocks that are generously equipped with siping.
As many of you will know, siping plays a significant role in how well a tyre performs on wet or icy roads. Unfortunately, those very same sipe grooves radically weaken the tread block when it comes to impact damage and rocky, abrasive surfaces. The damage caused by these surfaces is commonly referred to as 'cut and chip', or alternatively, as 'chipping and chunking'. But no matter what you call it, the result is the same: Radically reduced tread life and diminished traction performance.
Content continues after advertisements
The true benefit of an MT tyre lies in its durability and longevity in extreme off-road conditions. Of course, traction is also a key feature, and generally speaking the looser the terrain, the more aggressive the tread pattern needs to be. However, on a whole, off-road longevity is where the real-life benefit of a MT tyre can be found.
The downside to all this extra strength is road noise and vibrations. Some tyre brands are noticeably quieter than others, but on a whole, MT tyres are noisy and that's because the majority of the noise isn't coming from the road itself, but rather, from the air moving around the tyre (much like a fan). On that note, fitting a MT tyre (regardless of how quiet the manufacturer claims it to be) will undoubtedly result in more cabin noise and a noticeable increase in vibration. Neither of which has ever stopped me from personally making the illogical choice. But what can I say? I've got a weakness for knobbly rubber.
Test Results
GENERAL GRABBER AT3
A well-priced tyre that's gaining swift popularity for its affordability, low road noise and great on- and off-road traction. Naturally, being a commonly-used OE tyre, the Grabber isn't designed for harsh off-road conditions and heavy payloads, but for the most part, it gets the job done and is often happiest on a softroader or light-duty 4x4.
Johnny Nel (FrontRunner UK): "I used to have road-bias tyres on my D4 but after a recent sand driving trip in France, I decided to go with a tyre that offers a little more when off-roading. My dad has owned every Discovery model produced and he told me all the guys on the overlanding forums recommend these tyres for a D3 or D4. So I decided to go with them. I was not disappointed with them during the photoshoot for this article."
BFGOODRICH MUD-TERRAIN T/A KM3
Not much needs to be said about a tyre that conquered the Dakar Rally and won the hearts of countless off-road enthusiasts the world over. Best known for its durability, off-road traction and surprisingly low road noise. And, much like any MT tyre, the more it wears, the noisier it gets.
Callum Otter (BF Goodrich Ambassador): "I used to have K02s on my Defender but after seeing the KM3 in action at the launch event in California I had to change. The new tread pattern and hard compound make them really grippy. I go off-roading every weekend and my tyres take a hammering. Yes I have one or two nicks on the tyres from sharp rocks but most importantly I have not lost any air. I can't believe the strength of the sidewalls. The sidewalls also have some tread, giving you even more traction. I drive up and down the UK with these tyres on and they are not as noisy as most people think.
BFGOODRICH ALL-TERRAIN T/A KO2
Another legend of the off-road tyre scene. The BFGoodrich A/T is best known for its longevity, tread life and increased load capacity. Being a 3 Peak Mountain & Snow rated tyre however, the tread pattern is geometrically shaped, relatively small in size (as far as the tread blocks are concerned), and generously equipped with siping. This means the tyre will return excellent mileage on-road and in mild off-road conditions, but it's not designed for sharp rocks and impact forces. Go with the MT if you plan on tackling harsher terrain.
TOYO OPEN COUNTRY M/T
This might be one of the heavier tyres in this market segment but the upside of this is that it is one of the most durable M/T tyres around. This is probably why they are the tyre of choice on some of the toughest off-road events in the world. Behaves well on the tar and not noisy at all by M/T standards.
COOPER DISCOVERER S/T MAXX
Another Dakar winner and quite possibly my favourite overland travel tyre. The S/T MAXX is entirely unique in that it combines the qualities of an all-terrain and mud-terrain together, meaning it falls under neither designation and is more a hybrid tyre with a 50/50 terrain split. What's more, in most cases, the S/T MAXX is about 40 per cent heavier than most OE fitted all-terrains, and boasts a tread depth that's up to 50 per cent deeper. But be warned, this is not a tyre for amateur fitment shops. My advice: Find a tyre dealer that uses a Hunter Road Force wheel-balancing machine.
GOODYEAR EFFICIENTGRIP
Steve Miller (LRM Ad Manager): "I currently have these fitted to my Discovery 3 and have done just over 30,000 miles on them. Best of all there's plenty of life left in them. That's not bad if one considers the weight of a Dicovery 3, plus its reputation for wearing through rubber.
"Why this tyre?" I can hear you say. Well, when I previously purchased my Discovery 1 a few years back it had awful tyres on. In fact, they were dangerous. I used to drift around damp roundabouts at relatively low speeds. So I fitted Goodyear EfficientGrips and they immediately transformed my driving experience.
I did 50,000 miles on those tyres before eventually selling the vehicle on. I would be over the moon if I manage to get the same mileage out of the set currently on my D3."
GOODYEAR WRANGLER AT/SA
Another great OE tyre, but in this case, the Goodyear Wrangler AT/SA offers extra puncture resistance thanks to a layer of Dupont Kevlar. Although that may sound like a marketing blurb, truth be told, the Kevlar belt does in fact increase the tyre's off-road puncture resistance, without compromising on-road fuel economy and comfort. However, in most cases, the AT/SA is still a light-duty tyre in terms of ultimate rupture strength and off-road durability.
Patrick Cruywagen (Editor LRM): "I have been running these tyres for over two years now and they still look brand new despite all my kerb-hopping antics. I have done more off-roading miles than most in that time while also piling on the tar road miles.
This is a true all-round tyre, it delivers off-road and on the tar. The Wrangler AT/SA is without a doubt one of the toughest AT tyres available."
COOPER DISCOVERER A/T3 SPORT
A terrifically quiet all-terrain with great on- and off-road performance and even better longevity. With a stronger-than-average carcass construction and an extra-deep tread design, I've known many of these tyres to clock mileages in excess of 100,000 miles before needing replacing. Be sure to spec the Light Truck (LT) version if you're driving a Defender.
TOYO OPEN COUNTRY A/T PLUS
This is an A/T tyre that you can take off-road with confidence thanks to its rigid block design and asymmetric tread pattern. Another feather in its cap is the fact that it will withstand the onslaught from rocks, branches and any other bits of debris without any nicks and cuts to the tyre. I have spoken to several people who run these tyres for tens of thousands of miles without any dramas. This included long stretches of gravel and technical off-roading, which is what you want from your A/T tyre.
DAVANTI TERRATOURA A/T
Where does one start? Made by a British company and cheaper than the 4x4 tyres made by the big guns such as BFG and Cooper. This is Davanti's first foray into the off-roading segment and they have certainly done their homework by doing testing in some of the most inhospitable places on the planet Earth. This is only the seventh A/T tyre to get the three peaks mountain snowflake thanks to its abilities in extreme cold. To show that they are serious about the Land Rover market Davanti recently announced ace Defender driver Edd Cobley as their brand ambassador.
Edd Cobley (Triple winner of the Defender Challenge): "This tyre doesn't just compete on snow, ice, rock and water – it excels. One of the things I love is how it clears the mud while driving off-road at low speed. So the mud does not follow you on to the public highway. Then when on the tar it actually feels like a road tyre and handles in a predictable and safe manner."
Did you know that you can now get access to the entire archive of Land Rover magazine content with our brand new digital archive? You can enjoy all the issues since the launch of the magazine – use the search bar below to find features, reviews and other great content: