01 May 2021
|
The original Discovery : credit: © Nick Dimbleby
This classic all-rounder revolutionised 4x4 driving and it's as good today as it's ever been. Here is our comprehensive guide to buying and owning this first Disco, featuring expert advice on exactly what to look for.
At a glance:
Versatility: 5/5
Economy: 4/5
Depreciation: 5/5
On-road: 4/5
Off-road: 4/5
Towing: 5/5
Ease of servicing: 5/5
Tidy three and five-door examples
In the autumn of 1989 a car arrived that changed the way the world drove 4x4s – and that car was the all-new Discovery. Land Rover spotted a gap in the market between its utility workhorses and the upmarket Range Rover and filled it with the most versatile vehicle ever built.
Here was a family car that was as much at home on the off-road course as the school run. It was the best towing vehicle ever and with the rear seats folded flat it could carry a pallet of bricks in the back. It quickly became Europe's best-selling 4x4 and its profitability saved Land Rover from going under.
It also brought us arguably the best engines ever built by Land Rover: the superb 200Tdi and 300Tdi diesel engines, which went on to power its Defender stablemates for most of the 1990s, as well as late Range Rover Classics. And the good news is that it's as good today as it ever was.
Discovery 1's nine year production run ended in 1998, when the all-new Discovery 2 was introduced, but 22 years on it is still a very common sight on our roads (and off-road). It's a genuine classic that keeps up with modern traffic and its 1990s simplicity means it is also ideal for the owner who wants to do his own servicing and repairs.Today it's a coveted classic and prices are rising, but it wasn't always this way. Ten years ago, the Discovery 1's fortunes hit rock bottom. Serious rust was becoming an issue on many secondhand models, which were scrapped in order to provide donor engines for Defenders. A government scrappage scheme didn't do much to help the survival of the remaining Disco 1s, either.
Light and airy interior is Disco 1 trademark
Happily, the vehicle that saved Land Rover is now being saved by enthusiasts who recognise its unique place in automotive history. With the Discovery 1, classic Land Rover motoring has never been more affordable, because new, secondhand and aftermarket parts are cheap and readily available.
The launch of Discovery 1 back in 1989 was a cash-strapped affair. In the car industry, most new models take many years from concept to production, but Discovery went from drawing board to launch in a mere two and a half years. The company couldn't afford long- and short-wheelbase versions, so it decided to pitch its new model halfway between the LWB One Ten and SWB Ninety. The Range Rover's 100 inch chassis was ideal, so the original Discovery got that, along with the Rangey's bulkhead, windscreen, door frames, handles (also shared with Morris Marina) rear-view mirrors and transmission system (plus plenty of other things from the Rover parts bins).
The new model in fact turned out bigger and heavier than the Range Rover, but the distinctive flat rear end made it look shorter. But that was only an illusion: inside, there was room for two rows of seats, plus foldaway 'dicky' seats in the back.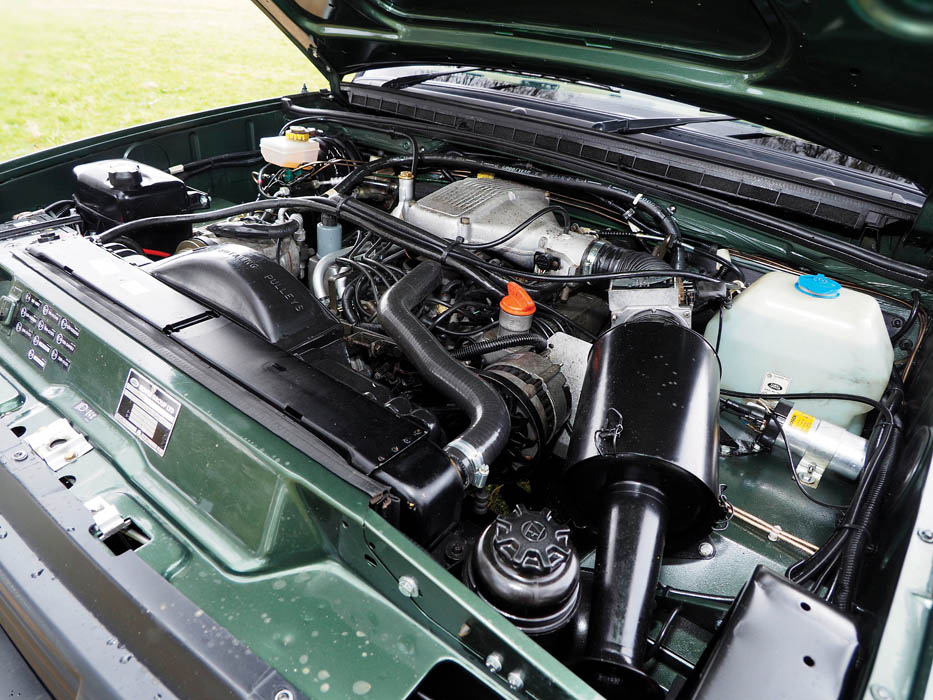 Under the bonnet of a V8 petrol
The Discovery was originally offered with a choice of 2.5-litre 200Tdi turbodiesel or 3.5-litre V8 petrol engines. The latter was the familiar Buick-derived Rover V8, fitted with twin Solex carburettors, which were replaced the following year with fuel injection. A five-door version was also introduced that year and quickly became the best-selling model.
There were many upgrades and improvements over the years that followed, including a bigger and more powerful 3.9 Efi V8 petrol engine in 1994 – a year that also saw Land Rover's first four-speed auto gearbox offered as an option. But not every new introduction was an improvement – 1993's launch of the Mpi four-cylinder petrol variant was a disappointment. It came about to boost sales of Discoverys as company cars in nations like Italy where a sub-2.0-litre engine offered substantial tax breaks. The 1994 cc engine fitted the bill in that respect, but although it was a lively performer in Rover's 820i saloons of that era, it was decidedly lacklustre in a big, heavy, steel-chassised Discovery – especially as it was a very revvy engine that didn't reach peak torque until 2500 rpm. It was never a success in the UK and is today very rare, but don't buy one unless you want it for its historical significance.
Simplicity of Conran-inspired cabin design
The 300Tdi engine, a more refined version of the 200Tdi, was introduced in 1994 for the '95 Model Year, along with a facelift inside and out. The original Terence Conran-inspired interior design had been distinctive and popular in 1989, but had quickly dated – especially the acres of pale blue pock-marked plastic in some models (beige in others). Later models also got a cubby box to fit in the space where the original Conran picnic hamper had been housed. Most of these hampers have long since disappeared, so finding an early Disco with picnic hamper intact adds to its rarity value.
Throughout the 1990s, the Range Rover moved steadily upmarket, as did the Discovery 1 from 1994 onwards. This was a deliberate move by Land Rover, which was already working on a new model to fill the gap vacated by the Disco – the Freelander, which was launched in 1997. As a result, the Discovery 1s from that period are particularly well-equipped – especially the top-end specs and special editions.
What to look for
• Rust is Discovery 1's worst enemy. Inner wings, wheel arches, sills, footwells and boot floor are the most prone, although chassis are seldom affected, especially at the front where oil leaks tend to offer some protection. Discoverys are made from steel and aluminium panels. Obviously as D1s age – the oldest are now 32 years old – corrosion is more likely to appear on anything ferrous.
• Wheel bearings are susceptible to wear, particularly on vehicles driven off-road. Listen for rumbling noise and check for play in wheel, when stationary
• Bush wear is common. Replace with hard-wearing Polybushes
Inward facing seats popular with kids
• Sunroofs are notorious for leaking – usually caused by blocked drain tubes
• Sagging roof lining is most likely in later Discos (1994 onwards). Pre-'94 models had a superior felt-like material that doesn't sag
• Window lifts can fail on all models, due to wear – mainly of the plastic components. Always replace with new parts, as secondhand ones are likely to be worn, too
• Tdi engines are regarded as bulletproof, but they can fail if not properly serviced. Expect a puff of smoke on start-up, but an engine that stays smoky is probably a sick one.
On 300Tdi engines, the timing belt should be changed every 70,000 miles.
V8 petrol engines are generally reliable if oil is changed at recommended intervals. Seepage from seals and gaskets is commonplace and not regarded as serious unless excessive. Early 3.5s may run rough if the SU carbs haven't been serviced. If a previous owner has replaced them with Webers, beware of long, steep hill climbs, as these carburettors suffer from fuel starvation on inclines.
R380 gearbox can lose synchromesh on second gear as it ages and fourth gear can be a bit notchy to engage.
Owning and driving
Seven seats, capable off road, and brilliant for towing. What's not to like!
Land Rover has often been accused of tardiness in introducing new technology. In the case of the Tdi engines, it was worth the wait, because a turbodiesel Discovery 1 could manage 0-60 mph in 17.1 seconds, with a top speed of 92 mph, while returning a shade under 30 mpg . That sort of performance meant it greatly outsold the thirsty V8 petrol engines in most territories, except the USA.
With seven seats, it comfortably housed the family and dogs. Its handling was excellent, particularly when towing, and its towing capacity was impressive.
It soon became the vehicle of choice for caravanners.
Inside the cabin, it's light and airy thanks to the big windows, alpine roof glass and (optional) twin sunroofs. The interior is well-equipped and comfortable with Land Rover's trademark elevated seating position, including raised "stadium-style" seating in the rear so that back seat passengers can enjoy the view, too.
Off-road it was as capable as its Defender siblings in most situations, although the front valance and rear overhang did restrict it in very uneven terrain. For deep wading, the diesels beat the petrol-engined counterparts every time.
Did you know?
Thanks to a short-lived collaboration between Rover and Honda, the Discovery 1 was sold in Japan between 1993 and '98 as the Honda Crossroad. Imported examples sometimes appear on the UK market and are worth considering, because they are usually rust-free.
Buying and values
Prices vary, according to condition and rarity. For example, the early three-doors are now very sought-after, along with any special editions. Solihull built specially-equipped Camel Trophy variants for the legendary off-road competition, every year from 1990 to 1997, and these always fetch a premium, but beware of lookalike fakes.
Top-spec ES models are worth seeking, as are automatics, which are pretty bullet-proof. Air con was an optional extra in the UK. In the last year of Discovery 1, production several special editions were launched, including the tasty 50th Anniversary models to mark Land Rover's half-century.
Even badly-rotted examples can fetch £1000-plus, as long as the engines and gearboxes are still in good condition, because these units are popular for transplanting into Defenders, But as chassis rot is uncommon on D1s, rebuilding these rot-boxes with reasonably-priced aftermarket panels is a popular project for many enthusiasts.
Content continues after advertisements
A well-kept Discovery 1 still stands out from the crowd
Despite the rotten reputation, there are rust-free examples out there and these are the ones that fetch the highest prices. Keep them in that condition and they won't depreciate, because values for good 'uns are rising. Even so, £5000 should buy you a very nice Discovery 1. If it has plenty of paperwork, even better. A really top-notch, rust-free example is likely to fetch over £7000.
Most dealers are now concentrating on more recent Land Rover models, so private sales are where you'll find most Discovery 1s. It's also where you'll find most crooks, so check its history. It's worth joining the various online forums and seeking advice, too. As always, be prepared to haggle. After all, a few hundred quid off the asking price could buy you a new set of sills.
Servicing and modifications
Check for leaks and regularly replace fuel filter​​​​​​
The 200 and 300 series diesels were the last Land Rover engines not be enclosed by huge plastic covers which effectively said "Keep Out" to home mechanics. Pop the bonnet of a Discovery 1 and you are greeted by the splendid sight of the engine and its associated components smiling back at you. They're telling you that you can service, overhaul and repair them all, depending on what you are prepared to tackle.
Even with little mechanical knowledge and a few tools, the average owner can certainly carry out the weekly checks, as well as regular oil and filter changes.
Modified D1s are a popular choice
Because so many D1s were sold, parts are cheap and readily available. Like Defenders, early Discos are suitable for customisation. Land Rover owners like nothing better than personalising their purchases with modifications and there's a wealth of accessories to choose from, including snorkels, roof racks and tents, heavy-duty bumpers, light bars and winches.
To improve its off-road ability, you may wish to fit uprated springs and dampers as well as underbody protection and heavy-duty sill protectors. There's plenty of bolt-on equipment out there for you to choose from.
Quick tips
Easy to fit brighter lights
• Original radio cassette players are rare, because previous owners usually swapped for CD players.
• Check the air con is working. Overhauling and recharging is expensive and done by professionals.
• Pre-1994 models were fitted with front headlights borrowed from the Maestro van. They're dim by modern standards, but easy to replace with brighter modern lights.
• Dim lights can also be caused by poor earthing or corroded fittings. Check them out.
• You can increase the comfort levels on post-1994 models by fitting front seats from a Range Rover Classic.
• If fitted with a towbar, check that the towing electrics work.
Security
Discovery 1s were never as popular with thieves as Defenders, but even tatty Discos may be targeted for their engines, gearboxes and other bits. Later Discovery 1s were also popular with crooks stealing catalytic converters for the precious metals within. Why Discos? Because they're easier to crawl under than most vehicles.
Later Disco 1s were factory-fitted with alarms and immobilisers, but it doesn't hurt to add extra disincentives to the would-be crook, including tracker devices, pedal and steering wheel locks. There are plenty of alternatives out there to deter would-be thieves.
Timeline
One of the earliest three-door models still in action today
1989: Three-door twin-carb 2.5 200Tdi and 3.5 V8 petrol models launched at Frankfurt Motor Show, September 12.
1990: Five-door model introduced; fuel injection for 3.5 V8 petrol.
1991: LT77 gearbox upgraded with synchromesh on 1st and 2nd gears – renamed LT177S.
1992: Rubber side-rubbing strips fitted to protect panels on five-door models.
1993: Mpi 2.0-litre four-cylinder petrol engine introduced; Discovery Commercial launched; optional front and rear anti-roll bars offered; four-speed auto gearbox (for
V8s only).
1994: V8 petrol upgraded to 3.9 Efi; auto box made available on diesel models.
1995: 300Tdi engine and R380 gearbox introduced; exterior facelifted.
1996: Electronic Diesel Control (EDC) introduced on automatic diesel models.
1997: Mpi models discontinued.
1998: End of production.
Statistics
• Length: 4521 mm
• Width: 2080 mm
• Height: 1928 mm
• Weight: 2053 kg
• Loadspace: 1290 litres
• Wheelbase: 2540 mm
Towing
• Max gross vehicle weight: 2720 kg
• Max trailer towing weight: 750 kg (unbraked); 3500 kg (over-run brakes)
Engines
• 200Tdi /300Tdi: capacity 2495 cc; power 112 bhp; torque 195 lb-ft
• V8 (carb): capacity 3528cc; power 144.5 bhp; torque 192 lb-ft
• V8 (pre-1994 Efi): capacity 3528cc; power 163 bhp; torque 212 lb-ft
• V8 (1994 Efi): capacity 3947cc; power 180 bhp; torque 230 lb-ft
• Mpi: capacity 1994 cc; power 134 bhp; torque 140 lb-ft
Did you know that you can now get access to the entire archive of Land Rover magazine content with our brand new digital archive? You can enjoy all the issues since the launch of the magazine – use the search bar below to find features, reviews and other great content: