26 October 2021
|
Distinct lines and clean surfaces : credit: © JLR
The fifth generation all-new Range Rover is out. We managed to get an exclusive sneak peek.
Top ten what's new
1. First Range Rover with seven seat option
2. Available with 23inch alloys
3. Roofline 10 mmlower
4. Built-inAmazon Alexa
5. MLA-flex body architecture (Modular Longitudinal Architecture)
6. EV range of 62 miles
7. Third gen Active Noise Cancellation system
8. Drag coefficientfrom only 0.30(lowest for a luxury SUV)
9. Five link rear axle
10. Auto Folding loadspace cover
The fourth generation Land Rover L405 was launched at the Paris Motor Show in 2012. Fast forward to nearly a decade and here I am at JLR's impressive Gaydon design facility to get a first peek at the all-new fifth generation Range Rover, the L460. I have been to a few of these momentous reveals at Gaydon, including the current Discovery and Defender.
My favourite bit of the whole reveal is when Prof Gerry McGovern OBE, JLR's Chief Creative Officer, takes to the floor. Like him or hate him the man has been at the helm of design when JLR has enjoyed both their most successful and now most challenging times.
Before the big unveil Gerry likes to set the scene and explain the thinking behind JLR's current design strategy. I don't mind this design speak sermon as the buck stops with brother Gerry. It's a sermon I have heard several times, I can almost lip sync the Gerryisms. We recognise our heritage but we are looking to the future. We are taking a modernist approach with a focus on clean surfaces and reduction. The list goes on and on, but it does make his and JLR's current design strategies very, very clear. It certainly shows when one takes a long, hard look at the current Range Rover Velar and Defender.
Drum roll. Time for the covers to come off the three 2022MY Range Rovers in attendance. My initial reaction? Still very much a Range Rover but even more stylish and luxurious looking. I really do like the modern reductive look of the L460 compared to the L405. Must be something in the water at Gaydon. I am starting to sound like Gerry.
Rear view divides opinion
DESIGN: The new Range Rover clearly has only three distinct lines: the falling roofline, the all-round waistline and rising sill. All three lines run in a teardrop shape and converge at the rather distinctive looking rear. In the words of Britney Spears… oops I did it again. Or has he? While the rear does have a more distinctive look than any other Range Rover ever produced, I really like its look of stylish simplicity.
What makes it unique and good? The vertical taillights are hidden in a single gloss black panel while the other lights are hidden in a similar horizontal panel. You don't even know the lights are there until the driver uses them. Genius.
I certainly do like its visual impact. Some traditionalists won't and it will probably divide opinion. Success though will only occur if the current L405 owners feel the same as I do and jump ship to the L460.
It was over 50 years ago that we saw the first luxury SUV, the first-generation Range Rover. Many other makes of SUVs and luxury vehicles have tried their hand at producing something that can compete with the Range Rover and failed. I feel that from a design perspective the L460 has just made it all the more difficult for them to bridge that gap.
ENGINES: We heard with the recent announcement of Land Rover's Reimagine strategy that we will have to wait until 2024 to see a fully-electric version of the new Range Rover or any other Land Rover for that matter. New Range Rover owners who can't afford to run a V8 (isn't that a contradiction in terms? Louise Woodhams) still have a comprehensive range of six- and eight-cylinder engines to choose from.
The biggest news here has to be the P530 V8 addition to the line-up, the twin-turbo 4.4-litre petrol BMW engine, according to the figures we were given this engine is 17 per cent more efficiexnt than the previous V8 offering. The engineers I chatted to said this V8 is not about loudness; in fact they say you won't even hear that it is a V8. They also say that Land Rover have made some changes to the BMW engine to enable it to deliver when going off-road.
There are some electrified performance offerings in the engine line-up. For example the new PHEV (plug-in hybrid electric vehicle) options, the P440e and 510e, plus the MHEV (mild-hybrid) P400 Ingenium petrol, D300 plus D350 engines.
They also said the improved PHEV can now achieve 100 kms of silent electric-only driving. That is 62 miles, decent enough for a PHEV and all thanks to the potent combo of the six-cylinder Ingenium petrol engine with a 38.2 kWh lithium-ion battery – with usable capacity of 31.8k Wh – and a 105 kW electric motor integrated with the transmission.
CONFIGURATIONS: The new Range Rover is available in five trim levels: SE, HSE, Autobiography, 1st Edition and SV. The 1st Edition will only be available during the first year of production and it is similar to the Autobiography spec.
Customers can choose between a standard (SWB) and long wheelbase (LWB) new Range Rover. As for seating there is four, five (in SWB or LWB) or for the first time ever, a seven seat (only in LWB) option.
They say you don't sit in a Range Rover, you sit on it, like the Queen on her throne, which probably explains why she has a few of them. There are no better seats in a Land Rover than the command driving position of a Range Rover. There is now an extra 20 mm of room between the front and second row of seats. While those in row two can enjoy 44 mm more knee room.
How did they make the two additional seats in the larger configuration such a comfy size? They used the extra space provided by the additional 200 mm in the LWB. The second row of seats glide forward and give you a big enough space to climb through to the third row. Those sitting in the third row have some of the privileges afforded to other occupants such as heated seats, climate control, stowage, cup holders and charging points. In fact, due to the stadium seating set-up, third row occupants are actually sitting 41 mm higher!
JLR's biggest floating touchscreen measures 13.1 inches
INTERIOR: Our friends at JLR speak of the interior of this new Range Rover as a place of 'tranquil sanctuary.' So if you have had a tough day at the office or on the football pitch, it will provide you with luxurious comfort all the way to your home. How have they created this environment? The fifth-generation Range Rover uses JLR's new body structure technology known as Flexible Modular Longitudinal Architecture (MLA-Flex). This tech helps them achieve much higher levels of noise isolation and body stiffness. How much you ask? By using high-strength steels and innovative casting techniques around the front door openings they are able to deliver 50 per cent higher torsional stiffness, despite the full-length panoramic roof. Similar results have been achieved in other parts of the vehicle. And thanks to the fact that the steel front bulkhead now has a closed-section arrangement, which is the same as double glazing, there is 24 per cent less noise and vibration being transferred from the road surface into the cabin.
The above changes are further enhanced by the third-generation Active Noise Cancellation system. The 1600 W Meridian Signature Sound System includes a pair of speakers in all of the main four headrests, the Active Noise Cancellation monitors road, tyre and engine noise and then generates a cancelling signal through the 35 speakers. Just like in noise-cancelling headphones. This new system has five times more the cancelling range than the previous system. It truly helps create that calm sanctuary Gerry so craves for you.
Engineers have worked hard to make this Range Rover sleeker than its predecessors too, and they succeeded as it has a drag coefficient from only 0.30 – better than any other similar vehicle. I have to say the flush door handles are growing on me and they obviously also help make it more slippery. All battery packs are hidden below the vehicle and have aero shields to protect them when off-roading. Then in another first for Land Rover there are aero covers for the rear suspension, which improves underbody airflow.
Driver and co-driver can now use the biggest-ever touchscreen fitted to a Land Rover – the curved and floating 13.1 inch glass touchscreen. It sits in the middle of the dashboard and hosts Land Rover's Pivi Pro infotainment system.
To ensure superior air quality for passengers it has Cabin Air Purification Pro, a pretty advanced clean air system. The system combines with dual-nanoe X technology and is active in the air and does not have to trap and neutralise odours and viruses. You can use Land Rover's Remote app technology and cleanse air prior to a journey and without starting it up.
New Intelligent Suspension system for a smoother ride
Remember how in 1992 the Range Rover was the first luxury SUV to feature electronic air suspension? Things have advanced a little since then. This latest iteration features Land Rover's first-ever five-link rear axle and thanks to the Intelligent Electronic Air Suspension system it restricts roll and pitch by calibrating suspension as you approach bends. It also uses eHorizon Navigation data to take in the road conditions ahead and get the suspension ready for what lies ahead, which makes for a smoother ride.
What about entering and exiting your tranquil sanctuary? This is the first Land Rover to feature Power Assisted Doors. Doors unlock when you are approach the Range Rover (with the key fob in hand) thanks to proximity sensing, and when you walk away the doors will lock. How does a power-assisted door work? Just give it a partial pull and the system is triggered and the door opens within three seconds. Great if you have an armoured Range Rover. Radar will warn you if there is traffic approaching when you are trying to open a door and ultrasonic sensors will tell you if there is something in the way of the door opening fully. Really clever stuff.
Just like Range Rover models before it has a two-piece split tailgate but with loads more technology and changes. Five-seater models have the new Auto-Folding Loadspace Cover which detracts when you open the upper tailgate so you have no worries accessing the load area. The useful Versatile Loadspace Floor partition makes sure your shopping or luggage does not swirl about when you are on a fast run. It also has straps to tie down bottles.
SV Intrepid version featuring unique two-tone colouring
As for colours the new Range Rover is available in a selection of 12 solid, metallic and premium metallic shades, with a few new ones including Lantau Bronze, Belgravia Green, Batumi Gold and Charente Grey.
TECHNOLOGY: The technological advances found on the latest version Land Rovers continues to astound and sometimes frustrate. As we move closer and closer to 2024 when we will see the fully-electric Range Rover we have to be satisfied with the latest version of Land Rover's Electrical Vehicle Architecture (EVA 2.0) for now; this includes Software-Over-The-Air (SOTA) updates for more than 70 electronic modules. So it will constantly be improving, changing and staying up-to-date.
I got bored with my Amazon Alexa after a few weeks and don't use it any more, but Land Rover have seen fit to integrate the system into the new Range Rover. Voice commands for Alexa are good in that they enable the driver to focus on the road while navigating phone screens or picking a favourite song to play, for example, but switching the lights in your house by using your Range Rover, seems like a step too far. Maybe I am just an old fart?
Passengers in the second row are not forgotten as they have the Rear Entertainment (RSE) system which has an 11.4 inch HD touchscreen in the back of the front headrests. Users enjoy independent operation and can attach most devices using the HDMI port. Thanks to the Wi-Fi hotspot they can watch what they want, too.
DRIVE: All new Range Rovers have all-wheel steering which makes it more stable at high speeds and improves manoeuvring at low speeds. The electrically operated rear axle gives drivers up to seven degrees of steering angle. So when travelling at low speeds it turns out-of-phase to the front wheels, so the turning circle is less than 11.4 m. No other Range Rover can do this. At high speeds the rear axle turns in phase with the front wheels.
Dynamic Response Pro makes its debut in the new Range Rover. This system is more efficient and faster working than a hydraulic one, the strong 48 volt electronic roll control system has a torque capacity of up to 1400 Nm. This is fed into the anti-roll bars to keep body movements under control.
Content continues after advertisements
Traction levels and what the driver is doing is monitored up to 100 times per second by the Intelligent Driveline Dynamics (IDD) system which also controls the intelligent All-Wheel Drive (iAWD) transmission. This then distributes torque between front and rear axles, so the big Range Rover does not lose traction when needed. The active locking rear diff will also aid with traction from the rear axle especially during wheel articulation and on slippery tracks.
Last but not least there is the now legendary Terrain Response 2 system with its six different modes, all of which combine to make this the most luxurious and capable 4x4 on the planet.
CONCLUSION: While the new Range Rover might not be aimed at the average LRM reader or Earth dweller, that might change in 10 or 20 years provided they are able to repair the said gadgetry without having to sell a kidney to pay for it. That is what happened to the P38 and L322. The circle of Land Rover life I call it.
I love the new look, technology and levels of luxury found in the new Range Rover but even more impressive is the fact that it will be able to keep up with my 1998 Defender 110 when off-roading. On paper it is probably better. Will a new Range Rover owner be willing to take on the toughest line of the Billing mud run? I doubt most have never even heard of or been to Billing.
SV VERSION
For those that want something a little more there is the new Range Rover SV, which will provide customers with even higher levels of customisation and a truly bespoke luxury build. These Special Vehicles Operations creations will be the first Land Rovers to sport the little white ceramic SV roundel. We were shown both the SV Serenity and the SV Intrepid design themes for the new Range Rover. These two-tone front-to-rear contrasting colours make use of various exclusive materials such as ceramics, plated metals and soft leathers.
Folding table retracts with the push of a button
I was astounded by the levels of opulence on the SV Signature Suite LWB option, it was like a personalised Learjet on wheels –I'm thinking specifically here of the electrically-deployable club table that rises from the centre console or 24-way adjustments on the massage seat function. The new Range Rover SV is available in the following powertrains: P530 V8 Twin Turbo, P510e Extended Range plug-in hybrid (on SWB) and the efficient D350 straight-six Ingenium diesel. Customers will have 14 SV exclusive colours to choose from.
Specifications
Standard Wheelbase
Length: 5052 mm
Width: 2209 mm
Height: 1870 mm
Wheelbase: 2997 mm
Turning Circle: 10.95 m
Off-road stats
Ground clearance: 295 mm
Articulation 510 mm
Approach angle: 34.7°
Breakover angle: 27.7°
Departure angle: 29.0°
Wading depth: 900 mm
Max incline: 45°
Long Wheelbase
Length: 5252 mm
Width: 2209 mm
Height :1870 mm
Wheelbase: 3197 mm
Turning Circle: 11.54 m
Off-road stats
Ground clearance: 295 mm
Articulation: 510 mm
Approach angle: 34.7°
Breakover angle: 27.7°
Departure angle: 29.0°
Wading depth: 900 mm
Max incline: 45°
Pricing
SWB
• P400 from £98,000 (SE)
• P400e PHEV TBC
• P510e PHEV TBC
• P530 (V8) £129,300 (Autobiography), £135,400 (First Edition)
• D300 from £94,400 (SE)
• D350 from £97,500 (SE)
LWB five-seats
• P400 £120,500 (Autobiography)
• P400e PHEV TBC
• P530 (V8) £131,900 (Autobiography) First Edition £137,800
• D350 £120,000 (Autobiography), £125,800 (First Edition)
LWB seven-seats
• P400 from £103,200 (SE)
• P440e(PHEV) TBC
• P530 (V8) £131,300 (Autobiography)
• D350 from £102,700 (SE)
Meet the family
In the summer of 1967, the Rover Company began work on the first of the seven Engineering Prototypes of its new Land Rover, the 100 inch Station Wagon. Fifty-four years later we are celebrating the introduction of the vehicle codenamed L460, the fifth-generation Range Rover. We take the opportunity to look back at the first four generations of this enduringly popular vehicle, and chart its inexorable rise from capable but utilitarian 4x4 to one of the most luxurious SUVs on the planet.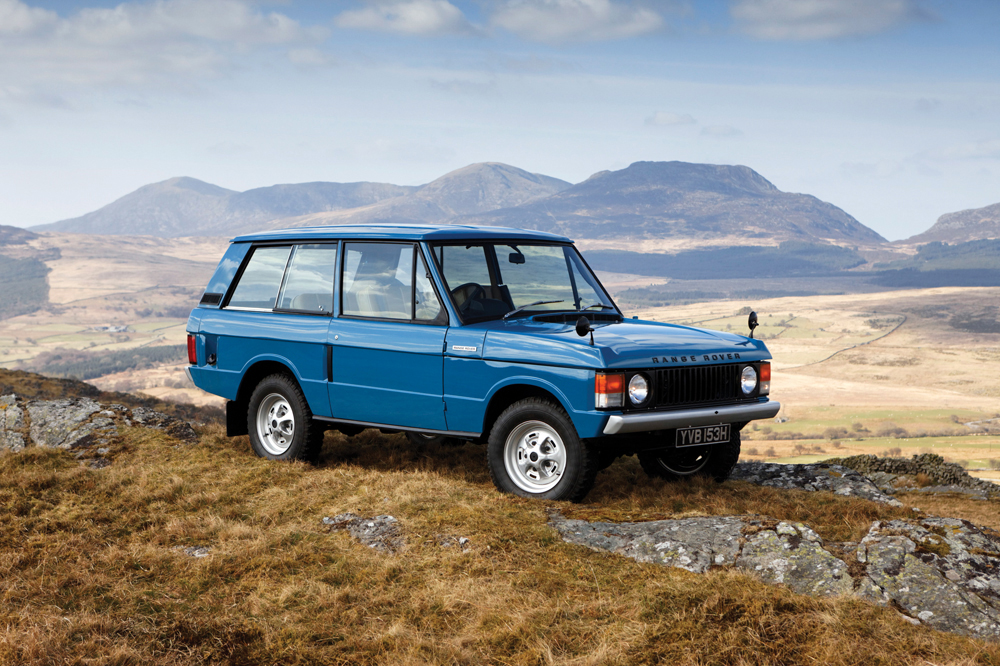 First Generation
It all began with an idea to make a more comfortable and faster Land Rover that would appeal to a new type of customer. Tagged 'A Car for All Reasons' by its maker, the world had never seen anything quite like it before. Yes, there were other SUVs such as the Jeep Wagoneer and the Ford Bronco, but none could match the comfort and performance of the new Range Rover.
Launched in 1970, the vehicle was sought-after from the outset and the company couldn't build them in sufficient numbers to meet demand. Its popularity meant that owner British Leyland was happy to take the profits it generated and use them to prop up the flakier parts of its empire, while cynically starving the vehicle of development funds. Although buyers regularly requested four-door and diesel-powered variants, these would not appear until the 1980s.
By the time production ended after 25 years, the original utilitarian and rather agricultural two-door had been transformed into a luxurious and refined vehicle that almost everyone wanted to own. Over the past ten years, early two-door models have become highly collectable with a commensurate increase in values.
Second Generation
The enduring success of the first Range Rover meant that replacing it was always going to be a tough job, but the company launched the vehicle known as Project 38A in 1994. Land Rover cautiously hedged its bets by keeping the original vehicle in production for a few months, but this proved unnecessary because the 38A was an instant, runaway success. Retaining a great deal of the original's design and styling cues, the 38A was recognisably a Range Rover and retained the tough ladder chassis and the much-loved V8 engine. Corrosion-proofing took a huge leap forward and the interior moved up a notch in terms of comfort and finish.
The company also embraced what were then leading-edge developments in automotive electronic systems and, by comparison with its predecessor, the 38A was what might be described as 'fully-loaded' with on-board tech. In no time the vehicle gained a reputation for unreliability which has never quite left it to this day, although towards the end of the ridiculously short production life of seven years the vast majority of these issues had been resolved. In recent years, the 38A has enjoyed a resurgence of interest among enthusiasts.
Third Generation
BMW took over Rover in the year that the P38A was launched, and it wasn't long before the new owners concluded that the P38A was not the kind of Range Rover they wanted to build. Put simply, BMW's management did not believe that a facelifted 38A would be able to compete successfully against the luxury saloons and emerging soft-roader 'Sports Activity Vehicles' that were seen as the Range Rover's competitors. By 1996, BMW had committed itself and its Rover subsidiary to the development of an all-new Range Rover. This third-generation vehicle was developed by a joint Rover and BMW team centred in Munich and was known as Project L30, although it was renamed L322 when Ford acquired Land Rover in 2000.
The new Range Rover was finally launched in 2002 under Ford's ownership and was a world away from its predecessors in all respects. Gone was the venerable Buick-derived V8, to be replaced with a range of BMW engines, while the interior design was based on an identifiable 'marine theme'. Certain styling cues were identified as distinctive Range Rover DNA and were incorporated in the new design, such as the 'clamshell bonnet' and the 'floating roof'. The new vehicle was also significantly larger than its predecessors.
Fourth Generation
By now the flagship of the extended Range Rover family of vehicles, the Model L405 Range Rover was launched in 2012 and took the themes of luxury and on-board technology to previously unheard-of heights. It was the first production 4x4 to use an all-aluminium monocoque unitary body structure, instead of the L322's steel unibody, making it 420 kg lighter than its predecessor. The model saw the emergence of design boss Gerry McGovern's distinctive house style that would be applied across the Range Rover and Discovery vehicle families.
The first Range Rover hybrids followed over the years and the even more luxurious (and expensive!) long wheelbase versions, as well as a number of limited editions built by the company's Special Vehicles division. In 2020, the company announced the Range Rover 50 Limited Edition to commemorate the model's fiftieth anniversary, and the impending end of production was celebrated by the 2021 SVAutobiography Ultimate Edition which, in 565 PS Supercharged V8 form, could be yours for a cool £183,706.
JLR announced the Range Rover SV Coupe at the 2018 Geneva Auto Show, a limited edition two-door version that would also be the fastest Range Rover ever built. The company's worsening financial situation led to the project being cancelled in January 2019.
Budget Digital Subscription
Get access to over 7 years of Land Rover Monthly – that's almost 100 issues plus the latest digital issue. The issues are fully searchable so you can easily find what you are looking for and what's more it's less than 10p a day to subscribe. Click here and start enjoying all the benefits now